Treatment
Manual Detorsion
During initial examination, manual detorsion may be attempted. This is done by elevating the testis toward the ipsilateral inguinal ring, stabilizing the cranial portion of the spermatic cord, and rotating the testis laterally. If successful, there will be a lengthening of the spermatic cord and immediate relief of pain. Should the first attempt be unsuccessful, a second attempt could be made using medial rotation of the testis. A study of rotational direction found that 46% of torsions (38 of 81 patients) were laterally rotated. [43] In a series of patients undergoing attempted detorsion, testis salvage was higher in those patients that had successful manual detorsion. [44] Regardless of the outcome of manual detorsion, surgical exploration and testicular fixation should be performed prior to the patient being discharged from the hospital. [1]
Success of manual detorsion can be assessed with the use of Doppler sonography and resolution of symptoms. [45]
Surgical Detorsion
Surgical detorsion and subsequent orchiopexy or orchiectomy is the definitive management strategy and should proceed immediately in patients whose clinical findings suggest torsion. The patient and/or caregiver should be counseled on the risk of immediate or delayed testicular loss. Additionally, they should be advised that the impact of torsion on later fertility, even if testicular salvage occurs, cannot be assured.
Extravaginal torsion
In newborns presenting with torsion at birth, the timing of surgical exploration remains controversial, since testicular salvage rates are low and anesthetic risk is increased. Additionally, asynchronous torsion remains uncommon (11.8%). [46, 47] Despite those concerns, most of the literature supports immediate exploration and fixation of the contralateral testis to prevent the potential devastating outcome of asynchronous testis loss. [48, 47]
Intravaginal torsion
Immediate surgical exploration with detorsion and orchiopexy or orchiectomy is the recommended and accepted management strategy for males presenting with clinical signs of testis torsion. Surgical exploration should not be delayed to obtain confirmatory radiologic studies in patients who present with suggestive clinical signs of torsion.
The surgical approach is through a midline longitudinal, or bilateral transverse scrotal incision. On entry into the affected hemi-scrotum, the surgeon should perform immediate detorsion of the affected testis, while noting color, degree of torsion, and anatomy of the tunica vaginalis.
After the testis is untwisted, it is wrapped in warm wet gauze. Exploration of the contralateral hemiscrotum and orchiopexy of the unaffected testis is then performed to reduce the risk of asynchronous torsion. The affected testis is re-examined for viability. If blood flow remains questionable, intraoperative Doppler can be utilized, or an incision can be made into the tunica albuginea. If the testis appears viable, orchiopexy is performed. If the decision is made to perform orchiectomy, a prosthesis can be placed at this time, but insertion is often deferred for the nonacute setting. [5]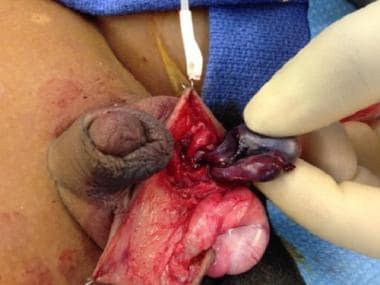 Intravaginal torsion in a child.
What would you like to print?