Periprocedural Care
Equipment
Two types of needles are commonly used for arterial puncture, as follows:
A micropuncture needle, which is placed by using a Seldinger technique with a guide wire

A cannula-over-needle, which is then used to upsize to a sheath over a guide wire
The choice of the needle set is dictated by the operator's preference and familiarity. [7] Depending on the procedure, different diagnostic and guiding catheters can subsequently be inserted through the sheath. Various kits that include both the needle and the radial sheath are available (see the image below).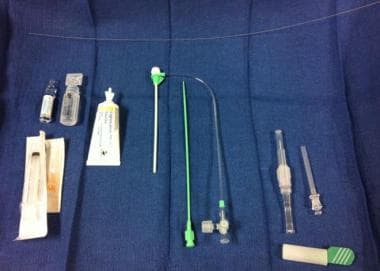 Basic setup for insertion of 6-Fr radial sheath.
The equipment list for radial artery sheath insertion includes the following:
Local anesthetic agent of choice

Topical anesthetic (optional)

Needle (ie, a micropuncture needle or a cannula-over-needle assembly; see the first image below)

Guide wire – A 0.021- to 0.025-in. uncoated or hydrophilic wire is used to exchange the needle for the sheath

Radial artery sheath – This may range from 4 to 7 French in size (the authors recommend a sheath length of 10 cm) and should come with a dilator assembly (see the second image below)

Skin scalpel

Antispasmodic agent of choice (eg, verapamil 2-5 mg)

Medical towel or hyperextension splint for positioning

Alcohol-based sterilizing solution (eg, chlorhexidine)

Angiography drapes

Sterile gloves and gown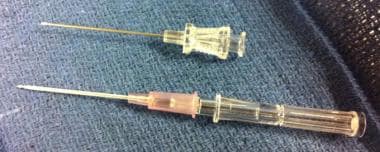 Radial artery sheath insertion. Shown are micropuncture needle (above) and cannula-over-needle (below).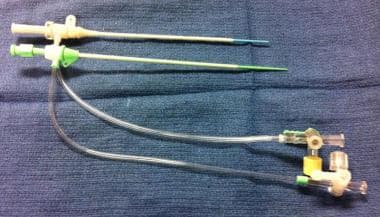 Radial artery sheath insertion. Shown are 5-Fr and 6-Fr radial access sheath with dilator inserted through sheath ready to be used.
Patient Preparation
Anesthesia
A combination of local anesthesia and light sedation is often effective before the procedure. A popular choice of local anesthetic is 1-2 mL of 1% lidocaine. Topical anesthetic cream can be applied to alleviate discomfort and reduce the amount of local anesthetic injected. Midazolam 1-5 mg for sedation is helpful to reduce vascular tone and the frequency of arterial spasm.
Positioning
All obstructing jewelry and clothing should be removed from the wrist that is being accessed. Intravenous access should always be obtained, preferably on the contralateral side; alternatively, central venous access may be obtained if necessary. The wrist should be shaved to remove excess hair if necessary. A medical towel can be placed underneath the wrist to keep it in hyperextension (see the image below), or a hyperextension splint can be applied.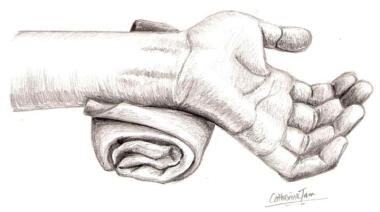 Radial artery sheath insertion. Wrist is positioned by using medical towel. Hyperextension splint may also be used.
The skin is sterilized with an alcohol-based skin preparation. The groin should also be prepared for access in the event of a failed radial artery insertion. The angiography drape is applied so as to expose the wrist in an area where the radial artery pulse will be palpable.
What would you like to print?