Overview
Background
The Medtronic sacral neuromodulation system (SNS) (Interstim) permits electrical stimulation of the sacral nerves via an implantable neurostimulator device that includes a neurostimulator and lead (see image below).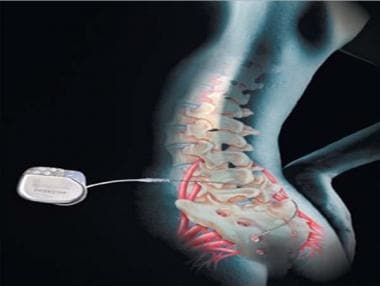 Figure depicts lead entering sacral foramen and Interstim device in place. Image reprinted with permission from Medtronic, Inc
The electrical stimulation modulates nerves that supply the bladder, bowels, urinary and anal sphincters, and pelvic floor muscles. The intensity and frequency of the pulses can be modified by both the physician and the patient through an external programmer.
Indications
SNS with Interstim is indicated for the treatment of urinary retention and symptoms of overactive bladder, including urinary incontinence and significant symptoms of urinary frequency, alone or in combination, in patients in whom more conservative therapies have failed or were not tolerated. The European Association of Urology guidelines on male urinary incontinence include sacral nerve stimulation in the recommended management options for urge urinary incontinence in men. [1]
SNS with Interstim was approved in 1997 for the treatment of urge incontinence and in 1999 for urinary retention and urinary frequency symptoms.
Sacral nerve stimulation has also been used effectively in patients with Parkinson disease who have overactive bladder symptoms. [2]
A study by Schober et al proposed that sacral nerve stimulation is a valid adjunctive therapy for refractory pediatric lower urinary tract dysfunction. [3]
A Cochrane Review by Thaha et al reported that SNS can improve continence in a proportion of patients with fecal incontinence. However, the study added that SNS did not improve symptoms in patients with constipation. [4] A study by Leo et al showed that sacral nerve stimulation is an effective long-term treatment for fecal incontinence. [5]
InterStim Therapy for Bowel Control is indicated for the treatment of chronic fecal incontinence in patients who have failed or are not candidates for more conservative treatments.
Contraindications
Contraindications to SNS with Interstim include the following:
Mechanical outlet obstruction

Diathermy use (shortwave, microwave, ultrasound)

Inadequate response to test stimulation or inability to operate the device
Safety and efficacy have not been determined for the following:
Unborn fetus and delivery

Age younger than 16 years
Procedure Planning
Once it has been established that the patient is an appropriate candidate for Interstim therapy, the implantation follows 2 steps. The first step is a test phase, followed by implantation of the device if the patient has a satisfactory response during the test phase.
Outcomes
The safety and efficacy of Interstim therapy were determined by several Medtronic-sponsored studies, including the Single Stage Implant clinical study, which evaluated efficacy and safety in patients with urge incontinence (Urge Incontinence Study) and patients with urgency-frequency (Urgency-Frequency Study), a staged implant clinical study, and a post-approval study. The results of these studies are discussed below. [6]
Single-Stage Implant Clinical Study
This was a multicenter prospective randomized trial using the single-stage implantation technique for the indications of urge incontinence, urinary urgency-frequency, and urinary retention. All of the enrolled patients completed a test simulation procedure of the sacral nerves, which was used to determine patient eligibility for randomization. Patients were randomized to either immediate implantation of the Interstim (treatment arm) or 6-month delay to implantation (control arm). After the 6-month delay period, the patients in the control arm could cross over to the treatment arm of the study. All patients with implants were monitored at 6-month intervals until completion of the study. Voiding diaries were completed at baseline and at 6 months for the control arm and at baseline, 1, 3, 6, 12 months, and every 6 months thereafter for the post Interstim placement in the treatment group. The results for each of the indications are reported below.
In the Urge Incontinence Study, 184 patients with urge incontinence were enrolled and underwent at least one and up to 6 test stimulation procedures. Of the 184 screened patients, 112 had a successful test stimulation result. One hundred were implanted with the InterStim system. Data were collected in 58 patients at 6 months follow-up and in 38 patients at one-year follow-up.
Forty-seven percent of the patients with implants were dry at 6 months, and incontinence episodes were reduced by 50% or more in an additional 28%. Among patients who noted "heavy leaking episodes" at baseline (soaked pad or clothing), the episodes were eliminated in 77%, and the average severity of leaking was reduced by 50% or more in an additional 13%. Among patients with implants, 34% had 50% or more reduction in micturition frequency, and urinary frequency normalized (4-7 voids/day) in another 14%. Urgency improved in 83% of patients, and volume voided per void increased by 50% or more in 54% of those with implants. The results were sustained at 12 months.
In the Urgency-Frequency Study, 220 patients underwent one and, in some cases, up to 6 test stimulation procedures. Test stimulation results were successful in 80 patients, among whom 64 underwent Interstim implantation. Follow-up data were collected in 46 of these patients at 6 months and in 33 at one year. Thirty-four percent of patients with implants had 50% or greater reduction in the number of voids/day, and, in another 14%, the voiding frequency decreased to a normal range (4-7 voids/day) in those with a baseline of more than 7 voids/day. Urgency improved in 83% of patients with implants. [6]
Staged Implant, Retrospective Study
This was a retrospective study conducted in patients who had inconclusive test stimulation results with the Medtronic model 3057 test stimulation lead. In this study, the test stimulation typically lasted for 3-5 days, but no more than 7 days. Participating physicians reported that 76 of the 80 patients (95%) had a successful screening period with the staged implant. Of the 80 patients screened, 73 went on to undergo Interstim implantation, 60 of whom (82%) were noted to have a successful outcome during an average follow-up of 1.6 years (range, 0.02-8.5 years). Of the 80 patients who were screened with a long-term lead for a staged implant, 47 had also been screened with a temporary model 3057 test stimulation lead.
Test stimulation was unsuccessful with the model 2057 lead in 24 of the 47 patients (51%) prior to receiving the staged implant. Screening with the long-term lead was successful in 21 of these 24 patients. Thus, it appears that use of the long-term lead for screening as part of a staged implant may be helpful in patients with inconclusive results from screening with the model 3057 lead, to determine if they will benefit from Interstim implantation. [6]
Interstim System, Post-Approval Study
The postapproval study was designed to assess the long-term effects of SNS for the indications of urge incontinence, urgency-frequency, and retention. The study centers were located in the United States, Canada, and Europe. Of note, the tined lead became available after patients were enrolled in the study; thus, it was not used in the study. [6]
The implantable devices used in this study consisted of the Interstim neurotransmitter (model 3023), Itrel II neurostimulator (model 7424), and the non-tined Interstim lead (models 3080 and 2886). There were 152 patients in the study.
The primary diagnosis was urgency urinary incontinence (96 patients), while 25 patients had urinary urgency-frequency and 31 patients had urinary retention. Of these 152 patients, 129 crossed over from Medtronic's Single Stage Implant Clinical Trial. Sixty-month follow-up data assessing the long-term effects of SNS were obtained in 152 patients. Eleven patients withdrew from the study prior to implantation.
In the intent-to-treat analysis, at 60 months postimplantation, 37% of the patients experienced a 50% or more reduction in leaks per day, and 42% experienced a 50% or more reduction in heavy leaks/day compared to baseline. In the evaluable patient population, at 60 months postimplantation, 59% demonstrated a 50% or more reduction in leaks per day, and 71% demonstrated a 50% or more reduction in heavy leaks per day.
Approximately 60% of patients experienced adverse events during the 60-month postimplantation follow-up period, with 271 total events reported. Forty-two percent of patients with implants patients underwent surgical intervention for management of an adverse event during the 60-month postimplantation period. The most common adverse events leading to surgical revision included pain at the neurostimulator site (11.8% of patients with implants) and suspected lead migration (7.9% of patients with implants). [7]
Other Interstim studies
Amundsen et al conducted a prospective analysis of patients with refractory urgency urinary incontinence who underwent placement of a neuromodulator lead and generator between October 2000 and December 2003 to determine the variables that affect the cure rate in such patients. The authors noted that the cure rate was associated with age greater than 55 years (65% for age < 55 years vs 37% in older patients; P< 0.05). In addition, the presence of 3 or more chronic conditions was also independently associated with a lower cure rate. The authors also noted that the presence of "a" neurologic condition was associated with a lower cure rate, but there did not appear to be a specific neurologic condition identified. [8]
In another study, Foster et al evaluated patients at least one year out from implantation of a SNS. Subjects were mailed a questionnaire to evaluate satisfaction and to assess incontinence symptoms. Fifty-two patients were consecutively enrolled in the study, and 49 questionnaires were returned (response rate, 94.2%). The average interval between SNS placement and questionnaire completion was 27.2 months (range, 12-52 months). Eighty-four percent of the patients were satisfied with sacral neuromodulation at a mean of 27 months. Compared with dissatisfied patients during test stimulation, the satisfied patients had a significant decrease in 24-hour pad weight (85% vs 60.6%; P =0.002) but did not differ in daily pad use. In addition, device pain also contributed to dissatisfaction. [9]
Janknegt et al evaluated the long-term efficacy of sacral nerve stimulation for refractory urge urinary incontinence in 96 patients. Efficacy was based on changes in urge urinary incontinence symptoms as quantified in voiding diaries at baseline and annually thereafter. Compared with baseline, urge urinary incontinence symptoms were significantly reduced at an average of 30.8 ±14.8 months (range, 12-60 months) months in terms of the number of urge urinary incontinence episodes per day, severity of leaking, and number of absorbent pads/diapers replaced/day because of incontinence (P< 0.0001, respectively). The device was removed in 11 of the 96 patients owing to lack of efficacy, pain, or bowel dysfunction. [10]
Tutolo et al performed a systematic review of the literature conducted in PubMed/Medline and Scopus, restricted to articles in English, published between January 1998 and June 2017, with at least 20 patients and 6 month of follow-up. Twenty-one reports were identified. Concerning SNM, the improvement of >/= 50% in leakage episodes ranged widely between 29% and 75%. Overall dry rate ranged between 43% and 56%. [11]
Siegel et al evaluated the therapeutic success rate and changes in quality of life (QOL) and safety in subjects using sacral neuromodulation (InterStim System) at 36 months. A total of 340 subjects received the stimulation test and 272 underwent implantation. The baseline symptom severity was 3.1 +/- 2.7 leaks/day (UI) and 12.6 +/- 4.5 voids/day (UF). An OAB therapeutic success rate of 83% (95% confidence interval:78-8%) was noted. Urinary incontinence individuals had a mean reduction from baseline of 2.3+/- 2.3 leaks/day whereas urinary frequency individuals had a mean reduction of 5.3+/- 4.0 voids/day (both P< 0.001). Eighty percent of individuals reported improvements in their urinary symptom interference. Device-related adverse events occurred in 47% (127/272) of individuals post-implant. Ninety-one percent of the AEs resolved. [12]
Siegel et al performed a prospective, randomized, multicenter study evaluating sacral neuromodulation with Interstim therapy compared to standard medical therapy at 6 months in subjects with mild symptoms of overactive bladder. Overall, 147 subjects were randomized (70 to sacral neuromodulation and 77 to standard medical therapy). The primary objective was to compare OAB therapeutic success rate at 6 months between sacral neuromodulation and standard medical therapy. In the intent to treat analysis OAB therapeutic success was significantly greater for the sacral neuromodulation group (61%) than the standard medical therapy group (42%, P=0.02), however, in the as treated analysis, OAB therapeutic success was 76% for sacral neuromodulation and 49% for standard medical therapy (P=0.002). The sacral neuromodulation group showed significant improvements in quality of life versus the standard medical therapy group (aa P< 0.001) and 86% of the standard medical therapy individuals reported improved or greatly improved urinary symptom interference score at 6 months, compared to 44% for the standard medical therapy. Device-related adverse event rate was 30.5% compared to medication related adverse event rate of 27.3%. [13]
Other Adverse Effects
Other adverse effects associated with SNS include the following:
Adverse change in voiding or bowel function

Allergic or immune response to the implant that could result in device rejection

Change in sensation of stimulation that may be uncomfortable

Pain at neurostimulator and/or lead site

Seroma, hemorrhage, hematoma, and/or paralysis

Suspected lead or neurostimulator migration or erosion
Precautions
The Interstim system may be affected by or may adversely affect cardiac devices, electrocautery, defibrillators, ultrasonic equipment, radiation therapy, magnetic resonance imaging, theft detectors, and screening devices.
Precautions related to patient programming and patient control devices
Battery depletion: Individuals with very low perception thresholds may perceive fluctuations in the stimulation intensity as the battery nears depletion and may have to increase or decrease the amplitude to maintain symptom control.
Patients should carry a control device at all times to be able to adjust and/or turn off the Interstim. Patients with model 3023 must carry the patient programmer if the magnet is disabled.
The control device may affect other implanted devices and should not be placed over other implanted devices.
The patient programmer should not be immersed in liquid or cleaned with bleach, nail polish remover, mineral oil, or other similar substances.
When the programmer is in use, flammable or explosive atmospheres should be avoided.
The magnet used with model 3023 should not be placed on or near a computer, computer monitor, magnetic storage disks or tapes, televisions, cell phones, electronic personal information managers, credit cards, or other items affected by magnetic fields.
Warnings
Sources of strong electromagnetic interference can result in injury/death from heating of the implanted Interstim components and damage to surrounding tissue, [14] damage to the Interstim requiring replacement, [7] operational changes causing it to turn on or off or to reset to power-on-reset (POR) settings, [8] and unexpected changes in stimulation causing an increase in stimulation or intermittent stimulation. [9]
Damage to the case may result in leakage of battery chemicals, which can cause severe burns.
The Interstim may affect the function of other implanted devices such as cardiac devices, other neurostimulators, and implantable drug pumps. To minimize interactions with cardiac devices, the Interstim should be programmed to bipolar configuration and a minimum rate of 60 Hertz and the cardiac device programmed to bipolar sensing. Defibrillators, when active, may damage the Interstim device.
Activities that involve sudden, excessive, or repetitive bending, twisting, bouncing, or stretching (eg, gymnastics, mountain biking) can cause fracture or dislodgement.
Manipulation or rubbing of the system through the skin may result in damage to the system, lead dislodgement, skin erosion, or uncomfortable stimulation at the implant site.
Patients should not scuba dive below 10 meters (33 feet) or enter hyperbaric chambers of more than 2.0 atmospheres absolute (ATA).
High altitudes do not affect the neurostimulator. However, skydiving or hiking may cause stress on the system, causing lead dislodgement or fractures.
What would you like to print?