DDx
Diagnostic Considerations
The leukoerythroblastic picture, the characteristic laboratory changes associated with myelophthisic anemia, is characterized by the following findings in the peripheral blood smear:
Nucleated red blood cells and teardrop forms
Giant platelets
Immature white blood cells (eg, myelocytes, metamyelocytes, occasionally promyelocytes and myeloblasts)
See the image below.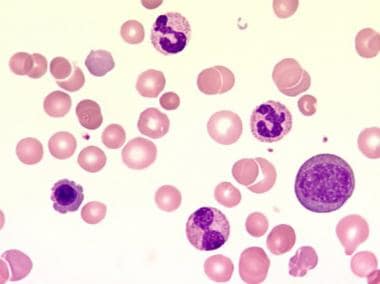 This blood film at 1000X magnification demonstrates a leukoerythroblastic blood picture with the presence of precursor cells of the myeloid and erythroid lineage. In addition, anisocytosis, poikilocytosis, and polychromasia can be seen. Courtesy of Ulrich Woermann, MD, Division of Instructional Media, Institute for Medical Education, University of Bern, Switzerland.
The differential diagnosis to separate myelophthisic process secondary from a primary myeloproliferative syndrome that is a clonal stem cell disorder resulting in myelofibrosis due to excessive proliferation of one or more cell lineages is performing a cytogenetic evaluation of the bone marrow cells. However, this test can only be successfully performed if dividing cells can be obtained from the bone marrow aspiration for classic cytogenetic testing. Fluorescent in situ hybridization (FISH) can be performed in nondividing cells but is limited to a panel of set abnormalities. Secondary myelofibrosis due to a myelophthisic process should have normal cytogenetics. The frequency of a "dry" bone marrow aspiration owing to fibrosis of the marrow limits the performance of this test.
Using immunomorphometric methods by immunostaining for CD34 to differentiate primary from secondary myelofibrosis has not been successful. [9] The 2016 World Health Organization (WHO) classification of myeloid neoplasms defines strict criteria for the primary diseases. [10]
Go to Anemia, Chronic Anemia, Megaloblastic Anemia, Hemolytic Anemia, and Sideroblastic Anemias for complete information on these topics.
Differential Diagnoses
What would you like to print?