Workup
Approach Considerations
The workup for neutropenia may include blood and urine studies, diagnostic imaging, and bone marrow aspiration and biopsy. Hospital protocols indicate expediting the first dose of antibiotics in patients with neutropenic fever, which helps improve the prognosis for the patient.
For more information, see Pediatric Autoimmune Neutropenia.
Lab Studies
Before initiating a major workup, rule out infections and drugs as causes of neutropenia. Then obtain the following laboratory studies:
Complete blood cell count (CBC), including a manual differential in evaluating cases of agranulocytosis

Differential white blood cell (WBC) count

Peripheral blood smear, with review by pathologist

Blood cultures (at least two sets with a set collected simultaneously from each lumen of an existing central venous catheter (CVC), if present, and from a peripheral vein site)

Serum creatinine and blood urea nitrogen

Electrolytes

Hepatic transaminase enzymes and total bilirubin
A Wright-stained peripheral smear will show a marked decrease or absence of neutrophils. In addition, careful evaluation of the peripheral blood smear provides information about red blood cell (RBC) and platelet morphology; associated anemia and/or thrombocytopenia and the presence of immature leukocyte precursors on the smear suggest a hematologic malignancy. Abnormal lymphocytes could suggest T-cell clonal large granular lymphocytic leukemia.
The following studies are applicable in some patients with neutropenia:
Antinuclear antibody (ANA)

Rheumatoid factor (RF)

Serum immunoglobulin (Ig) studies

Peripheral blood flow cytometry

T-cell gene rearrangement for T-cell clonality
Tests for antineutrophil antibodies should be performed in patients with a history suggestive of autoimmune neutropenia and in those with no other obvious explanation for the agranulocytosis. Various methods for detecting antineutrophil autoantibodies have different limitations; therefore, more than one assay method is recommended. In addition, data are limited on false-negative results, and, thus, only a positive test is likely meaningful.
In congenital neutropenia and cyclic neutropenia, genetic analysis should be done to correctly classify the condition.
Obtain vitamin B12 and folate levels to evaluate for nutritional deficiency and pernicious anemia in individuals with neutropenia.
Perform HIV testing if clinical risk factors are present.
Imaging Studies
No specific imaging study establishes the diagnosis of agranulocytosis. As part of the workup for localization of infection, appropriate radiographs (eg, chest images) are indicated. Other imaging studies are determined by the specific circumstances of each case.
Perform long-bone radiographs if a form of congenital neutropenia is suspected. If the neutropenic patient is febrile, obtain a posterior-anterior and lateral chest radiograph to assess for signs of pneumonia.
Obtain liver-spleen radionuclide scans if the presence of splenomegaly and splenic sequestration are suspected in a patient with neutropenia. This study also allows evaluation of hepatocellular function and colloid shift, which occurs when hypersplenism is caused by cirrhosis with portal hypertension.
Ultrasonography of the left upper quadrant or computed tomography (CT) scanning could also be done to evaluate splenomegaly (see the image below).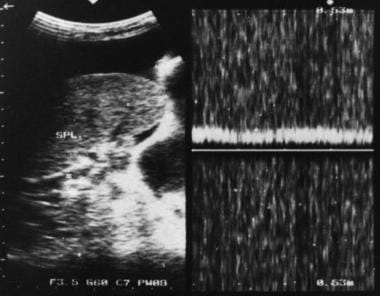 Doppler sonogram at the splenic hilum reveals hepatofugal venous flow in a patient with portal hypertension.
Fever/Infection Workup
If a patient with neutropenia presents with fever, perform an infection workup, including blood cultures for anaerobic and aerobic organisms. Obtain two sets of blood culture samples, 10-15 minutes apart, from peripheral veins; obtain samples from each port of a catheter if the patient has central venous access.
Other laboratory studies used for a complete fever workup include the following:
Urinalysis

Urine culture and sensitivity

Culture of wound or catheter discharge

Sputum Gram stain and culture

Stool for Clostridioides (formerly Clostridium) difficile

Skin biopsy, if new erythematous and tender skin lesions are present
Broad-spectrum antibiotics should be started within 1 hour of cultures.
Bone Marrow Aspiration and Biopsy
Concurrent anemia, thrombocytopenia, and/or an abnormal result on a peripheral blood smear from a patient with neutropenia suggest an underlying hematologic disorder. In this setting, immediately perform a bone marrow aspiration and obtain a biopsy from the posterior iliac crest. Cytogenetic analysis and cell-flow analysis of the aspirate may be indicated. In suspected drug-induced neutropenia, a bone marrow examination may be elected early or delayed based on the clinical stability of the patient and considerations for the use of myeloid growth factors.
Bone marrow biopsy assesses for an intrinsic marrow defect, maturation arrest, congenital neutropenia, fungal infection, and a vitamin B-12 or folate deficiency. It helps to exclude metastatic carcinoma, lymphoma, granulomatous infection, and myelofibrosis. If mycobacterial or fungal infection is suspected, the aspirate can be cultured.
Examine bone marrow smears and biopsy samples with techniques including flow cytometry. The bone marrow may show myeloid hypoplasia or absence of myeloid precursors. In many cases, the bone marrow is cellular with a maturation arrest at the promyelocyte, myelocyte, or even band neutrophil stage of maturation. This latter finding is common in drug-induced and immune neutropenias, as the destruction may be selective of the more mature neutrophils only. On occasion, the marrow may be hypercellular.
What would you like to print?