Workup
Approach Considerations
A complete blood count (CBC) with differential may reveal leukocytosis and anemia. Expect these conditions to gradually resolve after nephrectomy. The erythrocyte sedimentation rate (ESR) is frequently elevated. Liver function findings are abnormal in up to 50% of patients with xanthogranulomatous pyelonephritis (XGP).
Serum chemistries are used to determine the presence of any baseline electrolyte abnormalities, although none is pathognomonic of XGP. Creatinine levels before nephrectomy may be abnormal, but removal of the nonfunctioning xanthogranulomatous kidney should not be expected to alter baseline renal function. [8]
Urine typically contains leukocytes and bacteria. Urinalysis often demonstrates proteinuria. The pH is often basic because Proteus mirabilis is a urease-producing organism. Urine cultures are important in determining the offending organism involved in the XGP process and in assisting in the appropriate selection of antibiotics.
Histologic findings
The pathognomonic microscopic feature of XGP (see the image below) is the lipid-laden foamy macrophage. These cells can be difficult to distinguish from clear cell carcinoma on frozen section.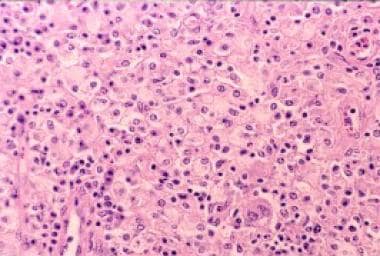 Xanthogranulomatous pyelonephritis.
Imaging studies
Renal ultrasonography usually reveals an enlarged kidney with multiple hypoechoic masses; irregular, thinned parenchyma; and a dilated collecting system. These hypoechoic masses can range from 3 to 20 mm and represent abscesses, xanthogranulomas, or a combination of both. On ultrasound, the gallbladder wall usually appears diffusely thickened with prominent echogenic pericholecystic fat and increased vascularity representing inflammatory changes. In rare instances, focal or masslike thickening is apparent. Secondary findings may include intra- or extrahepatic ductal dilatation. [18]
Mercaptotriglycine (MAG-3) or technetium-99m dimercaptosuccinic acid (99m Tc-DMSA) renal scanning may be used to evaluate or confirm differential renal function.
Magnetic resonance imaging (MRI) is being studied selectively, but reports have not shown MRI to provide any diagnostic benefit beyond that which is achievable with traditional computed tomography (CT) scanning. However, MRI is frequently used in patients with renal insufficiency in whom contrasted images are required, in order to avoid the nephrotoxic intravenous (IV) contrast used for CT imaging. [19]
For full discussion, see Xanthogranulomatous Pyelonephritis Imaging.
Computed Tomography
CT scanning is the most useful radiographic technique in evaluating xanthogranulomatous pyelonephritis (XGP), although XGP cannot be diagnosed solely on the basis of radiographic findings. A CT scan demonstrates a heterogenous, nonenhancing mass on a hydronephrotic, nonfunctioning kidney with a central stone. [20] The arrangement of multiple rounded hypoechoic foci around the contracted renal pelvis has been described as the bear paw sign and is considered characteristic of XGP. [3, 4] In higher-stage disease, the mass may appear to involve adjacent organs. CT scans may also reveal a large staghorn calculus within the collecting system. (See the images below.) [21]
The following combination of findings strongly supports the diagnosis of XGP [19] :
Enlarged non-functioning kidney

Obstructing stone within a contracted renal pelvis

Enlarged calyces

Perinephric fat stranding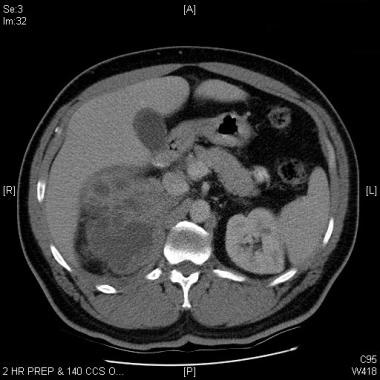 Xanthogranulomatous pyelonephritis appearing as nonenhancing, low-attenuation areas of the dilated collecting system surrounded by enhancing, high-attenuation parenchyma (known as the "bear paw" sign).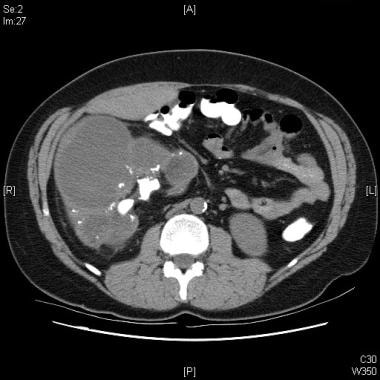 Xanthogranulomatous pyelonephritis with obstruction and staghorn calculus.
What would you like to print?