Periprocedural Care
Pre-Procedure Planning
All infants and children with SGS have complex medical histories and require careful and thorough evaluations to assess their candidacy for LTR. Preoperative consultations are made with the pediatrician and a cohort of pediatric medical specialists. Children with significant medical histories may benefit from seeking consultation with a gastroenterologist, pulmonologist, cardiologist, neurologist, or anesthesiologist to optimize the patient.
Gastroesophageal reflux (GERD) must be appropriately evaluated and medically controlled; daytime and nighttime oxygen must be assessed and weaned prior to any surgical intervention; an appropriate anesthetic plan must be in place for the procedure; neurological status must be adequate for respiratory drive; underlying seizure disorders needs to be controlled; and the patient must not need ventilator assistance or positive pressure assistance.
A thorough history should be performed addressing birth history and in particular prematurity, number of intubations, feeding difficulties, presence of GERD, and other medical comorbidities. Children with SGS present with stridor, which can be inspiratory or biphasic in nature. Infants in the NICU may have repeatedly failed extubation trials and have no leak with appropriate sized endotracheal tubes. Recurrent episodes of croup before age 9 months also raise suspicion for significant SGS. These patients often have a history of respiratory infections that result in multiple hospitalizations or multiple failed extubation attempts.
A complete physical examination is performed, which includes a flexible laryngoscopic examination to assess the patency of the choanae, presence of laryngeal reflux, vocal fold mobility, and possible secondary airway lesions such as laryngomalacia or vallecular cysts.
Neck and chest radiography can be helpful if vascular ring, sling, or aberrant cardiopulmonary anatomy is a concern. If extrinsic compression is suspected, CT angiography/magnetic resonance angiography can be helpful as an adjunct to endoscopy. Barium esophagraphy is can be obtained in patients who have a history of tracheoesophageal atresia/fistula, aspiration, dysphagia, or neurological impairment.
Preoperative rigid endoscopic evaluation of the laryngotracheal stenosis and accurate functional evaluation of the supraglottis and glottis is crucial to a successful LTR outcome. [6] Rigid endoscopy is usually performed as a direct laryngoscopy and microlaryngoscopy with bronchoscopy in the operating room with the patient spontaneously ventilating. During this examination, a telescope is passed from the supraglottis down to the carina to accurately assess the entire airway. In cases of significant stenosis, a scope can sometimes not be passed. Photographic documentation and video recording are an essential part of this exam. See the image below.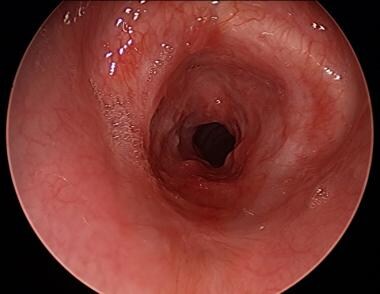 Long segmented and Circumferential Tracheal Stenosis
The nature of the stenosis is accurately recorded including length, consistency, location, maturity, and the presence of any co-existing lesions. The airway is also formally sized with uncuffed endotracheal tubes. The endotracheal tube size with an air leak present at 10-25 cm of water corresponds to the size of the airway and as a universal guide to severity of stenosis. This sizing technique can be used to assign the stenosis a grade using the Myer-Cotton grading system. [3]
Once a complete and accurate assessment of the airway has been performed, the nature of the operative intervention is determined.
Monitoring & Follow-up
The postoperative care of patients following LTR is critical to the success of surgery. Patients undergoing LTR are kept in the ICU, sedated and intubated, to facilitate wound healing. Meticulous care is necessary to avoid unplanned extubation. These patients require sedation and analgesia with or without neuromuscular blockade to prevent excessive head and neck movement and possible injury to the reconstructed airway or formation of granulation tissue and edema. A postoperative chest radiograph is obtained to exclude any pneumothorax or pneumomediastinum. Prophylactic antibiotics and antireflux medications are used in the postoperative period and the wounds are examined daily.
Adverse effects narcotics can lead to prolonged weakness, withdrawal symptoms, and poor cough, which can predispose the patient to pneumonia.
After a single-stage LTR, the patient is reexamined in the operating with direct laryngoscopy and bronchoscopy after 7-10 days. The nasotracheal tube is downsized. Intravenous steroids are initiated and a trial of extubation is planned for the following day provided the reconstructed airway is healing well. If the patient tolerates extubation, she is kept in the hospital for an additional 7 days while overcoming the effects of prolonged sedation and withdrawal. Two weeks after the initial procedure, another direct laryngoscopy and bronchoscopy is performed to assess progress of the reconstructed airway. See the image below.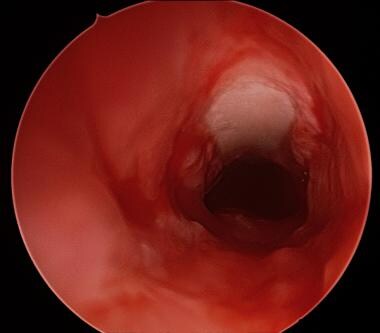 Anterior Graft Healing (2 weeks after LTR)
Throughout the recovery process, endoscopic interventions may need to be performed to dilate the airway or remove granulation tissue.
In patients who undergo a double-stage LTR, the stent is typically removed 3-6 weeks after the initial procedure. At this time, the airway is examined after stent removal and endoscopic dilations can be performed, granulation tissue is removed, and graft healing is assessed. The patient is then brought back to the operating room a few weeks later for reevaluation with rigid bronchoscopy. If the airway size of the airway is adequate, the patient is admitted to the ICU for a 24-hour 48-hour capping trial. If the patient tolerates capping for 48 hours, the patient is then sent home capping for one month. After one month of capping, the patient is evaluated again in the operating room. If a well-healing airway is confirmed, the patient is admitted to the ICU for decannulation. Occasionally, prior to decannulation a sleep study may be performed with the tracheostomy tube capped.
What would you like to print?