Presentation
History
Individuals with hereditary protein C deficiency can present with venous thromboembolism (VTE), warfarin-induced skin necrosis in adults, and neonatal purpura fulminans in newborns who are homozygous or compound heterozygous for protein C mutation. Obtaining a detailed history that focuses on personal history—including previous history of thrombosis and any abnormal laboratory results—fmailiy history, and obstetric history is paramount.
Venous Thromboembolism
The most common sites of VTE are the deep veins of the leg (DVT), mesenteric veins, and pulmonary veins. Other sites, including cerebral veins, portal veins, superficial veins, or other unusual sites are also reported. [54, 55]
In patients who present with VTE or warfarin-induced skin necrosis, family history is the best predictor for congenital thrombophilia. The initial episode of VTE in individuals with protein C deficiency is apparently spontaneous in approximately two-thirds of cases, and the other third usually have typical risk factors such as pregnancy, oral contraceptives, surgery, or trauma. Among patients with a positive family history, the risk is as high as 75% in those with severely affected families and closer to 30% in members of other families. [55]
Warfarin-induced skin necrosis
Wafarin-induced skin necrosis (WISN) typically develops in the first few days of warfarin therapy, often in patients given large loading doses of 10 mg or more per day. If the patient is on warfarin and heparin, the lesions may appear upon discontinuation of the heparin. If a product containing protein C is not rapidly administered, the affected cutaneous area typically becomes edematous, develops central purpura, and eventually becomes necrotic.
WISN is not pathognomonic for protein C deficiency. It has been described in individuals with other inherited thrombophilias (factor V Leiden mutation, protein S deficiency) and transient reduction of protein C levels. [27, 28]
Neonatal purpura fulminans
Purpura fulminans is a rare life-threatening condition in newborns characterized by disseminated intravascular coagulation (DIC), extensive venous and arterial thrombosis, and hemorrhagic skin necrosis. Laboratory testing reveals evidence of DIC and extremely low protein levels of less than 1% of normal.
Physical
Patients with symptomatic hereditary protein C deficiency may present with VTE or WISN. Homozygotes and compound heterozygotes frequently present with neonatal purpura fulminans during the first hours of life.
Venous thromboembolism
Findings of acute VTE on physical examination are discussed in topics elsewhere (see Further Reading). Deep venous thrombosis of the lower extremity may be complicated by postthrombotic syndrome, a chronic condition associated with swelling, pain, discoloration, and venous insufficiency of the lower extremity.
Warfarin-induced skin necrosis
The skin lesions of WISN occur on the extremities, torso, breasts, and penis. They begin as erythematous macules and, if appropriate therapy is not initiated promptly, evolve to become purpuric and necrotic bullae. See image below.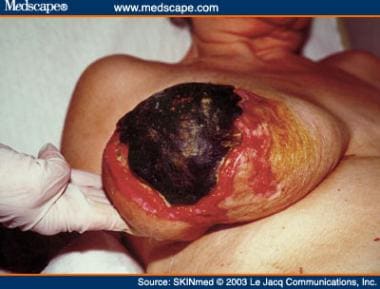 A patient with warfarin-induced skin necrosis.
Neonatal purpura fulminans
Affected neonates present with diffuse ecchymoses that, like the lesions of WISN, progress to form necrotic bullae if appropriate therapy is not rapidly instituted. See image below.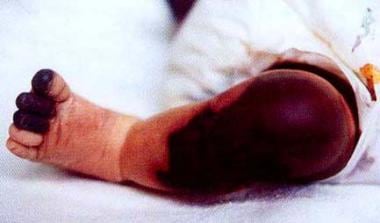 A patient with neonatal purpura fulminans.
Causes
Protein C deficiency may be congenital or acquired. The genetic basis of congenital protein C deficiency is reviewed in Pathophysiology.
Acquired Protein C Deficiency
Causes of acquired protein C deficiency include the following:
Acute thrombosis

Warfarin therapy

Liver disease (eg, liver fibrosis from chronic hepatitis C

[53]

Vitamin K deficiency

Sepsis

Certain chemotherapeutic agents (eg, L-asparaginase)

Uremia - Uremic patients may have a normal levels of protein C with low levels of protein C anticoagulant activity due to a antibodies against protein C

[56]
Cases of acquired protein C deficiency in association with the development of a protein C autoantibody [57] and hematopoietic stem cell transplantation [58] have also been reported.
A severe form of acquired protein C deficiency associated with purpura fulminans may be observed in patients with meningococcemia and other causes of severe sepsis. [59]
Causes of increased protein C include the following:
What would you like to print?