Workup
Approach Considerations
Radiation cystitis can mimic many different diseases. Neoplasia, urinary tract infection, and stone disease produce similar findings. Consequently, a complete evaluation of the urinary tract is required. The initial evaluation should include the following:
Urinalysis to assess for hematuria and pyuria and to measure urine pH

Urine culture to confirm or rule out infection

Urinary cytology to screen for tumor
If the patient has hematuria, a complete blood count (CBC) is required to assess hemoglobin, hematocrit, and adequate platelet count. Gross hematuria is an indication to evaluate volume status, coagulation status, and the need for red blood cell (RBC) transfusion. Cystoscopy and renal imaging are also indicated to rule out other possible causes of genitourinary (GU) bleeding. Prothrombin time (PT) and activated partial thromboplastin time (aPTT) are needed to rule out coagulopathies if the patient is bleeding.
A white blood cell (WBC) count is necessary to assess for infection if the patient is febrile. Electrolytes, blood urea nitrogen (BUN), and creatinine levels are needed to assess renal function; obstructive uropathy may result from stricturing of the urinary tract and poor emptying. Urodynamics may be required if a patient presents with more complicated symptoms, but most symptoms can be evaluated by a thorough history and physical examination.
Biopsy
Avoid bladder biopsy because it may cause persistent bleeding or even fistula formation. However, judicious use of bladder biopsies may be indicated if a suspicious lesion or recurrent tumor is suggested.
Urodynamic Studies
Urodynamic studies are needed only when the diagnosis remains unclear after the history and physical examination. Urodynamics can help to assess for decreased bladder volume, postvoid residual urine, and detrusor instability. All are potentially present in radiation cystitis but are not specific for the disease.
Reported findings in acute cases include the following:
Detrusor instability (40-50% of patients)

Decreased peak flow rate

Decreased bladder compliance

Decreased bladder volume (approximately 20% volume reduction)
After the acute phase has passed (6mo), most bladder parameters return to normal. Some authors report a persistent loss of bladder compliance; however, it is not significantly different from that in control subjects.
Cystoscopy
Cystoscopy is used to confirm the diagnosis and to rule out other conditions, such as bladder cancer or other recurrent metastatic tumors. Cystoscopy can be combined with retrograde pyelography, if needed.
On cystoscopy (see the images below), acute radiation injury is characterized by changes such as the following:
Telangiectasia

Diffuse erythema

Prominent submucosal vascularity

Mucosal edema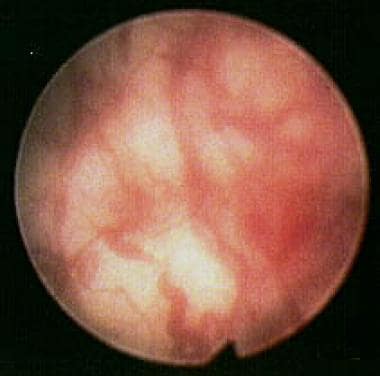 Cystoscopic view of a bladder showing the neovascularity and telangiectasia of radiation cystitis.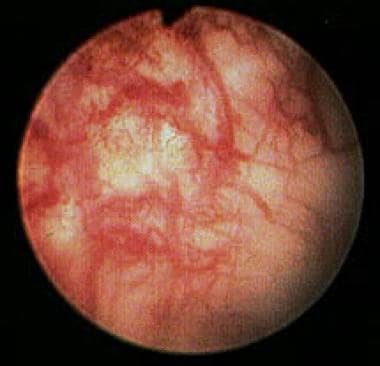 Cystoscopic view of a bladder showing the neovascularity and telangiectasia of radiation cystitis.
Cystoscopic findings in chronic radiation injury can be similar to those in acute injury, with areas of extreme pallor between erythematous areas and petechiae (see the image below).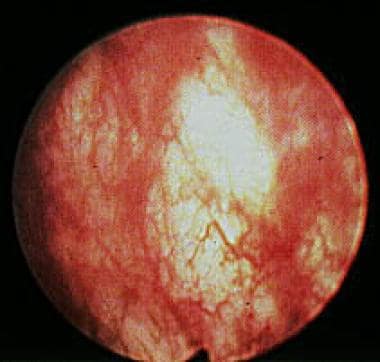 Cystoscopic view of a radiated bladder showing areas of neovascularization next to an area of pallor; the pallor was caused by increased collagen deposition. In such cases, the collagen prevents new vessels from forming in injured areas and contributes to ischemia.
Imaging Studies
Imaging studies may consist of intravenous pyelography (IVP), CT urography, or renal ultrasonography. IVP is useful to evaluate anatomic abnormalities of the GU tract (eg, stricturing, fistula formation). If hematuria is present, IVP or CT urography is needed to rule out other causes of bleeding, such as calculus disease and neoplasia. As an alternative, ultrasonography can be used to assess for hydronephrosis due to scarring, renal tumors (as another cause of bleeding), and calculus disease.
CT scanning may also help in the diagnosis of bladder fistulas. Findings in patients with fistulas include the following [11] :
Passage of orally or rectally administered contrast medium into the bladder (20%)

Focal bladder-wall thickening (90%)

Thickening of adjacent bowel wall (85%)

Extraluminal mass that often contains air (75%)
What would you like to print?