Overview
Background
Brain perfusion single-photon emission computed tomography (SPECT) imaging is a functional nuclear imaging technique performed to evaluate regional cerebral perfusion. Because cerebral blood flow is closely linked to neuronal activity, the activity distribution is presumed to reflect neuronal activity levels in different areas of the brain. A lipophilic, PH-neutral radiopharmaceutical (most commonly technetium-99m-hexamethylpropyleneamine oxime [HMPAO] and 99mTc-ethylene cysteine diethylester [ECD], with a half-life of 6.02 hours) is injected into the patient, which crosses the blood-brain barrier and continues to emit gamma rays. A 3-dimensional representation of cerebral blood flow can be iterated using gamma detectors, allowing for interpretation. [1, 2, 3, 4]
Brain SPECT can be complemented with pharmaceutical agents that enhance regional cerebral blood flow, such as acetazolamide (carbonic anhydrase). Acetazolamide increases local pCO2 and causes arteriolar dilation, allowing for assessment of cerebrovascular reserve in transient ischemic attack, stroke, and vascular anomalies and distinguishing vascular from neuronal causes of dementia. [5, 6, 7]
(See the brain SPECT images below.)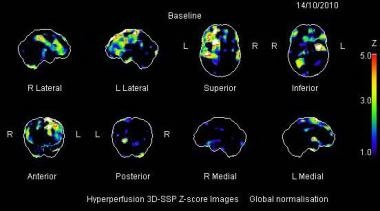 Three-dimensional SSP quantitative maps.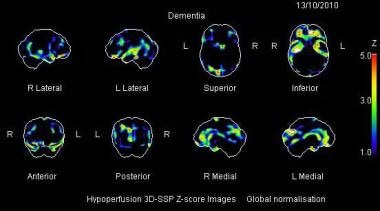 Three-dimensional SSP quantitative maps confirm widespread reduction in cortical activity, most marked in the temporal lobes
Indications
Brain perfusion SPECT imaging can aid in the diagnosis and ongoing evaluation of many different medical conditions, such as the following:
Detection and evaluation of cerebrovascular disease

Aid in the diagnosis and differential diagnoses of suspected dementia

Detection of seizure focus

Assessment of brain death

Evaluating suspected brain trauma

Neuropsychiatric disorders: Mood disorders, evaluating and subtyping attention-deficit disorder
American College of Radiology (ACR) – Society of Pediatric Radiology (SPR) Guidelines
A joint ACR-SPR practice parameter on the performance of SPECT brain perfusion imaging examinations includes the following indications [8] :
Evaluating patients with suspected dementia

Localizing epileptic foci preoperatively

Diagnosing encephalitis

Monitoring and assessing vascular spasm following subarachnoid hemorrhage

Mapping of brain perfusion during interventions

Detecting and evaluating cerebrovascular disease

Predicting the prognosis of patients with cerebrovascular accidents

Corroborating the clinical impression of brain death
For other indications, such as neuropsychiatric disorders and chronic fatigue syndrome, the findings of SPECT brain perfusion imaging have not been fully characterized. In HIV encephalopathy, SPECT brain perfusion imaging can detect altered brain perfusion.
Contraindications
Brain SPECT imaging is contraindicated in the following:
Breastfeeding (this should be interrupted for 24 hours prior to imaging)
The use of acetazolamide is contraindicated in patients with a known sulfa allergy or advanced liver disease and may trigger a migraine in patients with migraine history. Acetazolamide should be avoided for 3 days after acute stroke or recent transient ischemic attack. [8]
Brain SPECT imaging is a safe procedure on the whole. However, care must be provided by the imaging technologist to reduce patient discomfort and minimize motion artifact. Care must also be provided to avoid tissue extravasation of radiopharmaceutical agents, as there is potential to induce tissue necrosis.
What would you like to print?