DDx
Diagnostic Considerations
To make an accurate diagnosis, the clinician must recognize the similarity between thrombotic thrombocytopenic purpura (TTP) and hemolytic-uremic syndrome (HUS). In addition to HUS, the differential diagnosis also includes immune thrombocytopenic purpura (ITP) and disseminated intravascular coagulation (DIC), two entities with very different modes of therapy (see the image below).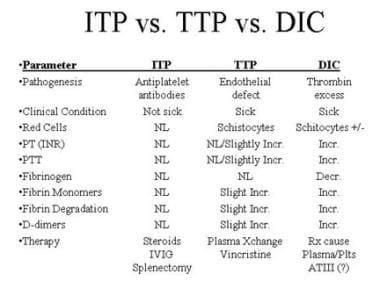 Differential diagnosis of thrombotic thrombocytopenic purpura/hemolytic-uremic syndrome.
Additional diagnoses that should be considered in patients presenting with an acute thrombotic microangiopathy (TMA), especially in those in whom levels of ADAMTS13 (a disintegrin and metalloproteinase with a thrombospondin type 1 motif, member 13) activity are nondeficient (>10%) include the following [11] :
Drug-induced TMA

Cancer-associated TMA

Hematopoietic transplant–associated TMA
Differential Diagnoses
What would you like to print?