Overview
Background
The procedure known as trepanning, or trephination, of bone is the oldest surgical practice that continues to have clinical relevance in modern times. The practice dates as far back as the Neolithic period and initially entailed the drilling of cranial bones as a form of medical intervention for headaches and mental illnesses. However it was not until 1905, when the Italian physician Pianese reported bone marrow infiltration by the parasite Leishmania, that this procedure was applied to clinical evaluation. [1]
Bone marrow consists of stem cells, which are large, "primitive," undifferentiated cells supported by fibrous tissue called stroma. There are two main types of stem cells, and thus, bone marrow consists of two types of cellular tissue. One type of stem cell is involved in producing blood cells, and the other is involved in producing stromal cells, which are responsible for the supporting stroma. For more information about the relevant anatomy, see Bone Marrow Anatomy.
Sampling of the marrow consists of aspiration of the cellular component, acquisition of tissue fragments, or both. Aspiration of the marrow has been primarily utilized for cytologic assessment, with analysis directed toward assessing the morphology and obtaining a differential cell count. Further sampling allows material to be directed toward other ancillary tests, such as cytogenetics, molecular studies, microbiologic cultures, immunohistochemistry, and flow cytometry.
Biopsies, on the other hand, allow evaluation of the marrow's overall cellularity, detection of focal lesions, and determination of the extent of infiltration by various pathologic entities. [2, 3, 4]
For patient education information, see the Osteoporosis Center and the Cancer Center, as well as Bone Marrow Biopsy.
Indications
Currently, inspection of bone marrow is considered one of the most valuable diagnostic tools for evaluating hematologic disorders. [5] Indications have included diagnosis, staging, and therapeutic monitoring for lymphoproliferative disorders such as chronic lymphocytic leukemia CLL), Hodgkin and non-Hodgkin lymphoma, hairy cell leukemia, myeloproliferative disorders, myelodysplastic syndrome and multiple myeloma. Furthermore, evaluation of cytopenia, [6] thrombocytosis, leukocytosis, anemia, and iron status can be performed. Bone marrow inspection is also done to rule out inflitrative infectious diseases such as fungal infections, tuberculosis, and other granulomatoses.
The application of bone marrow analysis has grown to incorporate other, nonhematologic conditions. For example, in the investigation for fever of unknown origin (FUO), specifically in those patients with AIDS, [7, 8] the marrow may reveal the presence of microorganisms that can cause infections such as tuberculosis, Mycobacterium avium-intracellulare (MAI; also referred to as Mycobacterium avium complex [MAC]) infections, histoplasmosis, leishmaniasis, and other disseminated fungal infections.
Furthermore, the diagnosis of storage diseases (eg, Niemann-Pick disease and Gaucher disease [9] ), as well as the assessment for metastatic carcinoma and granulomatous diseases (eg, sarcoidosis) can be performed. Bone marrow analysis may reveal toxic effects of certain offending medications or substances (eg, alcohol) or nutritional deficiencies (eg, deficiencies of copper/zinc or vitamin B12/folate).
Bone marrow analysis can also be performed in patients with idiopathic thrombocytopenic purpura (ITP), incidental elevated serum paraprotein levels, iron deficiency anemia, polycythemia vera, essential thrombocytosis, or infectious mononucleosis; but these conditions are often more appropriately diagnosed by routine laboratory evaluation. [10] Thrombocytopenia is not in itself a contraindication for bone marrow aspiration and biopsy. [11]
Technical Considerations
Best practices
The safe and preferred sites for bone marrow aspiration, biopsy, or both are described below.
Aspiration and biopsy
The posterior superior iliac crest (see the image below) is the most commonly employed site for reasons of safety, decreased risk of pain, and accessibility. The posterior superior iliac crest site is localized to the central crest area.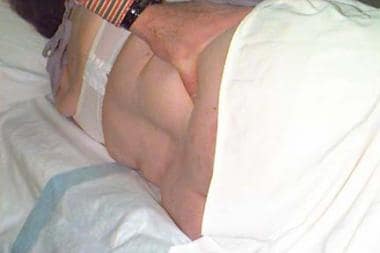 Bone marrow aspiration and biopsy. Patient position (posterior superior iliac crest).
The anterior superior iliac crest is an alternative site when the posterior iliac crest is unapproachable or unavailable as a result of infection, injury, or morbid obesity. The anterior superior iliac crest site is localized to the center prominence, under the lip of the crest. This location is generally not preferred, because of the dense cortical layer, which makes samples harder to obtain and smaller in size and creates a risk of a more painful event.
Aspiration only
The sternum is sampled only as a last resort in those older than 12 years and in those who are morbidly obese, but sternal sampling should be avoided in highly agitated patients. To decrease the risk of penetrating the underlying soft-tissue organs, the sternal site is limited to a region that spans between the second and third intercostal spaces.
The tibia is sampled only for infants younger than 1 year, and the procedure is conducted with the patient under general anesthesia. This site is localized to the proximal anteromedial surface, below the tibial tubercle. The tibial location is not utilized in older patients, because the marrow cellularity is not consistent. [2, 12]
Complication prevention
Sternal bone marrow aspiration has a higher risk of complications than other sites because of the delicate bone structure in this area (~1 cm thick in adults). Penetration of the underlying mediastinal organs can result in mediastinitis, pulmonary embolism, pneumothorax, cardiac tamponade, and cardiac tissue injury, and for these reasons, biopsies are not to be performed from the sternum.
Awareness of anatomic variations and pathologies that may affect bone density (eg, osteoporosis and multiple myeloma) can prevent further complications and injuries.
Application of sterile techniques is required in the prevention of infections.
What would you like to print?