Definition
Hypersensitivity pneumonitis, also known as hypersensitivity pneumonia and extrinsic allergic alveolitis, is a form of interstitial lung disease characterized by an immunologically mediated inflammatory response (hypersensitivity reaction) to inhaled organic antigens in susceptible individuals. [1]
A related entity is "hot tub lung," which is currently believed to be a hypersensitivity pneumonitis –like response to nontuberculous mycobacteria found in hot tubs and other warm-water aerosols. [2, 3] Debate persists, however, regarding whether hot tub lung is a hypersensitivity reaction or a true infection. [4] For an excellent discussion of this issue, the reader is referred to the comprehensive review by Sood et al. [5]
Epidemiology
Hypersensitivity pneumonitis is mainly a disease of adults. Both sexes are affected, although there is a predilection for women. Most patients with this condition do not smoke. [6, 7, 8]
Hot tub lung is a relatively rare condition, with only a few case reports and small series reported in the literature since the initial, virtually simultaneous, descriptions by Embil et al and Kahana et al in 1997. [9, 10, 11, 12, 13, 14, 4, 15, 16, 17, 18, 19, 20, 7] Only 59 cases of hot tub lung had been reported as of 2007, [5] and only a few more cases have been reported since then. [21, 22] Hot tub lung affects adults of both sexes; rare cases have also been reported in children. Patients have ranged from age 9-69 years, and, as with hypersensitivity pneumonitis in general, more cases have occurred in women than in men. [5]
Etiology
Hypersensitivity pneumonitis results from a type III (immune-complex mediated) or type IV (T-cell mediated) hypersensitivity response and is thus a form of immunologic disease. Only a small proportion of individuals exposed to the offending antigens develop symptomatic disease, the reason for which is not completely understood. A recent study suggests that this may be related to a loss of function of regulatory T lymphocytes in such individuals, which may result in unchecked proliferation of lymphocytes that are normally restrained by these regulatory cells. [23]
Many different antigens have been reported to trigger the disease, a few of which are listed in Table 1. In the United States, the most common are avian antigens (derived from birds), mycobacterial antigens (in aerosols derived from hot tub water), and bacteria (derived from moldy hay). [7] In a significant proportion of cases of hypersensitivity pneumonitis (25%-38%), an inciting antigen cannot be identified. [7, 8]
Table 1: Common Forms of Hypersensitivity Pneumonitis, Associated Inciting Antigens and Their Sources (Open Table in a new window)
| | | |
| --- | --- | --- |
| Common Name | Inciting Antigen | Source of Antigen |
| Bird fancier's lung | Avian proteins | Feathers or feces from parakeets, cockatiels, canaries, budgerigars, pigeons and various other birds |
| Hot tub lung | Nontuberculous mycobacteria of the Mycobacterium avium complex (MAC) | Water from hot tubs and other sources of aerosolized warm water |
| Humidifier lung | Thermophilic actinomycetes (bacteria) | Warm water |
| Farmer's lung | Thermophilic actinomycetes (bacteria) such as Saccharopolyspora rectivirgula (formerly Micropolyspora faeni) | Moldy hay |
| Cheese workers' lung | Penicillium (fungi) | Moldy cheese |
| Summer-type hypersensitivity pneumonitis (Japan) | Trichosporon asahii, Trichosporon mucoides, Cryptococcus albidus (fungi) | Home environment |
| Wind-instruments lung | Candida albicans, Phoma, Ulocladium (fungi), Mycobacterium abscessus/chelonae | Mycobacteria or fungi in wind instruments such as saxophones or trombones |
Hot tub lung is caused by inhalation of warm-water aerosols from hot tubs contaminated with organisms of the Mycobacterium avium complex (MAC, which includes Mycobacterium avium and Mycobacterium intracellulare). Rare cases have been attributed to Mycobacterium fortuitum. [15, 16, 22] An identical disease can occur with exposure to MAC organisms derived from other sources of warm-water aerosols such as shower heads or therapy pools. [3] It has been suggested that poor personal hygiene and improper cleaning of hot tubs may predispose to growth of MAC organisms in hot tubs. [5]
Location
Hypersensitivity pneumonitis and hot tub lung typically involve the lungs bilaterally.
Clinical Features and Imaging
Hypersensitivity pneumonitis is classified clinically according to the onset and duration of symptoms, although cutoffs vary widely. [7, 6] In general, the disease is classified as acute (developing within hours of exposure and lasting hours to days), subacute (lasting for up to 4-6 months) and chronic (lasting for more than 4-6 months). Recent data suggest that this classification is less than ideal. [24]
Individuals with acute hypersensitivity pneumonitis (as exemplified by "farmer's lung") develop symptoms within 2-9 hours of exposure to the antigen. They typically present with systemic or influenzalike symptoms such as chills, fever, sweating, myalgias, body aches, headache, and nausea. Cough and dyspnea may also occur.
It has been suggested that subacute hypersensitivity pneumonitis is a variant of acute hypersensitivity pneumonitis in which the symptoms take longer to resolve. [24] Patients with chronic hypersensitivity pneumonitis present predominantly with dyspnea and cough. [6, 7] Fever, fatigue, weight loss, flulike symptoms, and chest discomfort may also occur but are less common. There may be a history of exacerbation of symptoms in certain locations or situations and decreased severity in others. This typical waxing and waning of symptoms is a reflection of exposure to and removal from the source of antigen.
The most common physical finding in hypersensitivity pneumonitis is the presence of inspiratory crackles, which can be auscultated in most patients with the condition. [6, 7] Wheezing, cyanosis, and digital clubbing are demonstrable in only a minority of cases.
The diagnosis of hypersensitivity pneumonitis is often difficult because of the lack of a well-defined diagnostic criterion standard. [25] Key investigations to establish the diagnosis include bronchioloalveolar lavage (BAL), pulmonary function tests, and high-resolution computed tomography (HRCT).
BAL typically shows a marked increase in lymphocytes and a predominance of CD8-positive T lymphocytes over CD4-positive T lymphocytes, which is a reversal of the normal CD4:CD8 ratio, in which CD4-positive cells predominate. Pulmonary function tests most often show restrictive changes with a decrease in the diffusing capacity of carbon monoxide (DLCO), but some patients may have obstructive changes. [7, 6] Further investigations may include serologic testing for antibodies to various antigens, skin hypersensitivity tests, or antigen challenge tests.
Radiographs typically show bilateral interstitial infiltrates, although many patients show no abnormalities on chest radiography. [26] Not surprisingly, CT scans (particularly HRCT) are more sensitive for detection of abnormalities. In classic cases, HRCT shows bilateral ground-glass opacities with fine centrilobular nodules. Another common finding is air trapping that manifests as mosaic attenuation on expiratory films. Some patients may have normal findings, even on HRCT.
Radiologic abnormalities are said to be more pronounced in the upper lobes, although a recent large study challenges this assumption. [6] Honeycombing may be present on HRCT in a small minority of patients; these represent cases in which fibrosis has supervened and progressed and can be radiologically indistinguishable from usual interstitial pneumonia/idiopathic pulmonary fibrosis.
The clinical features of hot tub lung (dyspnea and cough) and its radiologic findings (bilateral ground-glass opacities, centrilobular nodules, expiratory air trapping) are essentially identical to those of hypersensitivity pneumonitis due to other causes. See image below. [4]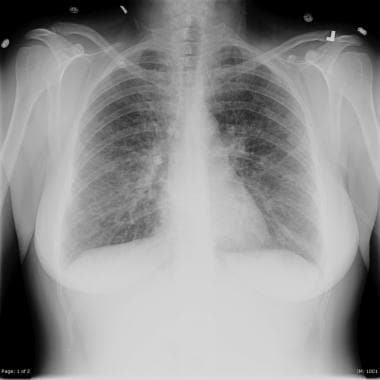 A case of hot tub lung in a 48-year-old woman with dyspnea and dry cough. This chest radiograph, taken at the time of the initial presentation, shows diffuse bilateral fine nodular opacities.
Microscopic Findings
Since acute hypersensitivity pneumonitis is diagnosed on clinical grounds, biopsies are rarely collected. In contrast, the clinical and radiologic findings of subacute and chronic hypersensitivity pneumonitis overlap with other interstitial lung diseases, often resulting in the need for biopsy. The role of biopsy is particularly important when an inciting antigen cannot be identified on clinical investigation or in patients in whom a combination of HRCT and BAL findings does not allow a confident diagnosis of hypersensitivity pneumonitis.
Classic cases of hypersensitivity pneumonitis show a characteristic histologic triad of (1) diffuse interstitial chronic inflammation ("cellular chronic interstitial pneumonia"), (2) poorly formed interstitial granulomas, and (3) tiny foci of organizing pneumonia. [27, 28, 29, 30] Of these, the most striking and consistent finding is a cellular chronic interstitial pneumonia characterized by thickening of alveolar septa (interstitium) by an inflammatory infiltrate composed mainly of lymphocytes and scattered plasma cells, along with an occasional multinucleated giant cell and/or a few aggregates of histiocytes (granulomas). See images below.
The granulomas of hypersensitivity pneumonitis are easily overlooked. They are usually tiny, loose, poorly formed, and non-necrotizing. Multinucleated giant cells, when present, may contain microcalcifications, cholesterol clefts, and other products of macrophage metabolism that are of no significance other than that they may be mistaken for exogenous (foreign) particles. See images below.
The chronic interstitial inflammation in hypersensitivity pneumonitis is usually mild and fairly diffuse. A characteristic feature is that the infiltrate is accentuated around bronchioles. This finding (chronic bronchiolitis) may be subtle and is not always readily appreciated, since respiratory bronchioles and alveolar ducts merge imperceptibly into alveoli. See image below.
Although chronic hypersensitivity pneumonitis is an interstitial disease, secondary changes within the alveolar airspaces are commonly present. One of these is organizing pneumonia, which manifests as the presence of scattered tiny plugs of fibroblasts within a few airspaces. Another common finding is the presence of numerous foamy macrophages within peribronchiolar airspaces, reflecting bronchiolar obstruction upstream (proximal) to the macrophage accumulation. See images below.
It must be stressed that hypersensitivity pneumonitis is not a type I (allergic) hypersensitivity response. Therefore, despite what one might expect from the name of the disease, eosinophils are not encountered in this condition. [27] The hallmark cell of hypersensitivity pneumonitis is the lymphocyte.
Hypersensitivity pneumonitis can be diagnosed in transbronchial biopsy, although diagnostic areas may not always be sampled. In fact, the classic triad of histologic findings described above is present in only 9% of transbronchial lung biopsy samples (and only 50% of surgical lung biopsy samples) from patients with hypersensitivity pneumonitis. [6]
In cases with less-than-classic findings, the most that the pathologist can do is suggest the possibility of the diagnosis, keeping in mind that some drug reactions and collagen vascular diseases can result in identical histologic features. As with other conditions, knowledge of the clinical context and radiographic findings can be very useful when interpreting transbronchial biopsy findings. Even in the absence of an inciting antigen, the pathologic diagnosis can be supported clinically by lymphocytosis on BAL and typical radiographic findings (see Clinical Features and Imaging).
In hot tub lung, the most consistent histologic finding is the presence of granulomas within airspaces, including small membranous bronchioles, respiratory bronchioles, alveolar ducts, and alveoli. [30] The granulomas may be accompanied by interstitial inflammation or organizing pneumonia. Granulomas may also be found in the walls of bronchioles. The granulomas of hot tub lung are characteristically non-necrotizing, but necrosis may be present. They are usually well formed, fairly large, and prominent. Mycobacteria may or may not be demonstrable on acid-fast stains but are not essential for the diagnosis. See images below.
The diagnosis of hot tub lung rests on a history of hot tub use in combination with the characteristic granulomas. Ideally, MAC organisms should be isolated from cultures of respiratory tract specimens, the offending hot tub, or both.
A study described the clinical and histopathologic findings in a retrospective series of 40 consecutive patients diagnosed with hypersensitivity pneumonitis (HP) at the Mayo Clinic in Rochester, MN, between 1997 and 2011. The study confirmed that granulomas and isolated multinucleated giant cells (MNGCs) are not confined to the pulmonary interstitium in HP. [31]
Immunohistochemistry
Like any inflammatory disease, the lymphocytes in chronic hypersensitivity pneumonitis are predominantly CD3-positive T lymphocytes. On biopsy specimens, immunohistochemistry is neither required nor routinely performed for diagnosis of hypersensitivity pneumonitis or hot tub lung.
Prognosis and Predictive Factors
Hypersensitivity pneumonitis usually responds to therapy, which optimally includes identifying a source of exposure and removing the patient from it or vice versa. Many patients also respond well to corticosteroid therapy. In a recent large series, 29 of 57 (51%) patients were completely symptom-free at a median of 8 months of follow-up, and 32% showed improvement; only 18% did not improve. [7]
Chronic hypersensitivity pneumonitis has a slightly worse prognosis than acute or subacute hypersensitivity pneumonitis since a subset of patients with chronic disease shows progressive worsening, likely because of the development of fibrosis, which probably accounts for the small number of patients who die of the disease. In one study, median survival in patients with fibrosis was 7.1 years, while median survival in those without fibrosis was at least 20.9 years and could not be accurately calculated since more than 85% of patients were still alive at last follow-up. [32] In the same study, the overall 5-year mortality was 27% and the median survival was 12.8 years.
Hot tub lung improves or resolves in most patients upon cessation of hot tub use combined with corticosteroid therapy or antimycobacterial therapy. [5] Some patients have been treated with all 3 modalities. [3] Cessation of hot tub use should be the mainstay of therapy in all patients.
Differential Diagnosis
The differential diagnoses of hypersensitivity pneumonitis include usual interstitial pneumonia, nonspecific interstitial pneumonia, hot tub lung, and cellular chronic interstitial pneumonias caused by collagen vascular diseases and drug reactions.
Usual interstitial pneumonia enters the differential diagnoses if fibrosis supervenes and if other features of usual interstitial pneumonia such as scarring and honeycombing are also present. Distinguishing usual interstitial pneumonia from chronic hypersensitivity pneumonitis in such situations can be challenging. The most useful histologic clue to the diagnosis of hypersensitivity pneumonitis in this situation is the presence of a cellular chronic interstitial pneumonia typical of chronic hypersensitivity pneumonitis away from the areas of honeycomb lung. [1] In other words, at least some areas in the biopsy sample should show chronic interstitial inflammation with peribronchiolar accentuation and scattered loose granulomas or giant cells within the interstitium.
It is important to remember that granulomas in cases of usual interstitial pneumonia may be related to superimposed infection or aspiration of gastric contents (food/pill fragments). Therefore, finding granulomas in usual interstitial pneumonia does not necessarily imply a diagnosis of chronic hypersensitivity pneumonitis.
Another entity that can be difficult or impossible to separate from hypersensitivity pneumonitis is nonspecific interstitial pneumonia. The two conditions share the presence of a chronic interstitial pneumonia composed primarily of lymphocytes. Therefore, pathologists encountering biopsy samples reminiscent of nonspecific interstitial pneumonia should search carefully for multinucleated giant cells or tiny loose granulomas in the interstitium. Cases without these findings may still represent a forme fruste of hypersensitivity pneumonitis. [32]
Therefore, from the clinical standpoint, a pathologic diagnosis of nonspecific interstitial pneumonia or a descriptive diagnosis of "cellular chronic interstitial pneumonia" should always prompt a thorough search for a potential source of antigen exposure. A diagnosis of idiopathic nonspecific interstitial pneumonia should be made only after a meticulous clinical search for antigen exposures, underlying collagen vascular diseases, and drug toxicities.
The differential diagnoses of hot tub lung include hypersensitivity pneumonitis due to other causes and nontuberculous mycobacterial infection unrelated to hot tubs. [30]
Pathologically, the features common to hot tub lung and hypersensitivity pneumonitis include interstitial inflammation, granulomas, and foci of organizing pneumonia. The distinction between the two entities lies in the relative prominence of interstitial inflammation and granulomas, the morphologic characteristics of the granulomas, and a history of hot tub use.
While interstitial chronic inflammation is the most striking feature in most cases of hypersensitivity pneumonitis, granulomas dominate the histologic picture in hot tub lung. The granulomas of classic hot tub lung are large and well-formed and present within airspaces, while those of hypersensitivity pneumonitis are tiny and poorly formed and present in the interstitium. [30] Regardless of the histologic findings, a clinical history of hot tub use is essential for a diagnosis of hot tub lung.
Another consideration in patients in whom MAC or other nontuberculous mycobacteria are identified in cultures of respiratory specimens is the possibility of true infection by nontuberculous mycobacteria [2] unrelated to hot tubs. The histologic features in such patients can be identical to hot tub lung, [30] and, as in hot tub lung, acid-fast bacteria may or may not be detected on histologic special stains. In this situation, a history of hot tub use is the key discriminating feature.
What would you like to print?