Presentation
History
A detailed history is necessary to identify the cause of thrombocytopenia. The history should elucidate the following:
Any personal or family history of bleeding

Concomitant medical disorders including thrombosis

Drug and vaccine history

History of alcohol use

Signs and symptoms consistent with autoimmune disorders

History of fever

Previous obstetric history, including preeclampsia, thrombocytopenia in pregnancy, and neonatal thrombocytopenia
Pregnant women with immune thrombocytopenia (ITP) can be asymptomatic or can present with a history of easy bruisability, bleeding into the mucous membranes (epistaxis or gingival bleeding), or petechiae. They may have a history of menorrhagia or menometrorrhagia prior to pregnancy.
A maternal history of delivering a term newborn with thrombocytopenia, visceral or intracranial hemorrhage, or spontaneous or prolonged bleeding after venipuncture or circumcision raises suspicion for neonatal alloimmune thrombocytopenia (NAIT). However, about 50% of neonates with NAIT are first-born children, and thus are delivered to women whose risk for the disorder is previously unrecognized and unknown. [19, 20]
Case history
A 24-year-old part Hawaiian and part Samoan woman has been pregnant four times and given birth once (G4 P1). She has had no spontaneous abortions (SAB0) and two elective abortions (EAB2). She was referred for twice-weekly antepartum testing due to a prior stillbirth at 31 weeks' estimated gestational age. A specific cause of the fetal demise was never determined; chromosome analysis revealed a normal male (46, XY) pattern, placental pathology was normal, and an autopsy was not performed.
Her pregnancy and antepartum testing results are normal until 35 and 5/7 weeks' estimated gestational age. She is admitted for prolonged fetal monitoring; the findings are completely normal (see images below) and she is discharged home later that day.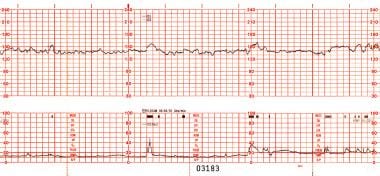 Immune thrombocytopenia. Nonstress test 1 week before delivery showing a normal reactive fetal heart rate pattern.

Immune thrombocytopenia. Nonstress test 4 days before delivery showing a reactive fetal heart rate with an unusual pseudosinusoidal pattern that lasted 9 minutes.
She presents 4 days later with 2 days of decreased fetal movement. Fetal heart tones cannot be auscultated, and an ultrasound confirms intrauterine fetal demise. Labor is induced, and she delivers a 2729 g male fetus. Autopsy demonstrates a large subdural hemorrhage (54 g) surrounding the brain and spinal cord (see images below).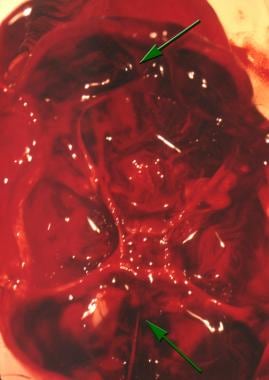 Immune thrombocytopenia. Neonatal brain at autopsy showing extensive subdural hemorrhage.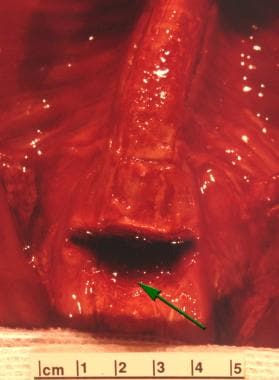 Immune thrombocytopenia. Neonatal spine at autopsy showing extensive hemorrhage at base of spine.
The woman's blood is sent for platelet antigen typing. Her platelet-associated immunoglobulin titers are high, at 7.5 (reference range 0-4.3). She tests positive for HPA-1a; this distinguishes her case from most of those in whites, which involve alloimmunization in an HPA-1a–negative mother exposed to paternal HPA-1a antigen. However, many different platelet antigens exist, and platelet antigens other than HPA-1a may be significant in nonwhite ethnic groups; for example, HPA-4 has been shown to be involved in 80% of NAIT cases in Japanese patients. [65] Because the baby's father declines to have his blood drawn, his platelets cannot be tested with the mother's serum, so the present studies neither support nor exclude a diagnosis of NAIT.
Two years later, the woman presents pregnant with a new partner. The new father's platelets are tested against the mother's serum to verify that no antibodies in the maternal serum will react to paternal platelets, and no antiplatelet antibodies are present. She has an uncomplicated pregnancy and delivers a full-term healthy infant.
Physical
A thorough clinical examination is important to look for the following:
Mucocutaneous bleeding

Petechiae

Skeletal abnormalities

Hepatosplenomegaly

Lymphadenopathy,

Features of preeclampsia and other signs of thrombotic microangiopathy
Most women with ITP have normal findings on physical examination (splenomegaly is absent). Petechiae may be identified in patients with severe thrombocytopenia.
Newborns with NAIT may have normal findings on physical examinations, or they may have a cephalohematoma, ecchymoses over the presenting part, and generalized petechiae (see images below).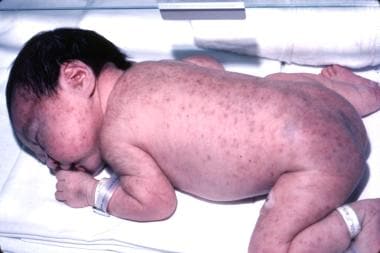 Immune thrombocytopenia. An infant born with neonatal lupus syndrome and severe thrombocytopenia. Note extensive bruising and petechiae.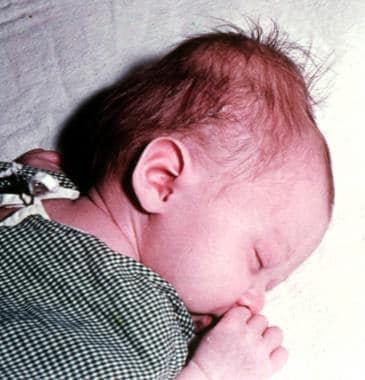 Immune thrombocytopenia. An infant born with a cephalohematoma.
What would you like to print?