Periprocedural Care
Patient Education and Consent
Most education initially includes indications for bone biopsy in the case, potential complications, and benefits from the result that will guide appropriate treatment.
Explain the nature of the procedure. The patient should be instructed to fast before the procedure because moderate-to-deep intravenous (IV) sedation might be required as well as local anesthesia at the side of biopsy.
Instruct the patient to take tetracycline and avoid certain diets, in case dynamic histomorphometry is planned after tetracycline double-labeling.
Advise the patient undergoing peritoneal dialysis (PD) not to have a day dwell of PD fluid on the day of the biopsy. Suggest to the relatively dehydrated postdialysis patient that the dialysate dextrose concentrate should be decreased on the night before the biopsy to prevent hypotension.
Most patients can go home on the same day of the biopsy except for selected cases, such as elderly or sick patients who might require an overnight stay.
Preprocedural Planning
Determine platelet counts and coagulation function. Thrombocytopenia and coagulopathy can potentiate bleeding after the procedure. Determine blood urea nitrogen (BUN) and serum creatinine. Renal failure can cause platelet dysfunction and increase the risk of bleeding.
Equipment
Iliac crest biopsies can be obtained from either the right or left iliac crest in a horizontal and vertical direction. In either approach, equipment includes the following (see the image below) [3] :
A pointed trocar with core diameter of 5-7 mm

A guide sleeve with sharp, serrated edges

A trephine biopsy needle

A blunt extractor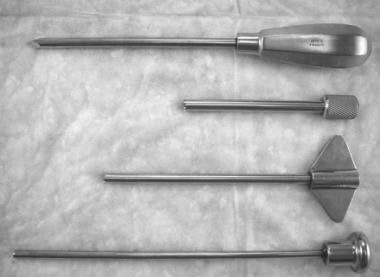 Modified Bordier trephine, from top to bottom, includes pointed trocar, outer guide or sleeve, trephine, and blunt extractor. Image courtesy of Clin J Am Soc Nephrol 3:S164-S169, 2008.
If an electric drill is to be used instead of the manual instruments listed above, equipment includes the following:
Electric drill (see the image below)

Funnel-shaped positioner

Trephine that consists of a precutter drill bit and a core drill or actual trephine

Scalpel with a No. 11 blade

Keyhole surgical drape

Blunt dissector

Antiseptic solution

Syringe (20 mL) and a selection of needles

Skin suture with needle

Stitch holder, scissors, and forceps

Sterile gauze swabs and cotton wool balls

Sterile universal container filled with 10% formalin

Occlusive skin dressing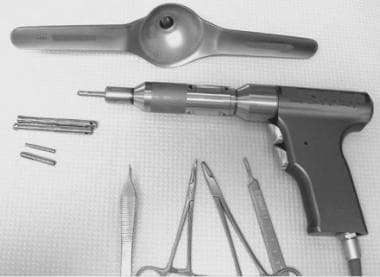 Electric drill for horizontal and vertical iliac crest biopsies. Image courtesy of Clin J Am Soc Nephrol 3:S164-S169, 2008.
Patient Preparation
Anesthesia
A combination of analgesia (fentanyl) with either sedation (propofol infusion) or a benzodiazepine (midazolam) has resulted in excellent biopsy conditions and rapid recovery. Local anesthesia should be used to decrease procedural stimulation and provide some postprocedure pain relief.
Positioning
In current practice, transiliac bone biopsy can be performed with the patient in either of the following two positions:
Supine

Lateral decubitus (left lateral decubitus for a right iliac crest biopsy, right lateral decubitus for a left iliac crest biopsy)
Monitoring & Follow-up
Vital signs should be monitored. Pulse oximetry and continuous cardiac monitoring are warranted in moderately sedated or deeply sedated patients.
After the procedure, the patient should be advised to maintain bed rest for 3-6 hours, mainly to allow the effects of the sedation to wear off. The patient can then get out of bed and go home the same day, except in selected cases where overnight monitoring is required.
At 24 hours after the biopsy, the patient should be instructed to remove the pressure dressing and replace it with a small adhesive pad. After 48 hours, the patient can shower, clean the incision site with soap and water, and then cover the site with a small adhesive pad.
At 7-10 days after the procedure, the sutures can be removed. The patient should be advised to watch for potential complications (eg, bleeding, hematoma, or skin infection).
What would you like to print?