Technique
Approach Considerations
Bronchial thermoplasty (BT) is performed via fiberoptic bronchoscopy in three separate procedures, separated by approximately 3 weeks, as demonstrated by previous studies. [25, 20] Dividing the treatments into three bronchoscopy sessions minimizes the risk of inducing an asthma exacerbation or diffuse airway edema. It also avoids excessive procedural length. BT takes longer (30-60 minutes) than a standard fiberoptic bronchoscopy (5-20 minutes) does, and the longer duration implies the use of larger doses of medication for sedation.
All accessible airways are treated, with the exception of the right middle lobe, because of the theoretical concern about the risk of inducing right-middle-lobe syndrome. [44]
Oxygen delivery should be started via a nasal or oral cannula during the procedure, with appropriate monitoring of vital signs. Heart rate, pulse oximetry, and noninvasive blood pressure should be continuously monitored.
Delivery of Radiofrequency Energy to Bronchial Wall
BT (see the video below) can be performed via either a nasal or an oral approach; the nasal approach is preferred because patients tend to have less gagging and fewer secretions. Most BT procedures are performed with conscious sedation. The procedure is generally well tolerated, provided that patients are given periprocedural corticosteroids and bronchodilators and receive appropriate sedation.
Bronchial thermoplasty, delivered by the Alair™ Bronchial Thermoplasty System. Courtesy of Boston Scientific.
After the airway has been examined bronchoscopically, the Alair catheter is introduced under direct visualization through the bronchoscope working channel. The single-use catheter of the Alair system fits through a 2-mm working channel of a standard 5-mm fiberoptic bronchoscope. This catheter has an expandable four-electrode basket at its distal tip that has heating and temperature-sensing elements for feedback control.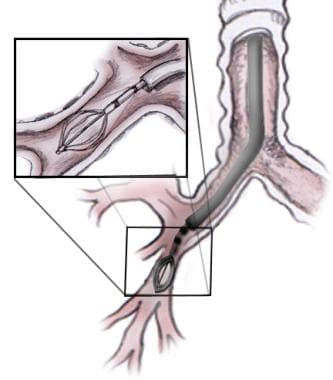 Bronchial thermoplasty catheter in airway.
Once the catheter is in the site to be treated, the four-electrode array is expanded until the four wires are in firm contact with the airway wall circumferentially. The bronchoscopist initiates the delivery of energy through a footswitch, and the controller delivers energy automatically using active feedback to maintain the desired treatment temperature of 65°C for 10 seconds.
The left lower lobe and the right lower lobe are treated in separate procedures, and both upper lobes are treated during a third procedure. Each procedure usually requires 50-75 activations of the device to cover the targeted airways, as determined during treatment planning. The sites are treated meticulously and are recorded on a bronchial airway map to ensure that treatment sites are not skipped or overlapped.
Postprocedural Care
After each procedure, the patient should be observed for 3-4 hours before discharge. Immediate postprocedural follow-up includes assessment of gag reflex, vital signs, and forced expiratory volume in 1 second (FEV1). All patients should receive a follow-up appointment shortly after the procedure; respiratory-related symptoms are expected to worsen before resolving with standard medical care within an average of 1 week.
Complications
Recurrent lung atelectasis secondary to fibrin plugs has been reported as an early complication of BT. In the susceptible patient, high thermal stimulation may lead to an inflammatory reaction with microvascular alteration, induced either by heat or by the release of inflammatory mediators. [45] Lung abscess has also been described as a direct complication; thus, collecting and publishing safety data continue to be important. [46]
A prospective cohort study performed as part of the TASMA trial reported a high incidence of acute radiologic abnormalities after BT. [47] Postprocedural computed tomography (CT) of the chest identified four different radiologic patterns: (1) peribronchial consolidations with surrounding ground-glass opacities (94%), (2) atelectasis (38%), (3) partial bronchial occlusions (63%), and (4) bronchial dilatations (19%). These complications resolved without clinical impact in virtually all cases.
What would you like to print?