Treatment
Approach Considerations
After failure to thrive is diagnosed, appropriate interventions need to be directed toward removing or reducing the precipitant factor, as well as treating the symptoms. The image below provides a diagrammatic representation of the steps for managing failure to thrive.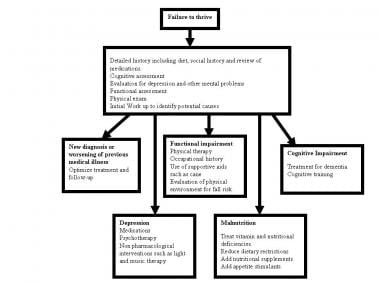 Management of failure to thrive.
If a new diagnosis has been established, appropriate treatment and follow-up is recommended. However, it is important to look at the side-effect profile of treatment in elderly patients. A discussion needs to take place to clarify treatment goals and available options to provide patient-centered care. If the precipitant is worsening of an underlying medical problem, management needs to be optimized and an end-of-life care discussion needs to take place.
Treatment of Depression
There are multiple approaches to treating depression in elderly persons patients. In addition to pharmacotherapy, which may cause serious side effects in elderly persons, nonpharmacological interventions such as psychotherapy and light and music therapy need to be considered. [11]
Patients with cognitive impairment benefit from cognitive training in terms of improving their cognitive abilities and ability to carry out activities of daily living and decreasing long-term functional decline. [12, 13]
Dietary Modification
Nutritional and vitamin deficiencies diagnosed in patients with failure to thrive need to be treated and monitored. Dietary restrictions should be reduced to encourage a greater variety of food options. In addition, nutritional boosts or supplements with meals can prevent malnutrition in patients with decreased intake.
Another strategy is prescribing of appetite stimulants such as dronabinol (Marinol) or megestrol (Megace). [14] The evidence for megestrol efficacy is much stronger than for dronabinol in elderly persons. The side-effect profile of megestrol includes thromboembolism, adrenal insufficiency or suppression, catabolic effect on the muscles, hypoglycemia, and hyperglycemia, particularly when used for more than 12 weeks. The side-effect profile of dronabinol includes sedation, fatigue, euphoria, and hallucinations, so judicious prescription of these medications for a limited period with close follow-up is recommended.
Activity
Patients with functional impairment require physical therapy and occupational therapy to prevent falls through improvement of balance, muscle strength, and endurance. [15] In addition, the patient's physical environment needs to be evaluated and modified to reduce fall risk. Another important aspect is provision of supportive aids such as a cane or wheelchair to improve balance and ambulation.
Consultations
Failure to thrive can be multifactorial and can lead to physical and mental impairment. It is imperative that a team approach is used to address this complex and multidimensional problem. A coordinated effort involving a dietitian, social worker, psychiatrist, and physical and occupational therapist can provide the necessary support to help these patients. Additional consultation with specialists for management of the specific suspected etiologies underlying failure to thrive may be needed.
What would you like to print?