Technique
Approach Considerations
The basic types of sequences used in brain MRI create either T1-weighted or T2-weighted images.
In T1-weighted images, CSF and fluid appear dark. Gray matter is darker than white matter.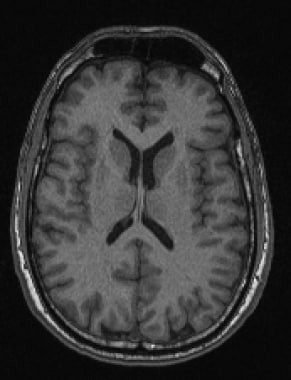 Axial T1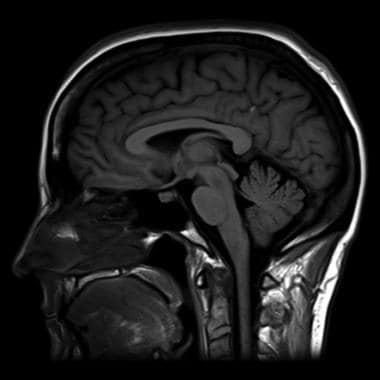 Sagittal T1
In T2-weighted images, CSF and fluid have a higher signal intensity than tissue and therefore appear bright. [4]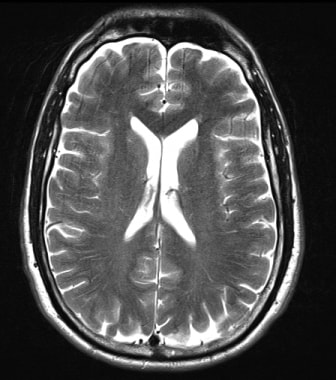 Axial T2
Other specialized sequences are also available and can be useful to demonstrate various pathologies. Research continues for the development of new specialized sequences. Some specialized sequences include the following:
FLAIR (T2 with water suppression)

T2 with fat suppression

T1 with contrast

Echoplanar

Proton density

MR spectroscopy (MRS)

Functional MRI (fMRI)

Perfusion MR

MR angiography/venography (see image below)

Diffusion and diffusion tensor MR

Diffusion-weighted imaging (good for small strokes)

Gradient echo (GRE)
Brain Magnetic Resonance Imaging
Patients are instructed to lie supine and to stay still with their hands at their side. Patients might be asked to hold their breath for certain short periods. Additionally, patients might also receive short breaks between scans.
Each scan takes 30 seconds to 3 minutes, and the procedure can take up to an hour.
A head coil helmet is placed around the patient's head. The helmet allows the patient to see outside, thereby minimizing claustrophobia. [14]
The patient is able to communicate outside the room with a two-way intercom.
Some machines play music or display TV, hence minimizing symptoms of claustrophobia and reducing the loud scanner noises. Vibrations might be felt along with the scanner noises that are produced.
A panic button is also provided to the patient to abandon the procedure if he/she cannot continue further. Patients are also advised to inform the technician if they feel uncomfortable. [14]
What would you like to print?