Technique
Approach Considerations
Several variants of bone scanning involve Tc-99m MDP and gamma camera imaging. [18] The first is a limited body scan, in which the only concern is the bony metabolism of a small part of the skeleton. More common is the whole-body bone scan, in which the entire skeleton is imaged. Finally, bone scans may include special procedures such as 3-phase imaging or SPECT imaging. It is common to perform a limited scan with 3-phase imaging when the clinical concern is a stress fracture or shin splints. In most cases, however, a whole-body bone scan is performed. SPECT imaging is performed primarily to help evaluate tracer uptake in the spine. For all of these variants, the basic technique is the same: The tracer is injected intravenously, and images are then obtained after a varying length of time.
Whole-Body Tc-99m MDP Bone Scan
A whole-body Tc-99m MDP bone scan is the most common technique used. In this situation, the tracer is injected intravenously; the patient then waits for a few hours for the tracer to be taken up by the bones. In an F-18 NaF PET/CT bone scan, this uptake time may be as short as 30 minutes. [1] After the uptake period, the patient lies down supine on the scanning bed while whole-body images are obtained. This generally takes about 30 minutes, although the time may be shorter (eg, PET/CT scans) or slightly longer (eg, for single-head cameras, as compared to dual-head cameras). [11, 19]
(See the images below.)
Three-Phase Tc-99m MDP Bone Scan
A 3-phase Tc-99m MDP bone scan involves injection of the tracer, followed by imaging at 3 separate time points. The first set of images, phase 1, is obtained immediately after tracer injection in order to evaluate blood flow. The second set of images, phase 2, is obtained a few minutes after tracer injection and evaluates venous pooling. The final set of images, phase 3, is obtained a few hours later in order to evaluate bony metabolism. Imaging at 3 different time points is particularly helpful in evaluating localized pain when it is unclear whether the pain comes from a fracture or a soft tissue injury.
SPECT Imaging
Single-photon emission CT (SPECT) is used to obtain 3-dimensional images from a gamma camera. Although the camera head moves much slower, the reconstruction technique is similar to that of a standard CT scan. By collecting several planar views, computer reconstruction allows visualization of the body in 3 dimensions. [20]
SPECT/CT arthrography, which combines CT arthrography and late-phase bone SPECT/CT, has been used for imaging of knee, ankle, and wrist joints. SPECT/CT provides information regarding increased bone turnover combined with morphologic details. Compared to SPECT/CT alone, additional intra-articular contrast enables the assessment of cartilage, menisci, ligaments, and loose bodies. [21]
Dual-Tracer Single-Acquisition Bone Scan
It is also possible to simultaneously image osteolytic and osteoblastic bone activity using a dual-tracer single-acquisition technique. [22] In the case of bone scanning, this involves the simultaneous injection of F-18 fluorodeoxyglucose (FDG) and F-18 NaF. This technique has been proposed as a more cost-effective approach to staging cancer while maintaining or improving clinical accuracy. [23]
(See the image below.)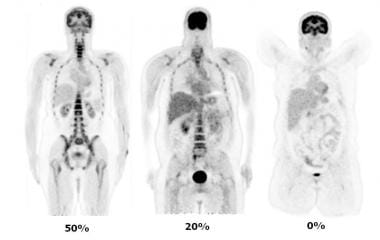 Dual tracer single acquisition PET scans utilizing 18-F FDG and 18F-NaF. The image on the left has 50% NaF and 50% FDG. The middle image has 20% NaF and 80% FDG. The image on the right is a standard 18F-FDG image. All show normal tracer uptake.
What would you like to print?