Technique
Fetal Surgery for Congenital Diaphragmatic Hernia
After appropriate counseling has been completed; the risks, benefits, and potential complications have been thoroughly reviewed; and it has been established that the family wishes to proceed, preparations are made for the fetal bronchoscopy and tracheal occlusion procedure.
The technique was originally described by Harrison et al [15] and subsequently outlined in detail by Deprest et al. [34] Briefly, after appropriate anesthesia is achieved, the uterine and fetal anatomy are carefully surveyed with ultrasonography (US). The placenta is avoided, and a laparoscopic trocar (usually a disposable central venous introducer sheath) is inserted by means of the Seldinger technique.
The fetoscope is introduced and maneuvered into the oropharynx, through the glottis, and into the trachea. The detachable balloon catheter is passed through the side-channel of the fetoscope, the balloon is inflated and detached, and then the fetoscope is withdrawn. Appropriate positioning of the balloon in the trachea is confirmed by means of US. (See the video and image below).
The fetoscope enters the oropharynx and passes through the glottis into the trachea. The mainstem bronchi are seen, and then the detachable balloon is passed through a side-channel of the fetoscope into the trachea, inflated, and detached in an appropriate position. The fetoscope is then removed and ultrasound confirms the balloon position in the trachea. Current practice is to repeat fetoscopy and remove the balloon after 4-6 weeks. Video courtesy of Division of Pediatric Surgery, University of California, San Francisco, School of Medicine.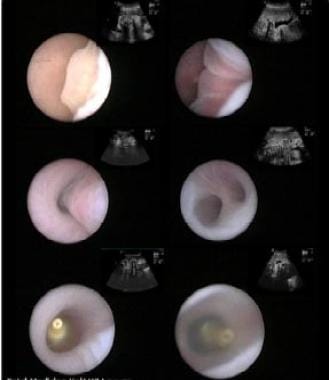 Fetoscopic images of landmarks during percutaneous fetal tracheal balloon occlusion. From top left to right bottom: epiglottis, vocal cords, trachea, carina, inflated and detached balloon, vocal cords about to close over the balloon. Image courtesy of Division of Pediatric Surgery, University of California, San Francisco, School of Medicine.
Reversal Procedure
Since the development of the fetal tracheal occlusion technique, reversal of the occlusion has been recognized as an important part of the therapy, both to avoid the necessity of an ex-utero intrapartum treatment (EXIT) procedure [35, 36] for delivery and to allow the lungs to recover from the distention forces that result in lung growth. [37]
Reversal is achieved through repeat fetoscopy and balloon removal 4-6 weeks after the initial procedure. In the future, more sophisticated tracheal occlusion devices may allow for more physiologic lung growth and development. [38]
What would you like to print?