Technique
Relief of Fetal Lower Urinary Tract Obstruction
As part of the workup for lower urinary tract obstruction (LUTO), serial vesicocentesis may be necessary. These aspirations are performed with ultrasonographic (US) guidance and local anesthesia. A 22-gauge needle is inserted superior to the pubic rami and lateral to the midline. A superior approach to the bladder will not be successful, because urine drainage causes bladder retraction into the pelvis and needle displacement.
In contrast, the approach for fetal cystoscopy requires a superior approach. Once inside the fetal bladder, the fetoscope is directed downward toward the bladder neck. If an elevated membranous obstruction is identified, the diagnosis is posterior urethral valve (PUV), which can be treated with wire or laser fulguration or hydroablation. [30] Notably, the bladder-neck angle in patients with LUTO has been found to be increased, which can contribute to the technical challenges of fetal cystoscopy. [32]
Vesicoamniotic shunting is currently the method most commonly used to relieve fetal LUTO. Under US guidance, a trocar is introduced into the fetal bladder. Once it is in place, the vesicoamniotic shunt is slowly advanced with a push rod while the trocar is retracted (see the image below). Care must be taken to deploy one side of the pigtail catheter within the fetal bladder and the other in the amniotic cavity. Amnioinfusion is frequently required to create a pocket for shunt deployment.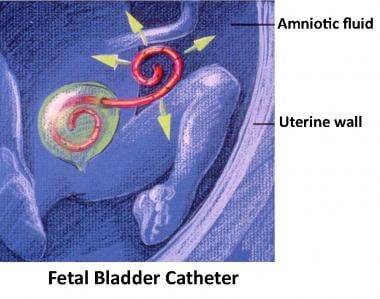 Fetal vesicoamniotic shunt.
What would you like to print?