Technique
Ex-Utero Intrapartum Treatment
During the procedure, fetal pulse oximetry is used to continuously monitor fetal oxygenation. With uteroplacental support in place (see the first image below), endotracheal intubation is attempted (see the second image below).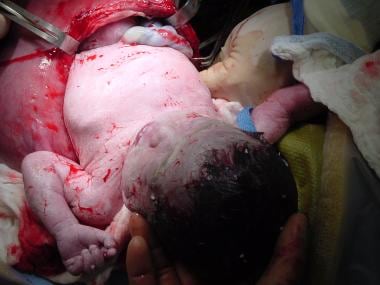 EXIT procedure with fetus maintained on uteroplacental circulation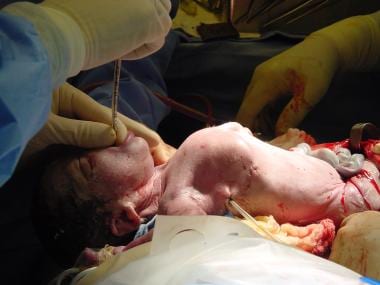 Intubation during EXIT procedure
If unsuccessful, the next step is rigid bronchoscopy with or without wire tracheoplasty. If this attempt fails, a tracheostomy is performed (see image below).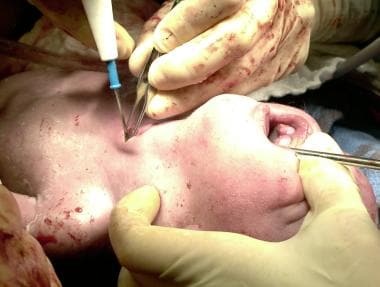 Tracheostomy performed during EXIT procedure for difficulty obtaining an oral airway
Ex-utero intrapartum treatment (EXIT) deliveries can lead to tremendous blood loss. Tocolytics and inhaled anesthetics are used to reduce contractions and frequently result in uterine atony. To minimize blood loss during the hysterotomy, a specific uterine stapler device with absorbable staples is required.
It is paramount to preserve placental blood flow, which requires profound uterine relaxation and caution in entering the uterus. Anterior placentas frequently necessitate a posterior uterine incision in an attempt to avoid placental injury and chorioamniotic separation, which can disrupt uteroplacental gas exchange. Additionally, care should be taken to minimize manipulation of the umbilical, which may result in vessel spasm and compromised blood flow.
If necessary, the procedure can last several hours.
What would you like to print?