Overview
Background
Fetal cervical masses are a challenging congenital malformation to manage; they can grow rapidly, resulting in hydrops fetalis, polyhydramnios, and in-utero fetal demise (IUFD). Among affected fetuses who survive to delivery, asphyxia and death commonly result from airway compromise. [1]
Fetal cervical masses are diagnosed with antenatal ultrasonography (US), and when they are identified, follow-up fetal magnetic resonance imaging (MRI) for further characterization is warranted.
Management has evolved over the past two decades, and with the introduction of the ex-utero intrapartum treatment (EXIT) procedure, survival past the neonatal period has significantly improved. [2]
Fetal cervical lesions can result from various congenital malformations, with cervical lymphangiomas and cervical teratomas the two most common. The incidence of cervical cystic hygromas, a lymphatic malformation, is fairly high, affecting 1 in 1000 births. [3] In fact, it has been observed in 1 in 300 spontaneous abortions. [4] Cervical teratomas, the second most common fetal neck mass, are far less common (see the image below), with an unknown incidence. Fewer than 200 cases have been reported in the literature.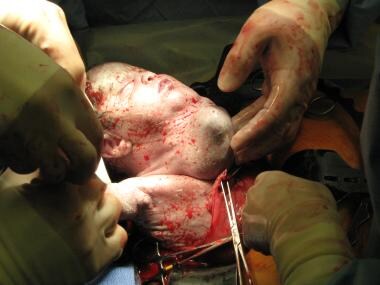 Cervical Teratoma in an infant delivered via EXIT procedure
Other rare neck masses include thyroid malignancies and cysts, branchial cleft cysts, vascular malformations, and neuroblastomas; these are beyond the scope of this article.
Indications
Once a fetal cervical mass is identified with antenatal US, fetal MRI should be performed to help characterize the mass and, if necessary, to assist with preoperative planning. Fetal MRI is valuable in that it aids in delineating solid and cystic components, as well as identifying the presence of fat. In addition, the tracheal anatomy can be evaluated with MRI.
Difficulty arises in defining the severity of the lesion and determining the need for an EXIT procedure. A parameter developed to define the severity of cervical masses is the tracheoesophageal displacement index (TEDI), first described by the Texas Children's Hospital group. [5] The TEDI is based on a sum of the ventral and lateral displacement of the esophagus and the trachea from the cervical spine. In the Texas Children's Hospital's series of 24 patients, 100% of patients with a TEDI higher than 12 mm had a complicated airway, compared with 46% of those with a TEDI lower than 12 mm. [5]
Indications for fetal surgery are few; to date, the authors' institution is the only one to report a successful in-utero resection. [6] An EXIT procedure, on the other hand, should be offered to viable fetuses with complicated airways because it provides an opportunity to manage the airway while the fetus remains on uteroplacental support. If an EXIT procedure is not performed, a pediatric surgeon should be present at the time of delivery in case a surgical airway is required.
Contraindications
Contraindications for fetal surgery can be either maternal or fetal in origin. Maternal contraindications include the following:
Frequent contractions

Membrane rupture

Short cervix

Uncontrolled comorbidities that may predispose the patient to preeclampsia or

HELLP syndrome
Fetal contraindications include the following:
Multiple fetal anomalies

Chromosomal abnormalities

Anatomic restrictions (eg, anterior-lying placenta) that may prohibit safe access
Technical Considerations
Complication prevention
Appropriate anesthesia and tocolytics are imperative for preventing uterine contractions and placental separation.
Uterine atony can lead to diffuse bleeding. Therefore, it is essential to minimize blood loss, to obtain a preoperative type and cross for 4 units of packed red blood cells, and to monitor hematocrits, if necessary.
A special fetal uterine stapler can reduce the risk of hemorrhage.
Outcomes
Outcomes vary. Early neonatal death after a secured airway during an EXIT procedure may result from pulmonary hypoplasia or prematurity. [7] Outcomes depend on the location, size, and underlying etiology of the cervical mass.
Neonatal mortality is approximately 25% and may result from large cervical masses with downward extension impairing lung expansion, which consequently leads to pulmonary hypoplasia. [8]
Cervical teratomas frequently displace rather than invade surrounding structures; thus resection is often feasible.
The malignant potential depends on the pathologic findings, and screening for recurrence with alpha-fetoprotein (AFP) levels should be routinely performed.
Lymphatic and vascular malformations have a much more protracted course and often necessitate multiple operations. In addition, they are associated with a higher risk of nerve dysfunction and disfigurement. [9]
Historically, developmental delay resulting from hypoxia in the perinatal period was common, but with the advent of the EXIT procedure, obvious delays appear to have been dramatically reduced. [10]
A 2015 study suggested that despite the substantial perinatal morbidity associated with fetal neck masses, long-term outcomes, both functional and cognitive, are quite good. [9]
What would you like to print?