Periprocedural Care
Patient Education & Consent
Most importantly, the patient should discuss with their physician and understand the reason for the test and what type of information is expected from it. In addition, any alternative imaging or tests or consequences of not obtaining the CT scan should be discussed.
Prior to the CT scanning, the imaging center should contact the patient to remind him or her of any specific instructions.
Prior imaging studies, obtained at other institutions, can be very helpful to the interpreting radiologist, and the images and report on CD should be submitted by the patient upon arrival or prior to the study.
If intravenous contrast is needed, informed consent must be obtained, including an explanation of risks of reaction and benefits. A policy specifying what type of consent is required should be in place. Patients with no preidentified risk factors are generally asked to give verbal consent. At some medical centers, patients at higher risk might be required to sign a consent form explaining potential reactions to the contrast agent and ways to deal with them.
The patient should be provided with a copy of his or her CT scan(s) upon request before leaving the imaging center or if he or she is receiving care at another institution or office not linked via Picture Archiving and Communication System (PACS) to the imaging center.
The patient is informed that the results of the test will be communicated directly to his or her physician.
Incidental findings are common and must be fully documented and discussed with the patient. Appropriate referrals should be provided to mitigate the risk for delayed diagnosis and treatment. [10]
Equipment
A CT scanner is a large, doughnut-shaped machine (see image below). A CT scan suite is typically divided in 2 rooms separated by a large window, consisting of a scan room, where the CT scanner machine is installed, and a second room, where the CT technologist operates the CT scanner.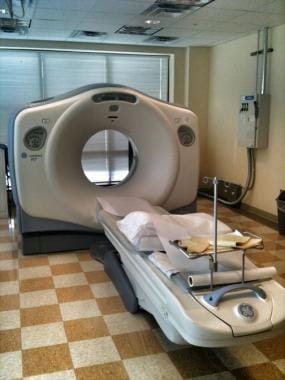 Picture of a CT scanner machine.
What would you like to print?