Overview
Background
Hysterosalpingography (HSG) is a radiographic diagnostic study of the uterus and fallopian tubes most commonly used in the evaluation of infertility. (See the images below.) Uterine abnormalities are thought to be a contributing factor in approximately 10% of infertile women and 50% of women with recurrent early pregnancy loss, while the prevalence of tubal abnormalities in infertility is approximately 20%. [1, 2] Thus, assessment of the uterine cavity and fallopian tubes is a standard practice in the baseline infertility workup.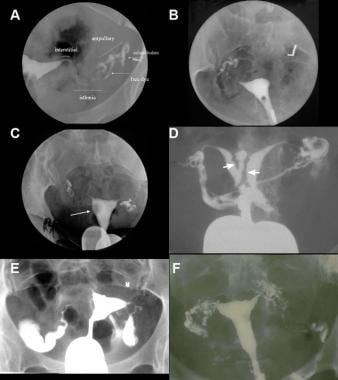 Examples of hysterosalpingogram (HSG) images showing: (A) normal tubal patency, (B) endometrial polyp, (C) submucosal leiomyomata, (D) intrauterine synechiae, (E) hydrosalpinges, and (F) salpingitis isthmica nodosum.
Indications and Contraindications
Indications
HSG has long been recognized for its use in detecting tubal patency, polyps, submucosal leiomyomas, synechiae, müllerian anomalies, hydrosalpinges, salpingitis isthmica nodosum (SIN), and peritubal adhesions. [3] It does not, however, provide significant information about the ovaries, other areas of the pelvis, or the microbiologic environment of the endometrium, the latter of which may contribute to poor reproductive outcome in approximately 25% of subfertile women. [4]
Contraindications
Known contrast allergy, pregnancy, and active pelvic infection are absolute contraindications to the procedure.
Technical Considerations
Procedure planning
The procedure should be performed in the late follicular phase of the menstrual cycle to ensure that the patient is not pregnant and to prevent false-positive intrauterine filling defects and proximal tubal occlusion due to endometrial thickening. Some facilities perform routine pregnancy tests prior to the procedure, but this practice results in an unfavorable cost–to-benefit ratio.
What would you like to print?