Overview
Background
Abdominal computed tomography (CT) scanning has revolutionized patient care. The introduction of CT technology is widely viewed by medical practitioners as one of the major medical advances. [1] Abdominal CT scanning is used in the evaluation of trauma victims for visceral injury [2] and in the evaluation of acute abdominal pain, with a major role in evaluation of renal calculi, [3] acute appendicitis, [4] and complex abdominal pathology (see the images below). [5] It is also the gold standard in identifying abdominal injury in children. [6, 7] Appropriate precautions must be taken before the scan to ensure that the patient has adequate renal function and no history of allergy before intravenous iodinated contrast is prescribed. [8, 9] The technologist will have a direct discussion with the patient to review the risks and refer any identified issues to the radiologist. Informed consent and counseling are required for patients categorized as high risk according to clinic or institutional policy. Technologists usually are certified to obtain verbal consent for uncomplicated cases, but for written consent, a physician must review risks and benefits directly with the patient.
(See the images below.)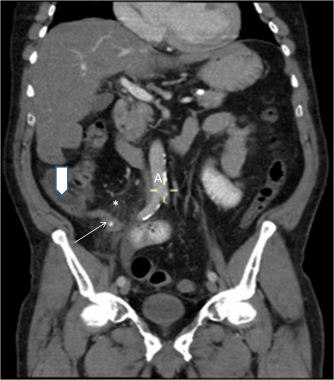 CT of the abdomen and pelvis using oral and IV contrast; a reformatted coronal image is shown. A 67-year-old male presented to the emergency department with sharp right lower quadrant abdominal pain . The appendix, seen here as an enlarged tubular structure in the right lower quadrant (small arrow), demonstrates diffuse wall thickening and contains a central appendicolith. There is associated periappendiceal fat stranding (*). The adjacent cecum appears thickened and demonstrates characteristic wall enhancement (large arrow). Findings were consistent with acute appendicitis with a surrounding inflammatory response. Diffuse abdominal aortic calcifications are incidentally noted (A).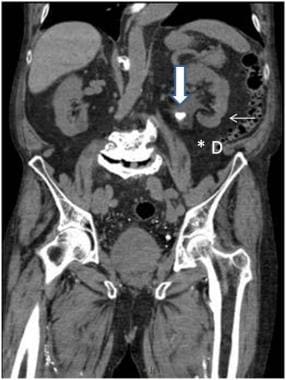 CT of the abdomen and pelvis without contrast; a reformatted 5-mm coronal image shown. An 81-year-old male presented with acute left flank pain and macroscopic hematuria. A large, 1.5-cm partially obstructing stone is seen at the level of the left ureteropelvic junction (large arrow). There is associated periureteral stranding (*). Scarring is noted in the lower pole of the left kidney (small arrow). Incidental note is made of colonic diverticulosis without diverticulitis (D).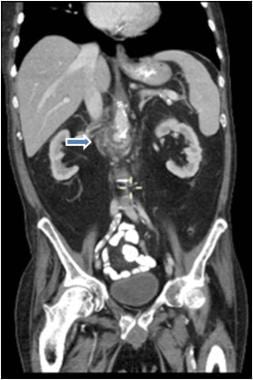 CT of the abdomen and pelvis using PO and IV contrast. A reformatted 5-mm coronal image is shown. A 66-year-old male presented with a history of coronary artery disease, chronic renal insufficiency, ostomyelitis of the foot, and 6 days of constant abdominal pain. Contrast is seen extending beyond the calcified abdominal aortic lumen at, and below, the level of the origin of the renal arteries, with a contained saccular portion measuring 3.4 X 1.7 X 2.7 cm (representing a pseudoaneurysm or a contained dissection secondary to an atherosclerotic ulcer). The patient's condition worsened, and he had MRSA sepsis. At surgery a mycotic aneurysm was found.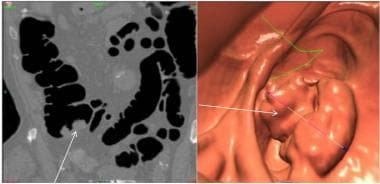 CT colonography with oral contrast tagging is shown. A coronal CT reformat is shown on the left; a companion 3D-reconstruction colonography image of the same patient is shown on the right. An 89-year-old male with iron deficiency anemia presented for colorectal cancer screening. The patient was felt to be high risk for optical colonoscopy secondary to sedation risk. On both the coronal CT image and the reformatted image, a 4-cm mass is seen protruding into the lumen of the cecum, consistent with cecal carcinoma beyond the valve (white arrows). Multiple polyps were also identified during the procedure (not shown). The findings were confirmed by optical colonoscopy.
Abdominal CT scanning is used in the emergency setting to diagnose complex intra-abdominal conditions, to differentiate causes of bowel obstruction, and to evaluate complications of hernia, pancreatitis, biliary obstruction, acute vascular compromise, and abdominal aneurysm. Multidetector CT (MDCT) has a major role in characterization and staging of tumors of the liver, pancreas, kidneys, bowel, reproductive organs, and lymphatic system. It also has a role in screening for hepatocellular carcinoma [10] and colon carcinoma using virtual colonoscopy. [11, 12, 13] In addition, it is used in surgical treatment planning and in diagnosis of postoperative complications. [14, 15]
Scan protocols are adapted for the specific diagnostic problem, and images are reformatted for viewing on picture archiving and communication system (PACS) workstations. Additional manipulation can be done on PACS or on dedicated workstations, providing for multiplanar and 3-dimensional views of organs, vessels, and bones. With the use of appropriate luminal and intravenous contrast agents, information can be obtained on lesion characteristics based on tissue attenuation changes, detailed 3-dimensional arterial anatomy, and/or luminal surface contour (eg, in virtual colonoscopy).
The patient is optimally positioned on the CT scanner table. As the patient is advanced into the scanner, he or she is coached by technologists, who have direct visualization and bidirectional auditory communication with the patient as the study is performed. Typically, the patient is warned to anticipate the effects of contrast injection and is informed about breath-holding requirements during the scan. Technologists select the correct protocol for the prescribed examination and select exposure parameters, taking into consideration factors such as the patient's body habitus to optimize image quality while limiting radiation exposure.
Lau et al concluded that early-routine-use CT for early abdominal pain confers both diagnostic and survival benefits by providing more correct diagnoses at 24 hours and lower mortality at 6 months. [16]
What would you like to print?