Periprocedural Care
Patient Education & Consent
In the area of medicolegal protection, an informed consent to exercise testing must be obtained. A detailed explanation of the procedures, procedure planning and the indication for the test should be provided. The health care professional obtaining consent should also outline the possible adverse effects and complications.
Patient Preparation
Dynamic exercise
Dynamic exercise is the stress technique of choice in patients with suspected or known CAD, provided that the patient is able to exercise at an acceptable workload (≤85% of the maximum predicted heart rate). [27, 28]
The patient should withdraw from drugs that may interfere with a physiological exercise response. Beta antagonists and calcium channel antagonists should be discontinued for 5 half-lives before the test unless medically contraindicated. Patient should avoid caffeine-containing foods, beverages, and drugs for a minimum of 12 hours before the test. This allows the use of vasodilator agents in cases where the exercise is terminated and pharmacological stress is undertaken. Patient should be instructed to dress appropriately for exercise. Fasting is not essential. Although many centers routinely fast patients before imaging, the advantages of this policy is unproven.
Pharmacological stress
Pharmacological stress is an excellent alternative to dynamic exercise. Pharmacological stress with vasodilators is the procedure of choice for patients unable to exercise adequately [29] or for those with LBBB or paced rhythm. [30]
Patients stressed with the vasodilators adenosine or dipyridamole (vasodilator stress) must abstain from caffeine foods, beverages and drugs for a minimum of 12 hours before the test and preferably for 24 hours. [31] Aminophylline and theophylline must be stopped 24 hours before the test. [32] Patients on dipyridamole should discontinue the drug for a minimum of 24 hours before vasodilator stress.
Patients stressed with dobutamine should stop beta antagonists for 5 half-lives or at least 24 hours before the test unless contraindicated.
Anesthesia
No anesthesia is required before SPECT testing.
Positioning
The patient should be supine with both arms above the head, as shown below.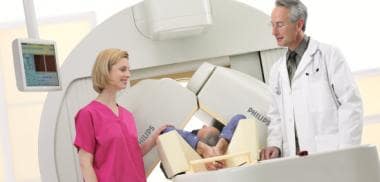 Positioning. The patient should be supine with both arms above the head. Courtesy of Philips Healthcare.
Knee support may also be helpful because patient's comfort is essential to minimize motion. Prone imaging has been used in some centers to reduce the incidence of inferior attenuation artifact [33] but can produce anterior artifacts and is not recommended in isolation.
Female patients should be imaged without underwear. A chest band can be used to minimize breast attenuation and to ensure reproducible positioning during later image acquisition.
Monitoring & Follow-up
Because the radionuclide slowly redistributes, performing both sets of images on the same day is not possible. Therefore, a second attendance is sometimes required 1-7 days later. However, with a TI-201 myocardial perfusion study with dipyridamole, rest images can be acquired as little as 2 hours poststress. If stress imaging is normal, rest imaging is unnecessary. For this reason, stress imaging is obtained first.
What would you like to print?