Overview
Background
Mycetoma is a chronic infection of skin and subcutaneous tissue. The condition was first described in the mid-1800s and was initially named Madura foot, after the region of Madura in India where the disease was first identified.
Mycetoma infection can be caused by fungi or bacteria. When caused by fungi, it is referred to as mycotic mycetoma or eumycetoma. When it is caused by bacteria, it usually involves infection by the actinomycetes group; such cases are called actinomycotic mycetoma or actinomycetoma. [1] Involvement of the lower extremities is common, and the disease presentation, whether caused by fungi or bacteria, is quite similar.
Mycetoma infection typically results in a granulomatous inflammatory response in the deep dermis and subcutaneous tissue, which can extend to the underlying bone. Mycetoma is characterized by the formation of grains, which contain aggregates of the causative organisms that may be discharged onto the skin surface through multiple sinuses. [2] The characteristic color of the grains can assist in the identification of the specific etiologic agent.
Mycetoma due to actinomycetes should be differentiated from actinomycosis, which is an endogenous suppurative infection caused by Actinomyces israelii, other species of Actinomyces, or related bacteria, typically affecting the cervical-facial, thoracic, and pelvic sites (the latter is usually associated with the use of intrauterine devices). The branching bacteria that cause actinomycosis are non–acid-fast anaerobic or microaerophilic bacteria. These bacteria are smaller than 1 µm in diameter, smaller than eumycotic agents. Alternatively, the agents that cause actinomycetoma are always aerobic and are sometimes weakly acid-fast.
More than 20 species of fungi and bacteria can cause mycetoma. Nocardia species, especially Nocardia brasiliensis, is the most commonly implicated actinomycetes. [3]
The ratio of mycetoma cases caused by bacteria (actinomycetoma) to those caused by true fungi (eumycetoma) in Mexico was 92:8. [4]
Pathophysiology
The body parts affected most commonly in persons with mycetoma include the foot or lower leg, with infection of the dorsal aspect of the forefoot being typical. The hand is the next most common location; however, mycetoma lesions can occur anywhere on the body. Lesions on the chest and back are frequently caused by Nocardia species, whereas lesions on the head and neck are usually caused by Streptomyces somaliensis.
The causative organism enters through sites of local trauma (eg, cut on the hand, thorn or foot splinter). Contaminated soil seems to be the real culprit, even when a splinter or thorn is implicated. A neutrophilic response initially occurs, which may be followed by a granulomatous reaction. Spread occurs through skin facial planes and can involve the bone. Hematogenous or lymphatic spread is uncommon.
Human-to-human or animal-to-human transmission has not been described for eumycetoma, but nosocomial transmission of Nocardia farcinica, one of the agents of actinomycetoma in postoperative surgical site infections, has been reported. [5]
Epidemiology
Mycetoma is endemic in Africa, from Sudan and Somalia through Mauritania and Senegal. Other endemic countries include Mexico and India. Mycetoma can also be found in natives of areas of Central and South America and the Middle or Far East between latitudes 15°S and 30°N. [6]
Eumycetoma is more common in areas where the average rainfall is scarce (ie, < 350 mm), whereas actinomycetoma tends to appear in areas with abundant rainfall (ie, >600 mm) [7] and has been described in Southeast Asia. [8]
In Sudanese hospitals, at least 300-400 patients are diagnosed with mycetoma every year.
Mycetoma is rare in the United States. Some cases are acquired during international travel, but cases acquired on US soil have also been reported. [9]
In general, traumatic inoculation of fungal elements into the skin or subcutaneous tissue by a thorn or splinter typically occur in those who walk bare-footed (eg, farmers, field workers), especially in developing countries.
Among the fungal pathogens responsible for mycetoma, Madurella mycetomatis is the most common pathogen described in Africa. Madurella grisea is the most common etiologic pathogen in South America. Pseudallescheria boydii (Scedosporium apiospermum) is the most common etiologic agent in the United States.
Mortality/Morbidity
Mycetoma causes disfigurement but is rarely fatal in the absence of skull involvement. The lesions are painless and slowly progressive; however, secondary bacterial infection or bone expansion may cause pain. When secondary bacterial infection occurs, Staphylococcus aureus is the most common etiologic agent. [10] In advanced cases, deformities or ankylosis and their corresponding disabilities can appear. Patients who are immunocompromised or who have undergone transplantation can develop invasive infection.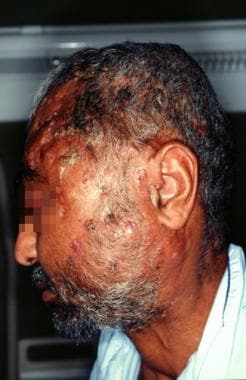 Mycetoma in a 47-year-old shepherd from Mauritania who had a painless progressive swelling of the face for more than 20 years.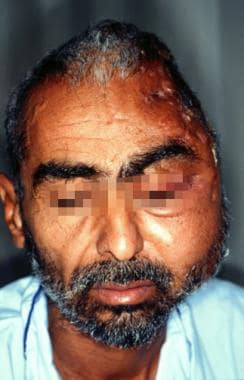 Frontal view of mycetoma in a 47-year-old shepherd from Mauritania who had a painless progressive swelling of the face for more than 20 years.
Race
Mycetoma has no apparent racial predilection.
Sex
Mycetoma has a male-to-female ratio of 3:1 to 5:1
Age
Mycetoma is most common in persons aged 20-50 years, with a mean of 34 years.
What would you like to print?