Workup
Approach Considerations
Currently, multiple diagnostic tools are used to determine the extent of infections and to identify the causative agents of mycetoma. These include various imaging, cytological, histopathological, serological, and culture techniques; phenotypic characterization; and molecular diagnostics. [34]
The first important goal is to differentiate between eumycetoma and actinomycotic mycetoma because treatment is completely different. The most useful procedures for establishing the diagnosis of mycetoma are direct examination with potassium hydroxide (KOH), biopsy, and microbiological cultures. [35] Differentiation is accomplished by microscopic examination of exudate from the draining sinuses. Actinomycetes have granules of about 100 µm in diameter, with delicate, branched filaments measuring about 1 µm in diameter. In contrast, fungal grains are observed as a mass of hyphae embedded in intercellular cement, and the filaments are wider than 1 µm. Observing the size of the filaments and the color of the granules is important because these characteristics are helpful for initial presumptive identification of the etiologic agent.
Culture of the lesion is performed by collection of pus from the abscess or the fistula and by tissue biopsy of the affected site. In both cases, the samples are cultured in media such as Sabouraud agar or mycobiotic agar to isolate fungi and/or blood agar to isolate bacteria. The etiologic agents are identified according to their macroscopic and microscopic features.
Several immunologic assays using culture filtrate or cytoplasmic antigens of mycetoma agents have been developed to detect antibodies. In the case of N brasiliensis, it has been observed by Western blot that the humoral response is directed against three proteins of 24, 26, and 61 kd of a cellular extract. These proteins were isolated and purified, and the 24- and 26-kd proteins were used to develop an enzyme-linked immunosorbent assay (ELISA) to detect antibodies against N brasiliensis. [36, 37] A correlation between antibody titers and clinical condition of the patients was observed. In individuals with active disease, titers were high. In patients with cured lesions, titers were below the cut-off point, with results similar to those obtained with negative controls. To date, the use of a skin antigen for diagnosis has not been useful because of cross-reactivity with other bacterial infections, such as tuberculosis or leprosy.
Regarding eumycotic mycetoma infections, immunodiffusion tests have been used to detect antibodies. In the case of mycetoma caused by M mycetomatis, an immunodominant protein that induces specific antibodies has been described; these antibodies are useful for the identification and prognosis of this infection. A good animal model for studying eumycotic mycetoma has not yet been developed.
Biochemical tests are particularly useful to identify actinomycetes, although a more conclusive identification is performed by sequencing analysis of the small ribosomal subunit gene or sequencing of conserved genes such as HSP65. [36, 38]
An ELISA to determine anti–N brasiliensis antibodies is used for diagnosis and to assess response to medical treatment. [13] Immunoblotting for M mycetomatis identification has been reported. [39]
Advances in genomics have achieved the specific sequence of some pathogenic actinomycetes, among them N brasiliensis, identified by Vera-Cabrera et al. [40] New therapeutic agents in experimental infections in mice, which could be useful in human disease, have also been identified. [41, 42, 43]
Laboratory Studies
Staining
Hematoxylin-eosin staining of a biopsy sample allows for detection of mycetoma grains.
Process hematoxylin-eosin and May-Grünwald-Giemsa staining of a cytologic smear of a sample obtained via fine-needle aspiration. Mycetoma grains can be distinguished from artifacts and other organisms by the intimate relationship between the grain and neutrophils. The appearance of the grains is as follows:
Actinomycetoma - Homogenously eosinophilic with hematoxylin-eosin stain; blue in the center with pink filaments in the periphery with May-Grünwald-Giemsa stain

Eumycetoma - Brownish color with hematoxylin-eosin stain; black with a green tinge with May-Grünwald-Giemsa stain
The causal agent of each type of mycetoma can be visualized better with the following:
Tissue Gram stain to detect fine, gram-positive, branching filaments within the actinomycetoma grain

Gomori methenamine silver or periodic acid-Schiff stain to demonstrate the larger hyphae of eumycetoma
Evaluation of the characteristics of the associated granules suggests an initial differential diagnosis. White-to-yellow grains indicate P boydii (S apiospermum), Nocardia species, or A madurae infection. Yellow-to-brown grains indicate S somaliensis infection. Black grains indicate Streptomyces paraguayensis, Madurella species, or Leptosphaeria species infection. Red-to-pink grains indicate A pelletieri infection.
Culture
Culture the grains obtained from a deep wedge biopsy or a sample obtained via puncture and fine-needle aspiration. The primary isolation media used should be Löwenstein-Jensen for actinomycetoma or blood agar for eumycetoma.
Superficial samples of the draining sinuses are inadequate for culture because of frequent contamination with bacteria.
Serology
Serologic diagnosis is available in a few centers and can be helpful in some cases for diagnosis or follow-up care during medical treatment. Antibodies can be determined via (1) immunodiffusion, (2) counterimmunoelectrophoresis, (3) ELISA, or (4) Western blot.
Imaging Studies
Bone radiography
Only 3% of patients with mycetoma have normal radiographs. [44]
Once mycetoma has invaded the bone, changes may be observed. Cortical thinning is due to compression from the outside by the mycetoma. Cortical hypertrophy or periosteal proliferation may present as a sunray appearance and a Codman triangle. Multiple lytic lesions or cavities may be large and few in number with well-defined margins (eumycetoma) or small and numerous with ill-defined margins (actinomycetoma). Disuse osteoporosis may occur in late stages mycetoma.
Magnetic resonance imaging
MRI helps with the differential diagnosis and the assessment of the degree of bone and soft-tissue involvement. [45] The dot-in-circle sign is an easy-to-recognize and highly specific MRI sign of mycetoma. [46, 47]
See the images below.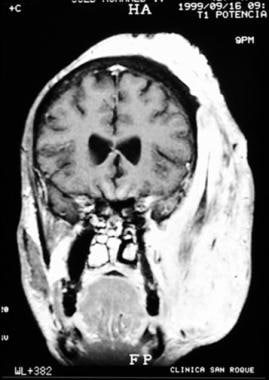 MRI coronal section of mycetoma in a 47-year-old shepherd from Mauritania who had a painless progressive swelling of the face for more than 20 years. On this T1-potentiated image, a large heterogenous mass surrounds the cranium. Bone invasion can be observed only in the area of the zygomatic fossa.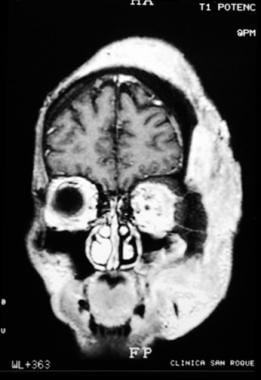 MRI with coronal view of mycetoma in a 47-year-old shepherd from Mauritania who had a painless progressive swelling of the face for more than 20 years. The mycetoma mass invades the left parapharyngeal space and almost reaches the lumen of the pharynx.
Ultrasonography
Single or multiple thick-walled cavities with hyperreflective echoes and no acoustic enhancement are always observed with mycetoma, whereas these features are not demonstrated in nonmycetoma swellings.
In eumycetoma, the hyperreflective echoes are sharp, corresponding to the grains in the lesion.
In actinomycetoma, the hyperreflective echoes are fine and closely aggregated and commonly settle at the bottom of the cavities.
CT scanning
This modality provides better detail of changes than conventional radiography.
Procedures
Perform a deep wedge biopsy or puncture and fine-needle aspiration to obtain a grain sample. The aspirated material is processed to form cell blocks and further studied for routine tissue histopathological examination. [48] Fine-needle aspiration cytology allows differentiating actinomycetoma from eumycetoma. [49]
Histologic Findings
Grains are surrounded closely and sometimes infiltrated by neutrophils and can be easily seen on histologic sections. In biopsy samples, staining with Gram stain (actinomycetoma) or Gomori methenamine silver or periodic acid-Schiff stains (eumycetoma) could help in identifying the causal agent. For mycetomas in which causative infectious agents cannot be isolated, histology may prove beneficial by avoiding inadvertent use of combined antifungal and antimicrobial agents so that a correct therapeutic modality can be decided. [50]
Staging
Bone involvement has been radiographically classified, as follows:
Stage 0 - Soft-tissue swelling without bone involvement

Stage I - Extrinsic pressure effects on the intact bones in the vicinity of an expanding granuloma

Stage II - Irritation of the bone surface without intraosseous invasion

Stage III - Cortical erosion and central cavitation

Stage IV - Longitudinal spreading along a single ray

Stage V - Horizontal spread along a single row

Stage VI - Multidirectional spread due to uncontrolled infection
What would you like to print?