Periprocedural Care
Patient Education and Consent
Explain to patients that you are monitoring their breathing and that this should not have any effect on them. They may simply breathe normally.
Equipment
Equipment employed in end-tidal capnography includes the following:
End-tidal capnometer (fixed or portable)

Nasal cannula or mask adaptors (nonintubated patients)
The end-tidal capnometer must be prepared, calibrated, and tested prior to use. (See the image below).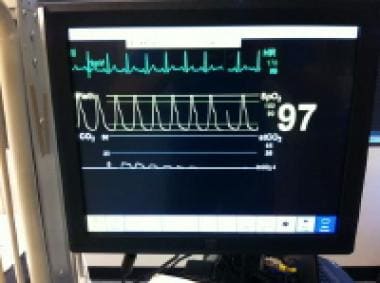 Esophageal intubation.
Patient Preparation
The patient should be in a position that both facilitates airway patency and allows adequate exposure for the procedure being performed. Often, the anesthesia provider and the surgeon discuss which technique and position will minimize risks to the patient prior to the procedure. Ideally, if endotracheal intubation is indicated, the patient is placed in a supine position for induction of general anesthesia and airway management.
What would you like to print?