Overview
Background
The pulmonary vasculature may be evaluated with various invasive and noninvasive methods. Historically, catheter-directed pulmonary angiography has been used most commonly for the diagnosis of suspected pulmonary embolism (PE). Over the past two decades, however, catheter angiography has become almost entirely supplanted by CT angiography (CTA), which is now the accepted standard of care for diagnosis of suspected PE, in part owing to its superior sensitivity and specificity. [1, 2, 3, 4, 5, 6, 7] Other noninvasive methods, such as MRI/A and V/Q scans, are also used to evaluate the anatomy and hemodynamics of the pulmonary vasculature. [8]
Multislice computed tomography (MSCTA) has been shown to have a sensitivity of 82-97% and a specificity of 78-96% in the diagnosis of pulmonary embolism. [9, 10, 11, 12, 13, 14] Multidector CT (MDCT) technology has the potential to further enhance the ability of CTPA to determine the presence and clinical significance of pulmonary thromboembolism. [15]
Currently, the main clinical utility of conventional pulmonary angiography is for therapeutic intervention and, in selected cases, preoperative evaluation of the pulmonary arteries.
Selected examples of abnormalities identified with pulmonary angiography are shown below.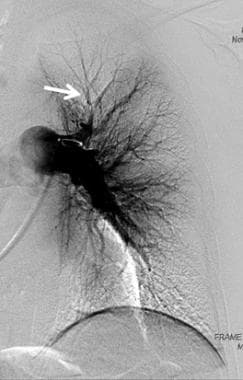 Selective left pulmonary angiogram shows abrupt tapering of the segmental pulmonary arteries (arrow) with heterogeneous opacification of the parenchyma. Mean pulmonary arterial pressure was 40 mmHg. These findings are consistent with chronic pulmonary thromboembolism.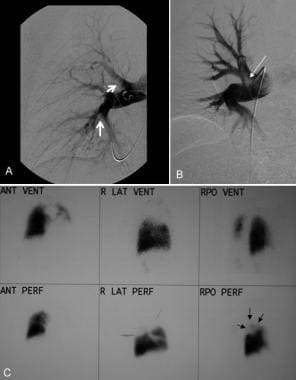 (A) Selective right pulmonary arteriogram shows large filling defects in the right upper (short arrow) and right lower (long arrow) lobe pulmonary arteries. In another patient, selective right pulmonary arteriogram (B) shows a filling defect in the right upper lobe pulmonary artery (arrow), which correlates with a large segmental filling defect (black arrows) on V/Q scan (C).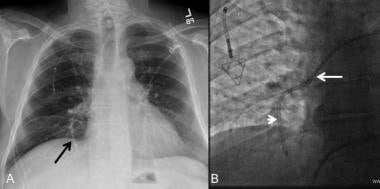 PA chest radiograph shows right subclavian port with a fractured fragment in the right lower lung (arrow). B: Fluoroscopic intraprocedure image with a snare (long arrow) tethering the catheter fragment (short arrow).

(A) Selective interlobar right pulmonary arteriogram shows large AVM in the lateral right lower lobe (arrow). (B) On late arterial phase imaging, there is early opacification of an inferior right pulmonary vein (arrow heads) draining the AVM. (C) Postembolization arteriogram shows occlusion (arrow) of the supplying artery to the AVM.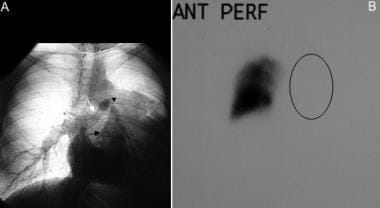 (A) Pulmonary arteriogram shows irregular contour to the main (arrow) pulmonary artery with abrupt cutoff in the expected region of the left pulmonary artery (arrowhead) and attenuation of the proximal right pulmonary artery (white arrow). (B) Perfusion image from a VQ scan shows no activity in the left lung (oval), correlating with complete occlusion of the left pulmonary artery seen on angiography.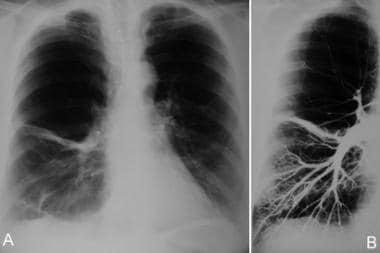 (A) Anteroposterior chest radiograph shows increased lung volumes and marked radiolucency of the right upper lung in a patient with severe emphysema. (B) Right pulmonary arteriogram shows thin, severely tapered segmental arteries in the right upper lobe with increased space between vessel. Contrast this appearance with chronic pulmonary embolism (above), in which the space between arteries is normal.
According to American College of Radiology (ACR) and Society of Interventional Radiology (SIR) guidelines, [16] there are no absolute contraindications to catheter pulmonary angiography. As with any interventional procedure, evaluation of the patient's clinical and renal status, any allergies to intravenous contrast, and anticipated hemodynamic or cardiac issues should be carefully weighed.
If the catheter does not easily advance into the RV, the coronary sinus may have been entered inadvertently. Gently inject contrast material under fluoroscopy to check for this if the catheter does not advance.
Be cognizant of left bundle branch block (LBBB) before starting the procedure. To avoid complete heart block, a transvenous pacemaker or external pacing leads should be in place prior to starting the procedure.
With the use of modern equipment and nonionic low osmolar contrast agents, complications in conventional pulmonary angiography are rare and usually minor. They include the following [17] :
Indications
Catheter pulmonary angiography is indicated for diagnosis and treatment of PE in certain circumstances. Pulmonary angiography can be used in a diagnostic dilemma, although CTA is the clinically preferred method. In chronic PE, pulmonary angiography is used for surgical planning prior to pulmonary endarterectomy. [20] As for treatment indications, thrombectomy and catheter-directed thrombolysis are used for acute massive or submassive PE. [21, 22, 23, 24, 25] Indications include hemodynamic instability, right heart strain/failure, severe hypoxemia, free-floating right ventricular (RV) thrombus, patent foramen ovale (PFO), and failed systemic thrombolysis. [26, 27]
Pulmonary angiography is indicated in the treatment of pulmonary arteriovenous malformations or fistulas. Endovascular coiling is indicated when the feeding artery is greater than 3 mm in diameter. [28]
Treatment of iatrogenic or postinfectious pseudoaneurysm is an indication, particularly in the presence of significant hemoptysis. [29, 30]
Pulmonary angiography is indicated as part of a complete embolization for severe cavitary or inflammatory lung lesions.
It is indicated in the evaluation of the pulmonary arteries for tumor encasement.
Catheter pulmonary angiography is also used in the retrieval of foreign objects, such as an embolized catheter fragments or even inferior vena cava (IVC) filters. [31]
What would you like to print?