Presentation
History
Because the manifestations of adenovirus infections are protean, the major syndromes are discussed separately. The major syndromes covered in this article include (1) acute respiratory disease (ARD), (2) pharyngoconjunctival fever, (3) epidemic keratoconjunctivitis, (4) acute hemorrhagic cystitis, (5) gastroenteritis, and (5) adenoviral infections in immunocompromised hosts.
Given the range of manifestations, the varying levels and effects of immunosuppressive therapies, and rapid advances in molecular methods of detection, a comprehensive review of adenovirus infection in the immunosuppressed host is beyond the scope of this article. The reader is encouraged to review the literature for more detail regarding infection in specific settings.
Acute respiratory disease (ARD)
As with many other viral syndromes, ARD is more common in spring and winter months. Approximately half of adenovirus respiratory infections do not cause symptoms. Adenoviruses account for 10% of all childhood lower respiratory tract infections.
Epidemics of acute respiratory disease have been associated with adenovirus species E serotype 4 and species B serotypes 3, 7, 11, 14, and 21. As molecular detection and sequencing methods evolve and expand in use during outbreak investigations, serotypes and epidemiologic patterns continue to emerge. [10, 11]
The contagiousness of adenovirus is facilitated by very high levels of viral particles (100,000-1,000,000/mL) in the respiratory or oral secretions of infected adults. Additionally, adults who lack antibody may be infected by the inhalation of as few as 5 virions in droplet nuclei.
Fever, rhinorrhea, cough, and sore throat, usually lasting 3-5 days, are typical symptoms of adenoviral ARD. Causes of sore throat may include pharyngitis, adenoiditis, or tonsillitis. Tonsillitis and otitis media were reported in up to 60% and 30%, respectively in a series of young children with serotype 4 predominance. Prolonged fevers, leukocytosis, and elevations in C reactive protein (CRP) and erythrocyte sedimentation rate (ESR) were also noted in over half of cases, suggesting potential for confusion of this viral syndrome with bacterial infections. [12]
Lower respiratory tract infections, including tracheobronchitis, bronchiolitis, and pneumonia, may mimic respiratory syncytial virus infection or influenza. Notably, conjunctivitis in the presence of bronchitis suggests adenoviral infection.
Pneumonia is more severe in infants than older children and may be associated with lethargy, diarrhea, and vomiting. There is a high incidence of pulmonary sequelae following adenoviral pneumonia in young children, including bronchiectasis and bronchiolitis obliterans.
Extra pulmonary complications occasionally occur, including meningoencephalitis, hepatitis, myocarditis, nephritis, neutropenia, and disseminated intravascular coagulation. Fatal pneumonia is uncommon but is more likely in neonates and has been associated with serotypes 3, 7, 14, 21, and 30. [13]
From the 1950s to 1971 (prevaccine era), adenoviruses accounted for significant acute disease in 70% of military recruits. Adenovirus serotypes 4 and 7 were primarily involved. A live enteric-coated oral vaccine against these serotypes was introduced in 1971 and reduced adenovirus-related respiratory illness by more than 95% in recruits and thus attenuated outbreaks. Vaccine production ceased in 1996 for economic reasons, and vaccination administration was limited to high-risk periods until supplies ran out in 1999. In 1997, a large epidemic of more than 500 cases associated with serotypes 3 and 7 occurred in US Navy recruits. Most recent analyses suggest that serotype 4 has caused most military outbreaks since 1999, with the exception of Ad14. Outbreaks in basic trainees declined with the reintroduction of live oral enteric-coated adenovirus vaccine against types 4 and 7. [14, 15]
Adenovirus serotype 14, referred to as the "super cold" in the media, has caused rare outbreaks of ARD since 1955. Between May 2006 and June 2007, 141 cases of Ad14 infection were reported in clusters in New York, Oregon, Texas, and Washington. Almost 40% of affected persons were hospitalized, almost half in intensive care, with a 5% overall mortality rate. The cases in Texas involved military trainees at Lackland Air Force Base, and subsequent cases were reported at Lackland, three other Texas military bases, and one eye culture in a civilian unassociated with the military.
Adenovirus is one of the commonest pathogens isolated from children with pertussis-like syndrome (or whooping cough syndrome) in the presence or absence of Bordetella pertussis infection. [16, 17, 18]
Pharyngoconjunctival fever
This syndrome most often affects school-aged children. Contagious in nature, sporadic outbreaks of adenovirus infection occur in small groups, especially summer camps in the setting of an inadequately chlorinated water source such as a pool or lake. Interestingly, water sample cultures are often not confirmatory. Spread occurs via the respiratory route and contact with ocular secretions during the acute illness.
The classic presentation is characterized by fever, sore throat, coryza, and red eyes. Upper respiratory tract symptoms may precede ocular findings or may be absent.
Acute conjunctivitis may occur with or without pharyngitis or a respiratory syndrome. Encephalitis may occur but is rare.
Conjunctivitis usually begins in one eye and then spreads to the other, although both eyes may be affected simultaneously. Severe pain is atypical, but mild pain or discomfort, tearing, pruritus, and morning crusting are common.
It usually is self-limited to 5 days (incubation period is 5 days).
Uncommonly, an exanthem or diarrhea may occur.
Epidemic keratoconjunctivitis
This is highly contagious, with approximately 10% transmission in household contacts via hands and fomites. Transmission has also been associated with instrumentation, industrial trauma (shipyard workers [ie, shipyard eye], welders, airborne particles), contaminated ophthalmic solutions, and the hands of health care workers. [19] Corneal trauma facilitates infection.
After an 8-day incubation period, an insidious onset of unilateral red eye occurs (conjunctival inflammation), with excessive tearing, spreading to involve both eyes within 5 days. Eyelid swelling, foreign-body sensation and irritation or itching may occur. Onset of photophobia, tearing, and pain after approximately 4 days heralds the characteristic corneal involvement with superficial punctate epithelial conjunctivitis. Parinaud's syndrome (pre-auricular lymphadenopathy) is a feature in over 50% of cases. This finding, along with conjunctivitis, strongly suggests adenoviral ocular infection. Fever, malaise and headache are reported. Pseudomembranes may occur as well and may lead to tarsal scarring if not removed.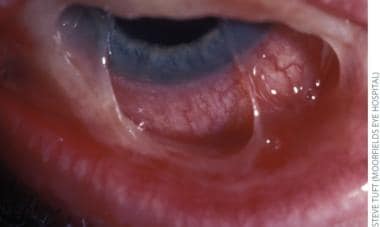 Pseudomembranes and conjunctival inflammation due to adenovirus epidemic keratoconjunctivitis. Courtesy of Steve Tuft, Moorfields Eye Hospital, and Community Eye Health Journal.
Although the disease is self-limited and rarely results in permanent corneal damage, keratitis findings may run a protracted course lasting up to four weeks. Mild visual impairment may occur. In some patients, subepithelial infiltrates develop as conjunctivitis begins to wane, and may reflect a delayed hypersensitivity reaction. These infiltrates may persist for weeks to months.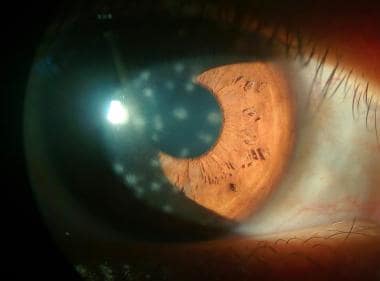 Subepithelial infiltrates characteristic of adenoviral keratoconjunctivitis. Courtesy of Wikimedia Commons (author Imrankabirhossain).
Acute hemorrhagic cystitis or nephritis
Adenovirus species B serotypes 11, 34, and 35 can cause hemorrhagic cystitis and tubulointerstitial nephritis immunocompromised patientsAcute hemorrhagic cystitis usually affects children aged 5-15 years but may also affect immunosuppressed adults (eg, from kidney or bone marrow transplantation, AIDS). Nephritis has occurred in recipients of hematopoietic stem cell transplants and is associated with fever, hematuria, and flank pain. [20, 21]
Dysuria, frequency, and grossly bloody urine are reported. Hematuria is self-limited to 3 days, and other symptoms resolve later. Symptoms may be more prolonged in hematopoietic stem cell recipients.
Gastroenteritis (most commonly associated with serotypes 40 and 41, but others may be involved)
Enteric adenovirus infection is a common cause of infantile diarrhea in the daycare setting, but less common than rotavirus infection and, in some settings, less common than infection with astroviruses.In one study of over 400 cases of acute infantile gastroenteritis, enteric adenoviruses were the sole recognizable cause of diarrhea in 7.2 percent of cases; no isolates were found among 200 controls. Diarrhea was prolonged, lasting from 8 to 12 days. [22]
It can also affect adults; in addition, a nosocomial outbreak in a hematology unit has been reported. [23] Adenoviruses replicate readily in the human intestine and may be cultured from asymptomatic individuals; thus, their presence in the setting of a diarrheal syndrome may be incidental.
Many serotypes are fastidious in culture. Serotypes 40 and 41 had been termed "noncultivatable." However, they have been cultured in the setting of diarrheal syndromes using newer cell lines. Monoclonal antibody assays, enzyme-linked immunosorbent assay, and electron microscopy support the association of these strains with enteric disease. However, one cannot assume that enteric disease is limited to these strains. In fact, various serotypes of adenovirus have been associated with infectious diarrheal syndromes in recipients of hematopoietic stem cell transplants.
Fever and watery diarrhea are usually limited to 1-2 weeks.
Mesenteric adenitis and intussusception have been associated with nonenteric adenovirus serotypes (ie, types 1, 2, 3, 5, 6). Approximately 40% of infants with intussusception have positive findings from cultures of stool or mesenteric lymph nodes for nonenteric serotypes, and most have no evidence of infection with enteric strains (ie, 40, 41). The role of adenovirus in this setting is unclear. Mesenteric lymphadenitis or hyperirritable small bowel associated with nonenteric adenoviral infection has been postulated to lead to intussusception. However, most patients with intussusception have no evidence of adenoviral infection (based on culture, serology, or histopathologic viral inclusion findings); thus, intussusception may be related to multiple etiologies.
Adenoviral infections in immunocompromised hosts (multiple serotypes)
Adenovirus is known to cause disease during the posttransplantation period in patients who have received hematopoietic stem cell transplants. Risk factors for adenovirus disease include allogeneic stem cell transplantation, T-cell depletion and nonmyeloablative conditioning regimens such as high-dose alemtuzumab (Campath) antibody therapy, lymphopenia, young age, and graft versus host disease. Prolonged neutropenia or immunosuppression also enhances the risk of adenoviral infections. Manifestations may vary but include hemorrhagic cystitis/nephritis, pneumonitis, hepatitis/liver failure, and gastroenteritis, particularly during the acute posttransplantation period prior to engraftment. In one series, nephritis was associated with acute renal failure in more than 90% of patients. In a retrospective review of children with adenovirus infection, 2.5 percent (11 of 440) had disseminated disease. Of these, 54 percent (6 of 11) were immunocompromised. Mortality from disseminated disease was 73 percent overall (83 percent among immunocompromised and 60 percent among immunocompetent hosts). [24] Adenovirus should be considered in patients with a fever, hematuria, flank pain, and worsening renal function. [5, 25]
Uncommonly, T-cell immunodeficiency related to HIV infection has been associated with adenoviral infections, particularly in infants and children infected with HIV. Pneumonitis and hemorrhagic cystitis are cited most often. Cholecystitis, severe hepatitis, and liver failure have been reported. [26]
Immunosuppression in recipients of solid organ transplants has also been associated with the above syndromes, as has diffuse adenoviral infection of the allograft itself. Both allograft loss and recovery have been reported. [25] Adenoviral infection following pediatric lung transplantation has been reported. [27]
Importantly, note that a prior history of adenoviral infection in a patient with recovered immunocompetence may herald recurrence when the patient again becomes immunosuppressed. A high level of suspicion for adenovirus is warranted in these cases.
General considerations
Pulmonary infiltrates are often diffuse and reticulonodular, but they may be lobar.
Hematuria may occur in the setting of nephritis or hemorrhagic cystitis.
Abnormal transaminase levels, which may be dramatic, may indicate adenoviral hepatitis.
Diarrhea may indicate adenoviral gastroenteritis.
Physical
Acute respiratory disease
Exudative pharyngitis and conjunctivitis may be seen.
Pulmonary rhonchi and rales may be found on auscultation.
Pharyngoconjunctival fever
Fever, coryza, pharyngitis (may be exudative), follicles in bulbar, and/or palpebral conjunctivae (typically mild granular appearance) may be observed.
Cervical lymphadenopathy may be seen.
Preauricular lymphadenopathy (ie, Parinaud syndrome), with small lymph nodes palpable just anterior to the ear is not common; however, its presence in the setting of a viral conjunctivitis is very suggestive of adenovirus infection.
Epidemic keratoconjunctivitis
Severe follicular keratoconjunctivitis has been reported (conjunctiva may be granular). Hemorrhagic conjunctivitis develops in some cases.
Palpebral edema is a finding.
Preauricular lymphadenopathy is not common but is a pathognomonic finding with adenovirus infection.
Visual haziness or impairment resulting from keratitis or corneal involvement may develop and may persist for months to years.
Acute hemorrhagic cystitis/nephritis
No significant features are described in the setting of hemorrhagic cystitis, other than evidence of blood in the urine. Fever is generally absent.
Flank pain and fever are seen in nephritis.
Gastroenteritis
Patients with severe gastroenteritis may have signs of dehydration.
Adenoviral infections in immunocompromised hosts
Features include dyspnea, dry cough, pulmonary rhonchi and rales, grossly bloody urine, and diarrhea.
Complications
Meningoencephalitis rarely occurs, usually in association with pneumonia. No pathognomonic features distinguish adenovirus aseptic meningitis or meningoencephalitis from other causes.
Immunosuppression in the host permits more severe manifestations. Pediatric liver transplantation, AIDS, and hematopoietic stem cell transplantation have been associated with protean adenovirus infections.
What would you like to print?