Workup
Laboratory Studies
The specimen of choice for diagnosing balantidiasis is stool. At least three stool samples should be collected at intervals since parasites are excreted intermittently.
In cases of low parasite load, concentration methods such as flotation and sedimentation may help in the recovery of cysts.
Trophozoites
Motile trophozoites (active, feeding, replicative stage) can be visualized via microscopy in saline wet mount of fresh diarrheic stool samples, as well as bronchoalveolar wash fluid. The size of the trophozoite varies from 30-300 µm in length and 30-100 µm in breadth. It is covered with cilia and is oval in shape with a pointed anterior end and rounded posterior end. A cytostome (mouth) is located at the anterior end of the trophozoite and a cytopyge (anus) at the posterior. Trophozoites consist of a macronucleus and a micronucleus. [19]
Pulmonary infection is difficult to diagnose because the ciliated pulmonary epithelial cells are difficult to distinguish from ciliated trophozoites. However, they can be differentiated based on size, shape, and motility. Balantidium trophozoites are larger and ovoid-shaped, while epithelial cells and ciliates show a classic spiraling motility. Phase-contrast microscopy helps to differentiate the features clearly. [20]
Cyst
The cyst represents the nonreplicating infective stage. B coli forms a large spherical cyst that may grow to 60 µm in diameter. The cyst contains a macronucleus, a micronucleus, and a granular cytoplasm. Cilia may be found in young cysts but never in mature cysts. [4] The cysts can be demonstrated in semiformed and fully formed stools.
Both trophozoites and cysts can be easily visualized in fixed samples. Other staining methods such as hematoxylin-eosin or trichrome are also useful.
In samples from cattle and buffalo, diagnosis based on cyst identification should not be considered confirmatory because other ciliates (namely B sulcata) with morphologically identical cysts could also be present. Complementary genetic analysis should be made in these cases. [3, 21, 22]
See the images below.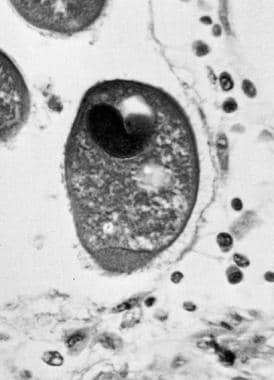 Trophozoite of Balantidium coli in colon. This photograph shows the large macronucleus and the thin cell membrane covered with cilia (X820). Courtesy of Armed Forces Institute of Pathology (AFIP 75-9300).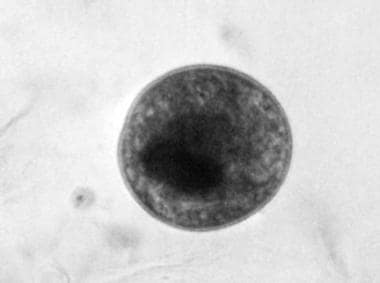 Cyst of Balantidium coli in feces. This photograph demonstrates a thick cyst wall and a large macronucleus (X820). Courtesy Armed Forces Institute of Pathology (AFIP 75-9301).
Imaging Studies
Chest radiography may show pulmonary parenchymal involvement in patients with balantidiasis.
Computed tomography (CT) scanning may reveal pulmonary parenchymal and lymph node involvement, as well as involvement of other organ systems.
Procedures
Colonoscopy: Perform an endoscopic examination of the colon to obtain a biopsy of ulcers, thereby aiding in diagnosis of balantidiasis. Obtain the specimens from the periphery of ulcers.
Bronchoalveolar lavage (BAL) can identify organisms on wet mount of bronchial secretions.
Histologic Findings
B coli can invade the mucosa and submucosa, causing ulceration and infiltration with polymorphonuclear cells, lymphocytes, and eosinophils. Trophozoites can be observed at the invading edge of ulcers or at the periphery of submucosal abscesses.
What would you like to print?