Workup
Laboratory Studies
Wet smear stool specimens
B coli does not stain well on permanent stained smears, complicating diagnosis of balantidiasis; however, the diagnosis can be made by examining wet smears of stool specimens or scrapings from the periphery of ulcers during an endoscopic examination.
On unstained specimens, the trophozoite is recognized by its large size (approximately 50-100 µm in length and 40-70 µm in width), a short ciliary covering, and its spiraling motility. It is frequently observed under low power. On stained preparations, the trophozoite characteristically shows 2 nuclei: the macronucleus, which is kidney-shaped, and the micronucleus, which is spherical and lies close to the macronucleus.
Cysts may be spherical or ellipsoid and are approximately 50-70 µm long. Newly encysted organisms observed on unstained specimens may still have cilia, but cilia disappear after a longer period of encystment. Observation of a macronucleus and a micronucleus is diagnostic if observed in a cyst on a stained specimen. See the images below.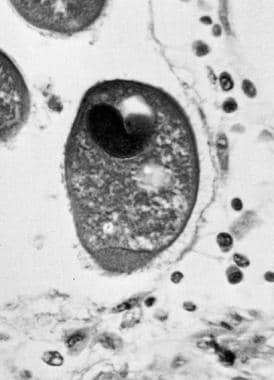 Trophozoite of Balantidium coli in colon. This photograph shows the large macronucleus and the thin cell membrane covered with cilia (X820). Courtesy of Armed Forces Institute of Pathology (AFIP 75-9300).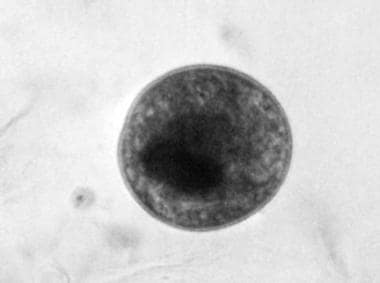 Cyst of Balantidium coli in feces. This photograph demonstrates a thick cyst wall and a large macronucleus (X820). Courtesy Armed Forces Institute of Pathology (AFIP 75-9301).
Imaging Studies
Chest radiography may show pulmonary parenchymal involvement in patients with balantidiasis.
Computed tomography (CT) scanning may reveal pulmonary parenchymal and lymph node involvement, as well as involvement of other organ systems.
Procedures
Colonoscopy: Perform an endoscopic examination of the colon to obtain a biopsy of ulcers, thereby aiding in diagnosis of balantidiasis. Obtain the specimens from the periphery of ulcers.
Bronchoalveolar lavage (BAL) can identify organisms on wet mount of bronchial secretions.
Histologic Findings
B coli can invade the mucosa and submucosa, causing ulceration and infiltration with polymorphonuclear cells, lymphocytes, and eosinophils. Trophozoites can be observed at the invading edge of ulcers or at the periphery of submucosal abscesses.
What would you like to print?