Workup
Laboratory Studies
Laboratory studies that may be used in the diagnosis of diphyllobothriasis include the following:
Microscopic stool examination for ova and parasites

[33]

: In

Taenia

species, stool examination has a poor sensitivity of 51.5 to 68%. For

Diphyllobothrium

infestation, more data is required to determine whether the sensitivity of microscopy for detection of ova and parasites is higher given that

Diphyllobothrium

adults produce > 1 million eggs per day compared to 300,000 eggs per day by

Taenia

species.

[34, 35, 36]

Complete blood count (CBC) - Eosinophilia may be present

Hemoglobin level and hematocrit - These may be below or at the lower end of the reference range. The anemia produced by diphyllobothriasis is typically associated with increased free hydrochloric acid in gastric juice, in contrast to the relative achlorhydria invariably observed in true pernicious anemia.

Mean cell volume - This may be above or at the higher end of the reference range

Peripheral smear

Vitamin B-12 level

Folate level
Diagnosis of D latum infection is based on identification of the ovoid and operculated eggs in the stool with a typical knob on the end opposite the operculum. The stool sample does not require concentration for visualization of the eggs. Usually, this is not difficult, because of the large quantity of eggs (≥1 million) produced each day. Also frequently seen in stool are the trapezoid-shaped mature proglottids, which are wider than long and have a rosette-shaped gravid uterus with a central uterine pore. While species identification on gross morphologic appearance is difficult, it may not have much clinical relevance as treatment of Diphyllobothriasis is the same regardless of the species. Species identification through multiplex PCR studies sequencing the COX1 gene, subsequently helps clarify the intermediate hosts and is important for epidemiological purposes and disease prevention. [37, 38, 39, 40]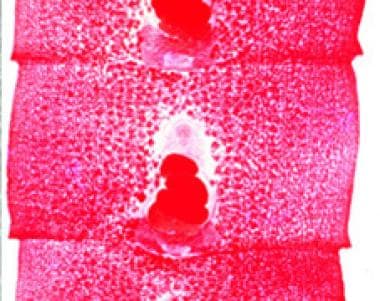 Proglottids of Diphyllobothrium latum.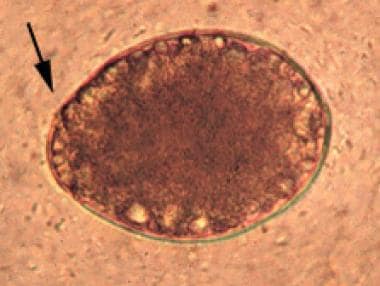 Egg of Diphyllobothrium latum with arrow pointing to operculum.
Other Studies
In general, no imaging studies are required to evaluate diphyllobothriasis, unless they are clinically indicated by other aspects of the patient's presentation. For example, patients who present with obstruction require appropriate testing, starting with both flat and upright abdominal radiography. Abdominal ultrasonography, a real-time, non-invasive test might detect the hyperechoic, ribbon-like structure freely floating in the intestinal lumen. [8]
On occasion, cases of diphyllobothriasis have been successfully identified by means of upper endoscopy or capsule endoscopy. [13, 41, 42]
What would you like to print?