Workup
Approach Considerations
CE is mainly diagnosed through the use of imaging: ultrasound, MRI and CT-scan have been shown to be able to evidentiate the features of CE with decreasing specificity. Serology plays a largely ancillary role at present, and serological tests should be relied upon for their negative predictive value rather than for their ability to confirm a CE diagnosis. Both molecular techniques and antigen detection are not used in clinical practice currently. Laboratory studies are often aspecific, as eosinophilia may be present in complicated cysts but is not frequent in CE patients.
Liver CE: All patients with an abdominal cyst suspect for CE should undergo an ultrasound (US) to stage the cyst. If US expertise is not available at the managing center, referral to a physician with experience in the use of the WHO-IWGE classification of CE cysts is advised. If not possible, MRI with contrast enhancement is the radiological technique of choice.
Abdominal CE: Patients with extra-hepatic cysts should be studied with radiological techniques including the use of contrast enhancement, preferably MRI if the US examination is inconclusive.
Thoracic CE: Patients with a clinical suspicion of CE should at least umndergo a chest X-ray. CT scan is the most frequently used exam in these patients.
Other localizations US is the method of choice to image cysts when feasible. Otherwise, MRI is required if possible.
Laboratory Studies
Generally, routine laboratory tests do not show specific results. In patients with rupture of the cyst in the biliary tree, marked and transient elevation of cholestatic enzyme levels occurs, often in association with hyperamylasemia and eosinophilia (up to 60%). In most cases, eosinophilia is limited (< 15%) or absent.
Depending on the test system used and other parameters, approximately 10% of patients with hepatic cysts and 40% with pulmonary cysts do not produce detectable serum IgG antibodies and exhibit false-negative results.
Cysts of the brain or eye and calcified cysts often induce no or low antibody titers.
Children aged 3-15 years may produce minimal serologic reactions.
No standard, highly sensitive, and specific serologic test exists for cystic echinococcosis antibody detection. In specialized laboratories, the arc 5 test or detection of cestode-specific antibodies can be used to exclude cross-reactions caused by noncestode parasites.
For liver cysts, seropositivity is a function of cyst viability, with early CE1 cysts sometimes being seronegative until nonsurgical treatments disrupt the integrity of the cyst (eg, endocyst detachment). Inactive cysts may be seropositive for reasons that are still unknown, generating confusion as to whether treatment is needed.
Other Tests
Endoscopic retrograde cholangiopancreatography may be indicated in patients with cholestatic jaundice. This technique may also be a therapeutic intervention when cysts communicating with the biliary tree can be basketed out.
Procedures
Fine-needle aspiration biopsy of the cyst performed under ultrasonographic guidance, by the transhepatic approach, and under anthelmintic coverage is generally safe and diagnostically useful for differentiation of cystic echinococcosis, malignancy, and abscesses. [35] It may be particularly helpful in cases with no detectable anti-Echinococcus serum antibodies and inconclusive imaging appearance. The hooks are usually numerous and can be found even in bacteriologically infected and/or degenerating cysts. Rostellar hooklets are seen in the image below.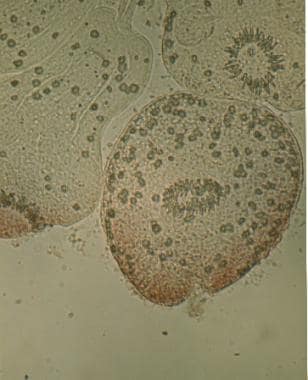 Viable scolices (note rostellar hooklets).
Imaging Studies
Radiographic examination is useful for cysts in the lungs, bone, and muscle and for detecting calcified cysts.
Ultrasonography is the procedure of choice when making the diagnosis of asymptomatic cystic echinococcosis because it is safe, noninvasive, and relatively inexpensive. Ultrasonography is an imaging technique that uses the reflection of ultrasound waves emitted by a probe on the bodily organs to build images of the organs explored.
Any abnormality can be viewed using ultrasonography from an infinite number of angles and positions. Cysts in every part of the abdomen and in muscles can be imaged with ultrasonography.
Ultrasonography is useful in longitudinal studies, such as monitoring the response of cysts to treatment and recording cyst growth rate. [36]
Ultrasonography has also been used extensively in endemic areas for mass screening, often using portable machines that can work without an electrical distribution system by running on batteries or on a generator.
Many authors consider ultrasonographic mass surveys to be the best way to assess prevalence.
Various classifications exist of the ultrasonographic picture in cystic echinococcosis, the most widely used still being the one proposed by Gharbi in the early 1980s. [37] In 2003, the World Health Organization Informal Working Group on Echinococcosis (WHO-IWGE) proposed a standardized ultrasound classification based on the active-transitional-inactive status of the cyst as suggested by its sonographic appearance. [20]
The standardized classification scheme is intended to promote uniform standards of diagnosis and treatment and may be applied to the clinical treatment of patients as well as to field diagnostic surveys. This classification has important implications for clinical decision-making ad prognosis. [29, 21, 22] CE1 and CE2 are active cysts containing viable protoscolices. CE3 has been subdivided into CE3a (detached endocyst) and CE3b (predominantly solid with daughter cysts). This subdivision is supported by a recent work that used high-field 1 H magnetic resonance spectroscopy to evaluate ex vivo the metabolic profiles of cyst contents. [23] Another paper has shown that, contrary to what was previously assumed, calcifications are not limited to CE5 cysts, but are present to a various extent in all cystic stages. [24]
Whatever the classification used, general consensus exists about the following:
Simple cysts with well-defined borders and uniform anechoic contents are not pathognomonic for echinococcal cysts (nonparasitic cysts have the same appearance).

Cysts with a visible split wall inside (floating membrane or water lily sign) are pathognomonic.

Septated cysts, or cysts with a honeycomb pattern, are likely to be echinococcal.

A solid heterogeneous mass is difficult to differentiate from granulomas or tumors, although calcification suggests echinococcal cyst.

Echocardiography may be used to detect cardiac lesions.
CT scanning has the advantage of inspecting any organ (lungs cannot be explored with ultrasonography), detecting smaller cysts when located outside the liver, locating cysts precisely, and sometimes differentiating parasitic from nonparasitic cysts. Measurement of cyst density appears to be an additional tool to differentiate parasitic from nonparasitic cysts and for follow-up studies during chemotherapy. However, the cost of CT scanning is prohibitive in several endemic countries.
MRI may have some advantages over CT scanning in the evaluation of postsurgical residual lesions, recurrences, and selected extrahepatic infections, such as cardiac infections. [25] It is superior in identifying changes of the intrahepatic and extrahepatic venous system and in identifying cysto-biliary fistulas. [26]
A 2012 study found that MRI reproduces the ultrasound-defined features of CE better than CT. If ultrasonography cannot be performed owing to cyst location or patient-specific reasons, MRI with heavily T2-weighted series is preferable to CT. [27]
What would you like to print?