Presentation
History
Presenting symptoms of childhood polyarteritis nodosa (CPAN) are nonspecific and include fever, malaise, anorexia, weight loss, and abdominal pain. In decreasing order of frequency, the organs most often affected are the kidney, heart, and liver.
Physical Examination
Clinical manifestations of childhood polyarteritis nodosa (CPAN) are a reflection of the organ systems involved.
Kidney
Renal disease in polyarteritis nodosa (PAN) is rarely symptomatic but results in impaired renal function with abnormal urinary sediment, hematuria, proteinuria, and elevated blood pressure.
Occasionally, patients develop rapidly progressive renal failure and end-stage kidney disease.
Renal artery vasculitis with aneurysm formation is the primary lesion.
Heart
Coronary artery aneurysms are relatively common in CPAN. See the image below.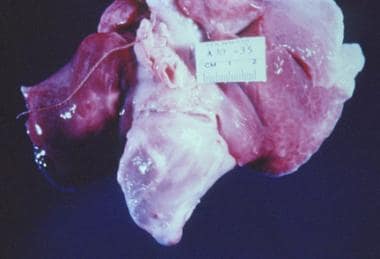 Childhood polyarteritis nodosa. Heart with 5 coronary aneurysms.
Clinical manifestations of cardiac involvement are infrequent. Congestive heart failure, pericarditis, and myocardial infarction (often silent) are observed in variable frequencies.
Transmural biopsy results of patients with Kawasaki disease (KD) suggest that PAN-related pancarditis is present in virtually all patients.
Cardiac abnormalities are present in 90% of adults with PAN at autopsy.
Gastrointestinal tract
Abdominal pain is common in patients with PAN.
When bleeding is present, PAN may be mistaken for inflammatory bowel disease.
Massive hemorrhage, infarction, and perforation of the bowel may be fatal.
Involvement of the liver, gallbladder, or pancreas is not uncommon. Hydrops of the gallbladder has been reported in KD.
Hypertransaminasemia is common, and, in cases associated with hepatitis B surface antigenemia, chronic aggressive hepatitis complicates the clinical picture.
Vasculitis of the appendix has been reported in adults and children.
Nervous system
Peripheral neuritis, manifested as mononeuritis multiplex, is the most common neurologic complication. Distal lesions occur more commonly than proximal lesions, and upper and lower extremities are affected equally.
Vasculitis of the vasa nervorum with vascular occlusion appears to be responsible for patients' symptoms and occurs early in the course of the disease. CNS involvement, including encephalopathy, focal defects, and seizures, occurs later in the disease course. [6]
Strokes are a leading cause of death. Cerebral artery aneurysms have been observed in CPAN.
Skin
Rashes occur in nearly one half of patients with PAN. Nonspecific maculopapular lesions, urticarial rashes, livedo reticularis, and vasculitic ulcers occur in various patients. [7]
Raynaud phenomenon, digital vasculitis, ecchymosis, and subcutaneous nodules, so-called nodose lesions are observed in some patients.
Palpable arterial aneurysms are occasionally striking, particularly in the inguinal areas or axillae.
Testes
Testicular pain or tenderness occurs commonly in males with PAN. Testicular biopsy results reveal vasculitis in 25% of patients.
For diagnostic purposes, blind testicular biopsy sometimes is recommended, even in male children with CPAN.
Musculoskeletal system
Approximately one half of patients complain of myalgias and arthralgias.
Myositis is demonstrable in some patients.
Frank arthritis may occur early in the disease course and is clinically quite similar to that observed in acute rheumatic fever.
Rarely, a chronic destructive arthritis similar to rheumatoid arthritis may evolve.
What would you like to print?