Treatment
Medical Care
Medical care of the patient with polyarteritis nodosa (PAN) is individualized. In the acute phase, hospitalization usually is required. Diagnostic tests, imaging studies, and biopsies as appropriate are carried out expeditiously. Intensive care often is necessary to provide for frequent monitoring and emergency medical or surgical treatment.
Inpatient and outpatient care in childhood polyarteritis nodosa (CPAN) is individualized for each patient. Medications are tailored to the patient's needs and disease course.
Surgical Care
Patients with polyarteritis nodosa (PAN) may develop acute abdominal emergencies, including intractable GI bleeding, bowel infarction, and viscus or aneurysmal rupture. These complications are associated with significant mortality. The author has treated a preadolescent boy who underwent coronary artery bypass surgery for the management of myocardial ischemia and necrosis secondary to PAN.
Histologic confirmation is necessary to make the diagnosis of PAN. Biopsies of muscle, sural nerve, kidney, liver, testis, and rectum have been used to confirm PAN and are preferred to biopsies of skin, which are less diagnostic and do not necessarily indicate the extent of systemic involvement.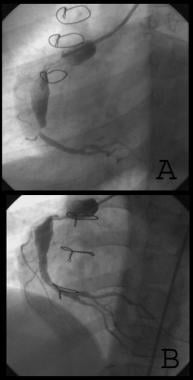 A: Right coronary artery stenosis. B: Stent in place across stenotic segment.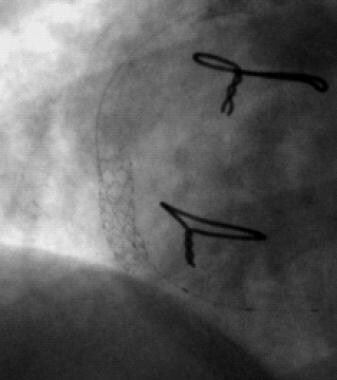 Close-up of stent in place.
Consultations
Specialty consultations depend on the individual patient's disease onset and course. A pediatric rheumatologist experienced in the treatment of children with systemic vasculitis should head the team and direct the overall care of infants and children with childhood polyarteritis nodosa (CPAN). Pediatric cardiologists, critical care specialists, neurologists, surgeons, physiatrists, pulmonologists, gastroenterologists, and nephrologists may need to be consulted at times.
Diet and Activity
Diet
Diet is dictated by the extent and involvement of the disease and by its therapy.
Activity
Activity is based on the patient's tolerance. In general, the child is encouraged to increase physical activity.
What would you like to print?