Workup
Laboratory Studies
As with other systemic rheumatic diseases, the basic laboratory tests in childhood polyarteritis nodosa (CPAN) should include the following:
Complete blood cell (CBC) count

Erythrocyte sedimentation rate

Antinuclear antibody determination

Rheumatoid factor test and tests for hepatitis B

Quantitative immunoglobulins

Tests for circulating immune complexes (eg, Raji cell radioimmune assay, C1q binding test)
Other tests are selected on the basis of the clinical examination.
Appropriate cultures are obtained if the patient's condition warrants.
Routine laboratory tests help support the diagnosis and are used to monitor the effects of potentially toxic therapy.
Antineutrophil cytoplasmic antibodies (ANCA) have been detected in the circulation of some patients with necrotizing vasculitis and are directed toward proteinase 3 (PR3) and associated with circulating ANCA (cANCA) and myeloperoxidase (MPO) associated with perinuclear ANCA (pANCA). The antibodies are detected in some patients with certain forms of polyarteritis nodosa (PAN), but these antibodies have not been associated with CPAN.
Imaging Studies
After a basic posteroanterior (PA) and lateral chest radiograph (see image below), imaging studies are directed at involved organ systems.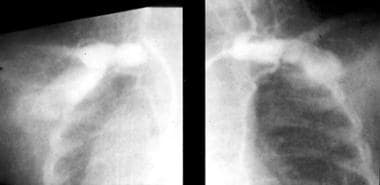 Childhood polyarteritis nodosa. Bilateral axillary aneurysms.
Echocardiography (ECHO) is used extensively to evaluate the coronary arteries in children with Kawasaki disease (KD) and to monitor children with documented coronary artery aneurysms.
Arteriography (see image below) is extremely helpful in evaluating patients with polyarteritis nodosa (PAN) or childhood polyarteritis nodosa (CPAN).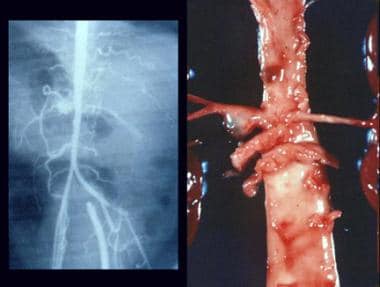 Childhood polyarteritis nodosa. Multiple aneurysms on arteriogram and autopsy specimen.
CT scan or MRI studies may be required depending on the patient's signs and symptoms.
Procedures
The criteria for a diagnosis of polyarteritis nodosa (PAN) include histopathologic changes consistent with necrotizing arteritis; thus, by definition, a biopsy is indicated. However, demonstration of characteristic renal aneurysms on arteriography is considered diagnostic.
Electromyography and nerve conduction tests may be indicated in some patients.
Electroencephalography sometimes is helpful.
Histologic Findings
Polyarteritis nodosa (PAN) affects medium and small arteries and, to a lesser extent, arterioles and venules. Focal segmental involvement of the vessels is characteristic. Often the coexistence of acute and healed lesions as well as normal and affected vessels and microaneurysms is observed. Visceral, cutaneous, cerebral, and pulmonary vessels are affected, in decreasing frequency. Histopathologic findings include necrotizing arteritis with a mixed cellular infiltrate with few eosinophils. Rarely, granulomatous changes are observed. The vascular lesions of childhood polyarteritis nodosa (CPAN) are indistinguishable from those in fatal cases of Kawasaki disease (KD).
See the slide below.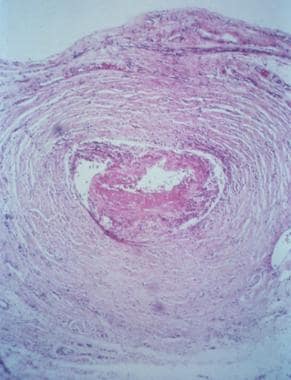 Thrombosed cystic artery in childhood polyarteritis nodosa.
What would you like to print?