Workup
Approach Considerations
The fundamental standard for diagnosing IE is the documentation of a continuous bacteremia (> 30 min in duration). Although blood cultures remain fundamental in diagnosising IE, the need for indirect diagnostic techniques that are both specific and sensitive is increasing. This is because the nature of valvular infections has changed over the years. The numbers of fastidious organisms have increased, and the rate of the classic peripheral stigmata of IE is much lower. Patients who are elderly, chronically ill, or immunosuppressed often are afebrile and unable to mount a significant fever or exhibit the classic stigmata of valvular infection.
A major clinical challenge is that at least 25% of S aureus BSIs represent IE or metastatic infections. The question is whether a continuous bacteremia in the presence of an intravascular line represents a valvular infection. Blood cultures should be drawn through intravascular lines only for the purpose of diagnosing catheter-related BSIs. Even then, they have limited value.
Because of the ability of S aureus to produce an endotheliosis, the presence of a continuous bacteremia does not necessarily imply an infected valvular vegetation.
An important clue to continuous bacteremia/IE is the presence of S aureus bacteriuria associated with hematuria. Hematuria in the setting of IE results from embolic renal infarction or immunologically mediated glomerulonephritis. Echocardiography has become a useful tool for meeting this clinical challenge.
Twenty-five percent of patients with staphylococcal bacteremia and 23% of those with catheters as the primary focus have evidence of IE on the basis of transesophageal echocardiography (TEE) findings, in the absence of clinical and transthoracic echocardiography (TTE) findings. [8]
Blood and Urine Studies
Perform baseline studies, such as complete blood count (CBC), electrolytes, creatinine, blood urea nitrogen (BUN), glucose, and coagulation panel, and send to the laboratory for testing.
Anemia is common in subacute endocarditis, and leukocytosis is observed in acute endocarditis. Erythrocyte sedimentation rate (ESR), although not specific, is elevated in more than 90% of cases. Decreased C3, C4, and CH50 are reported in SBE.
Rheumatoid factor (ie, "poor man's circulating immune complex") becomes positive in 50% of patients with subacute disease and resolves after successful treatment.
Proteinuria and microscopic hematuria are present in approximately 50% of cases.
Appropriate blood testing for COVID -19 should be performed.
Blood Culture
Patients with PVE or right-sided disease may not have a continuous bacteremia. Five percent to 10% of patients have false-negative blood culture due to recent antibiotic use. Other causes include fastidious organisms and inadequate blood volume; a blood-to-broth ratio of 1:10 is recommended. With modern automated blood culture systems, fastidious organisms such as nutritionally variant streptococci and members of the HACEK group rarely cause culture-negative IE.
As many as 50% of positive blood culture results have been estimated to be falsely positive. This rate probably has decreased, but false-positive blood culture results remain a major diagnostic challenge. One such result can lead to 4 days of unnecessary patient hospitalization.
The significance of positive blood culture results correlates with the following:
The type of organism

The clinical setting (CoNS are significant in patients with prosthetic valves but not in those with native valves.)

Multiple blood cultures positive for the same organism

Shorter incubation time for recovery

The degree of severity of clinical illness
Procedure
Never draw only 1 set of blood cultures; 1 is worse than none. Two sets of blood cultures have greater than 90% sensitivity when bacteremia is present. Three sets of cultures improve sensitivity and may be useful when antibiotics have been administered previously.
The AHA (endorsed by IDSA) guideline update on CIED infections and their management recommends drawing at least 2 sets of blood cultures at evaluation before starting antimicrobial therapy. [63]
For diagnosing subacute IE, draw 3 to 5 sets of blood cultures over 24 hours. This helps detect 92-98% of cases in patients who have not recently received antibiotics. In the case of acute IE, 3 sets may be drawn over 30 minutes (with separate venipunctures) to help document a continuous bacteremia.
Using various types of blood culture bottles (with resins added to interfere with antibiotic action) probably has little advantage. Some of these may interfere with bacterial growth.
When blood culture results fail to show an infectious agent after blood is drawn 48 hours after the discontinuation of antibiotic therapy, the second set of blood for cultures should be drawn approximately 7 days later. If these later culture results remain negative, the diagnosis of IE must be reconsidered. In general, blood for culture should not be drawn through IV lines unless this is part of an approach for diagnosing line infection. [78, 79, 80, 81, 82, 83, 84]
Catheter infection
The diagnosis of catheter infection may be made in 1 of 2 ways. Culturing the device via the roll-plate semiquantitative method is the most common approach but requires a catheter removal. In the case of long-term catheters, blood may be drawn simultaneously through the line and the peripheral vein. If it is impossible to draw blood from a peripheral vein in the presence of a multilumen catheter, 1 sample may be obtained through each of 2 catheter lumens.
In a catheter infection, the colony count of the sample obtained from the suspected port is threefold greater than that drawn from a peripheral vein or from another port of the catheter. Retrieval of organisms from blood drawn from a catheter hub at least 2 hours before their growth is detected in the blood obtained from peripheral vein meets the differential time to positivity criteria of a catheter infection.
A sterile culture of the insertion site has a highly negative predictive value for line infection. [79, 80, 81, 82]
Culture-negative infective endocarditis
Approximately 5% of cases of possible IE yield negative blood culture results (ie, culture-negative IE). Patients with culture-negative IE occasionally present with signs and symptoms highly suggestive of IE, but the blood cultures remain negative.
Culture-negative IE may have noninfectious causes (eg, vasculitis) or may be caused by fastidious organisms. Modern blood culture systems recover the vast majority of pathogens within 4 to 5 days, including members of the HACEK group and Abiotrophia species. Overall, the most common cause of culture-negative IE is prior antimicrobial therapy that can suppress bacterial growth within the vegetation but is insufficient to eliminate the valvular infection.
In certain populations, infections with Coxiella burnetii (in southern France and Israel) and Bartonella species (among homeless persons) have become more frequent causes of culture-negative IE. The blood culture results in fungal valvular infections often are sterile. In S aureus IE, the results of blood cultures may be negative when the organism burrows deep within the thrombus, leaving the surface of the valvular thrombus sterile (surface sterilization).
Valvular vegetations may be detected during cardiac ultrasonographic examinations, but the blood culture results are persistently negative. In this situation, 3 separate blood cultures spaced over a 24-hour period usually are sufficient to detect microorganisms in the blood. Additional blood cultures usually are not helpful.
Many pathogens once considered to be fastidious are no longer classified as such (see above). Bartonella, Legionella, and C burnetii remain significant causes of culture-negative IE. These require special culture media or a prolonged incubation period for retrieval.
Serology for Chlamydia, Q fever (C burnetii), and Bartonella may be useful in culture-negative endocarditis. Serologic tests often are the most practical means for diagnosing valvular infection with fastidious organisms (eg, C burnetii and Chlamydia, Brucella, and Legionella species). [78] Buffered charcoal and yeast agar are required for the isolation of Legionella. Brucella species require up to 6 weeks.
It appears that Tropheryma whippelii, which causes Whipple disease, is becoming a more common cause of culture-negative endocarditis. Thuny and colleaguesl [46, 85] have developed an algorithm for the workup of negative blood cultures. The first stage is to obtain serologies for Q fever and Bartonella. Rheumatoid factor and antinuclear antibody testing is performed to rule out rheumatologic diseases. If testing is negative, a dedicated polymerase chain reaction (PCR) test for Bartonella species and T whipplei should be performed as well as a broad range PCR for the detection of fungi, especially in the setting of a prosthetic valve. If there is no yield from this second tier, especially with a history of antecedent antibiotic therapy, a Septifast blood PCR should be performed to detect any staphylococci. In addition, serologic testing for Mycoplasma pneumoniae, Legionella pneumophila and Brucella melitensis should be carried out.
Fungal infective endocarditis
Cases of fungal IE often have a low rate of positive blood culture results. Only 50% cases of Candidal blood cultures arepositive. Histoplasma and Aspergillus almost never are retrieved from the bloodstream. Fungal endocarditis always must be considered in the clinical setting of culture-negative IE that fails to respond to appropriate antibiotic therapy. [86]
Pacemaker infective endocarditis
Establishing the diagnosis of pacemaker IE is difficult because of its subtle presentation, especially late-onset disease. The addition of pocket infection and the presence of pulmonary emboli to the Duke criteria have increased the rate of diagnosis from 16% to 87.5% of cases. Fever and/or a positive blood culture result without evidence of a primary source in patients with a pacemaker or implantable cardioverter-defibrillator should be considered to represent device-associated IE until proven otherwise.
The AHA guideline on CIED infections recommends that, when the CIED is explanted, culture of the lead tip and Gram stain and culture of the generator-pocket tissue be obtained; however, percutaneous aspiration of the generator pocket should not be performed for diagnostic evaluation of CIED infection. [56, 64, 87]
The development of the Maldi-Tof allows the ability to identify bacterial or fungal species directly on the culture plates as quickly as they become evident. There is no proven effect on limiting the development of antimicrobial resistance. It does not provide information on the resistance/sensitivity patterns of the detected organisms.
The recent availability of molecular diagnostics such as PCR, multiplex PCR nano particle probes, and PNA Fish allow bypass of the incubation step of traditional culture methods. It does so by identifying organisms specific DNA/RNA directly. It allows multiple targets to be detected from one sample and provides some information on resistance factors inherent in the isolated organisms. Its advantages besides reduced turnaround time are greater accuracy than offered by Maldi-Tof systems as well as providing genetic information regarding sensitivity and resistance patterns. Their limitations include being susceptible to contamination. In polymicrobial cultures, they may not cover all the possible causative pathogens and do not provide phenotypic susceptibility profiles. There is a little data supporting the impact on clinical outcomes or proven effectiveness on limiting the development of antibiotic resistance. [88]
Echocardiography
Echocardiography has become the indirect diagnostic method of choice, especially in patients who present with a clinical picture of IE but who have nondiagnostic blood culture results (eg, some patients with fungal endocarditis). The diagnosis of IE never can be excluded on the basis of negative echocardiogram findings, either from transthoracic echocardiography (TTE) or from TEE.
The AHA guideline on CIED infections recommends TEE to evaluate the left-sided heart valves for all adults suspected of having CIED-related endocarditis, even if TTE has shown lead-adherent masses. If TTE views are good, TTE may be sufficient for pediatric patients. Patients with positive blood culture results or negative blood culture results taken after recent antimicrobial therapy should undergo TEE for CIED infection or valvular endocarditis.
Visible vegetation suggests a worse prognosis. Both TTE and TEE are highly specific for valvular vegetations; however, sensitivity differs.
Two-dimensional cardiac Doppler ultrasound testing is a significant advance for the diagnosis and evaluation of IE. It provides information about the presence and size of vegetations, which helps in diagnosis and, to some extent, in predicting embolization.
Transthoracic echocardiography is more sensitive for detecting anterior myocardial abscesses and quantitating the degree of valvular dysfunction.
The Doppler method can be used to detect distorted blood flow and certain types of cardiac pathology not otherwise visualized by standard echocardiography. It is good for visualizing jet lesions and differentiating cusp perforation from valvular insufficiency.
The combination of TEE and color Doppler is excellent for detecting intracardiac fistulas. The resolution of both TEE and TTE in real time is approximately 2 mm.
Conditions that are positively related to the detection of valvular thrombi include the location (ie, right-sided structures are poorly visualized, especially by TTE); disease lasting longer than 2 weeks; abscesses of the valves or myocardium; and aneurysms of the sinus of Valsalva.
Transthoracic echocardiography generally has had a sensitivity of approximately 60% for identification of valvular lesions in patients with NVE; however, sensitivity was as high as 82% in a recent series where advanced harmonic imaging and digital processing techniques were used. [83] Transthoracic echcardiography has a sensitivity of only 20% in patients with PVE.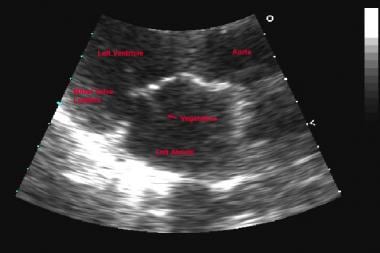 This is a magnified portion of a parasternal long axis view from a transthoracic echocardiogram. There is a small curvilinear vegetation on the mitral valve as indicated. The patient presented with a headache and fever, and CT scan of the brain revealed an occipital hemorrhage. The patient had a history of intravenous drug use and multiple blood cultures grew Staphylococcus aureus.
Transesophageal echocardiography was developed to overcome the problems in visualizing prosthetic valve thrombi and right-sided events. It eliminates the need for the operator to find a clear field for the beam. The use of higher-frequency waveforms is permitted because of the decreased distance between the heart and the probe. The sensitivity of TEE in detecting the vegetations of NVE is 90-100%. In patients with PVE, the sensitivity of TEE under optimal circumstances is greater than 90%.
Transesophageal echocardiography successfully visualizes vegetations of the leads or of the tricuspid valve in more than 90% of cases of pacemaker IE, compared with less than the 50% achieved by TTE.
Neither TEE nor TTE should be used for screening purposes (ie, patients with fever of unknown origin or those with positive blood culture results and no other signs or symptoms of IE), because nearly 60% of vegetations revealed are sterile. Approximately 15% of positive study results are false-positives because the images are, in reality, not those of vegetations but of thickened valves, nodules, or valvular calcifications.
Echocardiography is useful for predicting the potential complications of IE, especially those that are embolic in nature.
Echocardiographic predictors of systemic embolization in patients with IE are the following:
Large valvular vegetations (>10 mm in diameter)

Multiple vegetations

Mobile but pedunculated vegetations

Noncalcified vegetations

Vegetations that are increasing in size

Prolapsing vegetations
Echocardiography also is highly useful for detecting abscesses. As with valvular lesions, the transesophageal technique is generally more sensitive. [89, 90, 91, 92, 93, 94, 95]
In summary, the indications for performing echocardiography with Doppler in patients with IE are to provide a baseline in proven or highly suggestive cases of IE and to provide a means of documenting complications during therapy.
In most cases, TTE is sufficient. Transesophageal echocardiography is indicated when mechanical prosthetic valves are present; to detect right-sided lesions; and to visualize myocardial abscesses. Because of the endoscopic portion of the test, TEE carries the risk factor of inducing bacteremias. Approximately 15% of IE cases do not demonstrate any detectable vegetations at the time of the echocardiographic study.
Ultrasonography
Two-dimensional cardiac Doppler ultrasound testing has been a significant advance for diagnosing and evaluating IE. It provides information about the presence and size of vegetations, which helps in diagnosis and, to some extent, in predicting embolization.
Transthoracic echocardiography (TTE) is more sensitive for detecting anterior myocardial abscesses and quantitating the degree of valvular dysfunction.
The Doppler method can detect distorted blood flow and certain types of cardiac pathology not otherwise visualized by standard echocardiography. It is good for visualizing jet lesions and differentiating cusp perforation from valvular insufficiency.
The combination of TEE and color Doppler is excellent for detecting intracardiac fistulas. The resolution of either TEE or TTE in real life is approximately 2 mm.
Conditions that are positively related to the detection of valvular thrombi are the location (ie, right-sided structures are poorly visualized, especially by TTE); disease lasting longer than 2 weeks; abscesses of the valves or myocardium; and aneurysms of the sinus of Valsalva.
Radiography
Pulmonary embolic phenomena on radiographs strongly suggest tricuspid disease.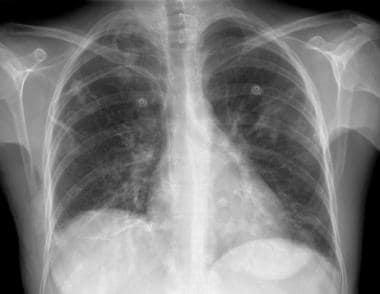 A young adult with a history of intravenous drug use, endocarditis involving the tricuspid valve with Staphylococcus aureus, and multiple septic pulmonary emboli. Pulmonary lesions on chest radiograph are most prominent in the right upper lobe with both solid and cavitary appearance.
Multiple embolic pyogenic abscesses may be visualized.
Other Studies
Ventilation/perfusion scanning may be useful in right-sided endocarditis.
Electrocardiography may help detect the 10% of patients who develop a conduction delay during IE by documenting an increased P-R interval. Nonspecific changes are common. First-degree atrioventricular (AV) block and new interventricular conduction delays may signal septal involvement in aortic valve disease; both are poor prognostic signs.
Catheterization of the heart rarely is required for the diagnosis of IE or any of its complications, though it may be indicated to determine the degree of valvular damage. The findings from echocardiography correlate well with the findings from cardiac catheterization. The characteristic findings of IE are intravascular endocardial vegetations that contain microorganisms surrounded by fibrin and platelets.
Various radionuclide scans using, for example, gallium (Ga)-67–tagged white cells and indium (In)-111–tagged white cells, are of little use in diagnosing IE. Radionuclide scans of the spleen are useful to help rule out a splenic abscess, which is a cause of bacteremia that is refractory to antibiotic therapy.
A computed tomography (CT) scan of the head should be obtained in patients who exhibit central nervous system symptoms or findings consistent with a mass effect (eg, macroabscess of the brain). [90] This imaging modality has proven most useful for localizing abscesses. With new advanced multislice techniques, CT now can also be used to identify valvular abnormalities and vegetations. [92]
Evidence increasingly supports the advantages of fluorine-18-fluorodeoxyglucose (FDG) positron emission tomography (PET) scanning over electrocardiographically gated computed tomographic angiography (CTA) in certain circumstances. Positron emission tomography scanning may facilitate earlier diagnoses of infected intracardiac devices and prosthetic valves than do these other studies.
What would you like to print?