Presentation
History
Patients with eosinophilic folliculitis develop recurrent crops of sterile pustules and papules.
Pruritus develops in half of the patients, in some cases with considerable intensity. [6]
The clinical course of eosinophilic folliculitis is characterized by multiple cycles of exacerbations and remissions.
The individual skin lesions usually heal spontaneously a few months to several years after onset.
Eosinophilic folliculitis can become severe and persistent in certain populations (eg, persons infected with HIV) and may develop after mini-allogeneic bone marrow transplantation. [7]
Physical
Eosinophilic folliculitis typically appears as an area of erythematous papules and pustules. These involve the face in most (85%) affected patients. Occasionally, the papules do not evolve into macroscopic pustules. [8]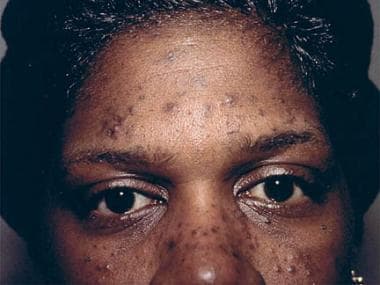 Eosinophilic pustular folliculitis in a patient infected with HIV. Note acneiform hyperpigmented papules. Photograph courtesy of Sarah A. Myers, MD.
Other locations include the back and the extensor surface of the upper extremities.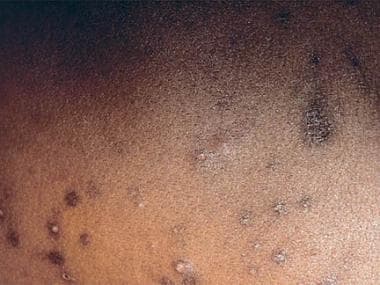 Eosinophilic pustular folliculitis in a patient who is HIV-positive. Note follicular-based excoriated papules and pustules on the trunk. Photograph courtesy of Sarah A. Myers, MD.
The papules gradually become confluent, creating indurate polycyclic plaques with a healing center and spreading periphery. Sometimes the plaques may be studded with papules and sterile pustules. [9] They ultimately fade away, leaving residual hyperpigmentation and scaling.
Atypical presentations or nonclassic forms of eosinophilic folliculitis occur in certain populations. Infantile eosinophilic folliculitis is characterized by erythematous papulopustules on the scalp as the primary area of involvement. Patients with HIV-associated eosinophilic folliculitis present with widespread urticarial lesions or large erythematous plaques with excoriations.
Involvement of mucosa and the palms and soles is rare. [10]
Causes
Although production of cytokines and chemotactic factors and expression of intercellular adhesion molecules are evidence of activation of the follicular sebaceous unit, the stimuli that provoke these changes are unknown. The cause of classic eosinophilic pustular folliculitis is unknown, although immune processes almost certainly play a key role in its pathogenesis.
Eosinophilic folliculitis may be associated with HIV infection, various drugs, and some lymphomas; it may be considered a nonspecific dermatopathologic pattern in such settings. [11] Drugs that have been associated with eosinophilic folliculitis are carbamazepine, allopurinol with or without timedium bromide, foscarnet, and various chemotherapeutic agents. [12, 13, 14, 15, 16, 17]
Many observations suggest a role for immunologic, infectious, and environmental factors.
Brenner et al described 3 cases of eosinophilic folliculitis associated with Pseudomonas infection of the hair follicles; the lesions improved with antipseudomonal treatment but recurred upon cessation of therapy. [18]
Other investigators have reported infectious associations, including dermatophyte infection, as well as infections due to larva migrans, Pityrosporum infection, retrovirus, [19] and hepatitis C virus infection. [20]
A linkage with pregnancy has been observed. [21]
In addition, eosinophilic folliculitis has been associated with various medical conditions, including lymphoma, Sézary syndrome, [22] leukemia, [23] myelodysplastic syndrome, atopy, and polycythemia vera. [24, 25, 26]
Eosinophilic folliculitis may also develop following bone marrow and solid organ transplantation. [27, 28] It may be considered a reaction related to immune dysregulation.
What would you like to print?