Overview
Background
Eosinophilic folliculitis (EF) is a recurrent skin disorder of unknown etiology. In 1965, Ise and Ofuji reported a case of recurrent follicular pustules and eosinophilia in a Japanese woman. [1] Five years later, and after 3 additional cases, Ofuji named this skin condition eosinophilic pustular folliculitis (EPF). [2] Orfanos and Sterry argued that the name sterile eosinophilic pustulosis might be more appropriate because this lesion is not restricted to the hair follicle. Other names have also been proposed (eg, classic form of eosinophilic folliculitis, Ofuji disease, eosinophilic pustular dermatosis). Over the past 2 decades, the spectrum of eosinophilic folliculitis has expanded to pediatric populations, transplant recipients, and persons with HIV and hematopoietic disorders.
Eosinophilic folliculitis is a noninfectious eosinophilic infiltration of hair follicles. The 3 variants of eosinophilic folliculitis include classic eosinophilic pustular folliculitis, immunosuppression-associated eosinophilic folliculitis (mostly HIV-related), and infancy-associated eosinophilic folliculitis. [3]
Eosinophilic folliculitis has been classified as an AIDS-defining illness. In both children and adults, eosinophilic pustular folliculitis should be viewed as a possible cutaneous sign of immunosuppression. However, eosinophilic folliculitis may also develop in immunocompetent persons.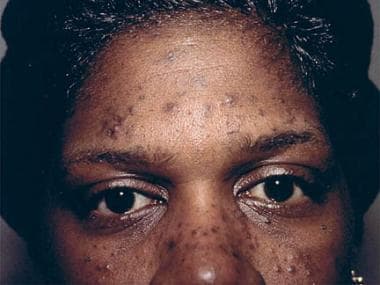 Eosinophilic pustular folliculitis in a patient infected with HIV. Note acneiform hyperpigmented papules. Photograph courtesy of Sarah A. Myers, MD.
Pathophysiology
Although the exact etiology of eosinophilic folliculitis remains obscure, studies have favored an autoimmune process directed against sebocytes or some component of sebum. Markers of acute inflammatory activation of the epithelia, such as ICAM-1 and MAC 387, are strongly positive in sebocytes of eosinophilic folliculitis lesions but only weakly reactive in the follicular epithelium. Antibody formation and the creation of immune complexes are believed to directly or indirectly mediate clinical manifestations. Patients with eosinophilic folliculitis create antibodies to the intercellular substance of the lower epidermis and the outer root sheath of the hair follicle. An abnormal Th2-type immune response to a follicular antigen, such as caused by Demodex species, may be responsible for HIV-associated eosinophilic folliculitis.
Epidemiology
Frequency
United States
The prevalence of eosinophilic folliculitis is unknown.
International
The classic form is most closely linked with persons of Japanese descent. [4]
Mortality/Morbidity
Eosinophilic folliculitis is not disabling or life-threatening, but it may be intensely pruritic.
Race
Eosinophilic folliculitis is more common among Asian persons but also occurs among persons of Hispanic descent and in whites and blacks.
Sex
The male-to-female ratio of eosinophilic folliculitis is 5:1 in all 3 variants.
Classic type eosinophilic folliculitis was found to have no sexual predilection. [5]
HIV-associated eosinophilic folliculitis is more common among homosexual or bisexual men.
Age
Eosinophilic folliculitis is most common among persons aged 20-40 years.
In the pediatric population, eosinophilic folliculitis typically affects patients aged 5-10 months, although neonatal cases have been reported. A newborn was described with it. [6]
Prognosis
Eosinophilic folliculitis is a benign dermatologic disease; however, eosinophilic folliculitis is associated with advanced AIDS, and patients with HIV infection are at an increased risk of developing opportunistic infections.
What would you like to print?