Workup
Laboratory Studies
In patients with eosinophilic folliculitis, a CBC count reveals leukocytosis and eosinophilia.
Immunoelectrophoresis reveals elevated levels of immunoglobulin E (IgE), low levels of immunoglobulin G3 (IgG3), and low levels of immunoglobulin A (IgA) in pediatric eosinophilic folliculitis.
Culture of skin lesion reveals no consistent bacterial or fungal growth.
The CD4 count is usually less than 250-300 cells/µL in patients infected with HIV who have eosinophilic folliculitis.
Histologic Findings
A biopsy specimen is often necessary. [38] Obtaining 2 punch biopsy specimens, to allow for both vertical and transverse sectioning, has been proposed to increase the sensitivity of finding the characteristic features of eosinophilic folliculitis. [39] The infundibulum of the hair follicle manifests eosinophilic spongiosis and pustulosis. The infiltrate often extends to the adjacent sebaceous gland. Although most follicles are preserved, some follicular walls are destroyed by the inflammatory infiltrate. The infiltrate is mainly composed of eosinophils with variable numbers of neutrophils and mononuclear cells. It also manifests a moderately dense, perivascular, and perifollicular inflammatory infiltrate comprised of eosinophils, lymphocytes (mainly CD4+), and macrophages. HIV-associated eosinophilic folliculitis has a more intense perivascular and diffuse inflammatory infiltration compared with that of the HIV-related pruritic papular eruption. [40]
Follicular mucinosis may be seen in lesions of eosinophilic folliculitis. Special stains are negative for micro-organisms. The lesions of the palms and soles have subcorneal and intraepidermal pustules, accompanied by a variable dermal inflammatory infiltrate. Basophils in cutaneous infiltrates of this disorder have been noted. [41]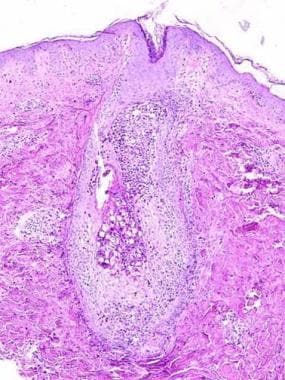 Eosinophilic folliculitis (low-power). Note eosinophilic spongiosis, particularly involving the infundibular region of the hair follicle.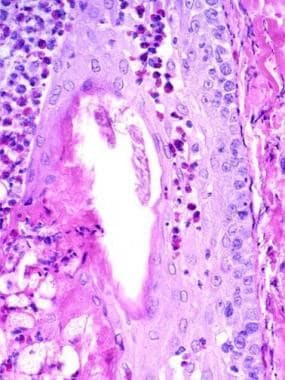 Eosinophilic folliculitis (high-power). In addition to the abundant eosinophils, note the variable numbers of neutrophils and mononuclear cells.
What would you like to print?