Presentation
History
The history in patients with gas gangrene depends on the precipitating factors of the infection. Most patients with posttraumatic gas gangrene have sustained serious injury to the skin or soft tissues or have experienced open fractures. Patients with postoperative gas gangrene frequently have undergone recent surgery of the GI or biliary tract. In contrast, the history usually is unremarkable in patients with occult malignancy–associated spontaneous gas gangrene.
A sudden onset of pain is usually the first symptom of gas gangrene. The pain gradually worsens but spreads only as the underlying infection spreads.
Some patients report a feeling of heaviness in the affected extremity.
A low-grade fever and apathetic mental status may develop.
Physical
Local swelling and a serosanguineous exudate appear soon after the onset of pain. The skin characteristically turns to a bronze color, then progresses to a blue-black color with skin blebs and hemorrhagic bullae. Within hours, the entire region may become markedly edematous. The wound may be nonodorous or may have a sweet mousy odor. Crepitus follows gas production; at times, crepitus may not be detected with palpation owing to brawny edema. Pain and tenderness to palpation disproportionate to wound appearance are common findings.
Tachycardia disproportionate to body temperature is common, and the patient may report a feeling of impending doom.
Late signs of gas gangrene include hypotension, renal failure, and a paradoxical heightening of mental acuity.
In summary, the typical signs and symptoms of gas gangrene include severe pain and tenderness, local swelling to massive edema, skin discoloration with hemorrhagic blebs and bullae, nonodorous or sweet odor, crepitus, fever, relative tachycardia, and altered mental status.
Causes
Gas gangrene can be classified as posttraumatic, postoperative, or spontaneous.
Posttraumatic gas gangrene
Posttraumatic gas gangrene accounts for 60% of all gas gangrene cases.
Most of these cases involve automobile collisions.
Other complications of trauma arise from crush injuries, compound fractures, gunshot wounds, thermal or electrical burns, and frostbite.
Farm or industrial injuries contaminated with soil are especially prone to developing gas gangrene.
Intramuscular or subcutaneous injections with insulin, epinephrine, quinine, heroin, or cocaine are rare antecedent events leading to gas gangrene.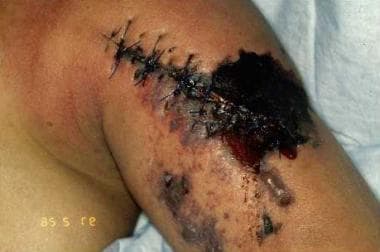 A patient developed gas gangrene after injecting cocaine. Clostridium septicum was isolated in both blood and wound cultures.
Postoperative clostridial infections
Postoperative clostridial infections follow cases of colon resection; ruptured appendix; bowel perforation; and biliary or other GI surgery, including laparoscopic cholecystectomy and colonoscopy. It also has been reported following liposuction procedures. [21] Septic back-street abortions are the main cause of uterine gas gangrene.
Spontaneous gas gangrene without external wound or injury
Spontaneous gas gangrene without external wound or injury occurs frequently in patients who have serious underlying conditions.
Colorectal adenocarcinoma is the most prevalent risk factor in this group. Hematologic malignancy is also a major premorbid condition.
In children, neutropenia, either induced by chemotherapy or cyclic in nature, represents the single most important risk factor for spontaneous C septicum infections.
The remaining cases are associated with diabetes or neutropenic colitis. In many cases, no predisposing condition can be found.
Although C perfringens and C septicum infections commonly are reported, C septicum infection predominates. Patients with C septicum infections have overt or occult malignancies approximately 5 times more often than patients with other clostridial infections. In a large series of nontraumatic C septicum myonecrosis, malignant tumors were identified in 92% of patients; of these, 58% had colonic adenocarcinomas. [13, 27]
Complications
Potential complications of gas gangrene include the following:
Massive hemolysis, which may require repeated blood transfusion

Acute respiratory distress syndrome
What would you like to print?