Workup
Laboratory Studies
Rapidly developing hemolytic anemia with an increased lactate dehydrogenase (LDH) level is common in patients with gas gangrene.
Despite serious infection, white blood cell counts may not show leukocytosis. However, in patients with toxic shock syndrome due to C sordellii or C septicum, the CBC count may show hemoconcentration and extreme leukocytosis.
A Gram stain of the exudate or infected tissues reveals "box-car," large gram-positive bacilli without neutrophils. One study reported the usefulness and good sensitivity of Gram stain (86%) in the diagnosis of clostridial gas gangrene in survivors of the Wenchuan earthquake. [28]
Less than 1% of blood cultures in patients with gas gangrene grow clostridial species.
The chemistry profile may show significant metabolic abnormalities (metabolic acidosis and renal failure) frequently associated with tissue injuries and hypotension.
Imaging Studies
Radiography can help delineate the typical feathering pattern of gas in soft tissue; however, gas may not be present in patients with gas gangrene. Conversely, the simple presence of gas in soft tissue does not confirm the diagnosis of gas gangrene. See the images below.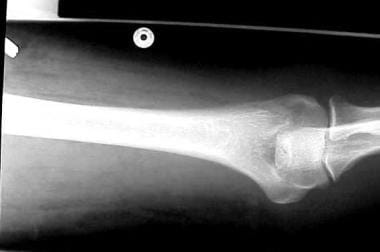 Gas feathering in the arm soft tissue of a patient with gas gangrene.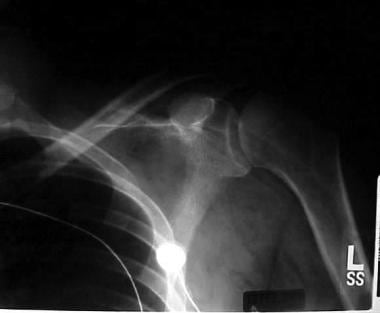 Extension of gas gangrene to the chest wall despite initial debridement.
CT scanning is helpful, especially in abdominal cases of gas gangrene. A recent study with the new-generation CT scanners reported 100% sensitivity to detect necrotizing soft tissue infections; however, it excluded patients taken to surgery prior to CT scanning and did not explore surgically all clinically suspected cases. [29]
Studies on MRI to detect necrotizing soft tissue infection have reported lower sensitivity (80-90%) and limited specificity. In addition, MRI is time consuming and not always available. [30]
Ultrasound, although attractive as a rapid bedside test, has not been well studied in this clinical scenario. In a cadaveric model of soft tissue gas, it showed excellent sensitivity in detecting gas and its localization. [31]
Other Tests
Rapid detection of alpha-toxin or sialidases (ie, neuraminidases) in infected tissues through enzyme-linked immunosorbent assay (ELISA) is not widely available but represents a potential diagnostic tool. ELISA can provide results in as little as 2 hours when the test is applied to wound exudate, tissue samples, or serum.
Although not widely available for clinical practice, in vitro amplification of the alpha-toxin or DNA by polymerase chain reaction (PCR) has been used to isolate clostridial species.
Procedures
Surgical exploration confirms the diagnosis of myonecrosis. Affected muscle appears pale and shows no contractile function when incised or electrically stimulated.
Under local anesthesia, bedside biopsy with immediate frozen section can be performed to provide early and accurate diagnosis of gas gangrene. Although advocated by some authors for early diagnosis of necrotizing fascitis, [32] others question bedside biopsy for its practical application and potential delay of appropriate surgical exploration in the operating room. [33]
Because adjunctive diagnostic studies are time consuming and have limited utility for the diagnosis of necrotizing soft tissue infections, it is important to emphasize the invaluable role of the direct examination of the involved tissues in the operating room in making the diagnosis.
Due to the potentially high mortality and morbidity associated with delays in treatment, the threshold for operative exploration should be very low if the diagnosis is under consideration. [33]
A meta-analysis of 2123 patients with necrotizing soft tissue infections showed a mortality of 19% that was significantly lower for those with surgery within 6 h after presentation as opposed to 32% when treatment was delayed more than 6 h (OR 0.43). Surgery within 12 h also reduced the mortality compared to surgery after 12 h from presentation (OR 0.41). [55]
Patients with gas gangrene frequently develop massive hemolysis, shock, acute respiratory distress syndrome (ARDS), and renal failure, which often require invasive procedures (eg, right-sided heart catheterization, mechanical ventilation, hemodialysis).
Histologic Findings
Histopathologic findings in gas gangrene consist of widespread myonecrosis, destruction of other connective tissues, and a paucity of neutrophils in the infected area. Leukocyte aggregates are found in the border regions.
Staging
Diagnosing necrotizing fasciitis is notoriously difficult because the early clinical signs are neither sensitive nor specific. Based on routine laboratory tests readily available at most centers, the Laboratory Risk Indicator for Necrotizing Fasciitis Scoring System (LRINEC) was introduced as a screening tool to distinguish necrotizing fasciitis from other soft tissue infections rapidly and accurately (see Table 1). [34]
If the total score exceeds 6, a diagnosis of necrotizing fasciitis should be considered (positive predictive value [PPV], 92%; negative predictive value [NPV], 96%). A score of more than 8 is highly suggestive of necrotizing fasciitis (PPV 93.4%).
Only a limited number of retrospective studies (but no prospective studies) have been conducted to validate the role of LRINEC for the early diagnosis of necrotizing fasciitis. Since none of the parameters in LRINEC is specific for necrotizing fasciitis and all can be abnormal in any inflammatory condition or infection, other diagnostic tools (imaging or biopsy) may be necessary in conjunction with the LRINEC score for making an early diagnosis and planning appropriate therapy for necrotizing fasciitis.
Table 1. Laboratory Risk Indicators for Necrotizing Fasciitis (Open Table in a new window)
| Variable | Score |
| --- | --- |
| C-reactive protein level | |
| < 150 mg/L | 0 |
| ≥150 mg/L | 4 |
| Total WBC count | |
| < 15 cells/µL | 0 |
| 15-25 cells/µL | 1 |
| >25 cells/µL | 2 |
| Sodium level | |
| ≥135 mmol/L | 0 |
| < 135 mmol/L | 2 |
| Hemoglobin level | |
| >13.5 g/dL | 0 |
| 11-13.5 g/dL | 1 |
| < 11 g/dL | 2 |
| Creatinine level | |
| ≤ 141 mmol/L | 0 |
| >141 mmol/L | 2 |
| Glucose level | |
| ≤10 mmol/L | 0 |
| >10 mmol/L | 1 |
A clinical algorithm was designed to categorize necrotizing soft tissue infections (NSTI) to predict the risk of unfavorable outcomes. The clinical score is based on six admission parameters (see Table 2). [25]
Table 2. Clinical Score Predictive of Death for Patients with Necrotizing Soft Tissue Infections (Open Table in a new window)
Variable on Admission

Points

Heart rate >110 bpm

1

Temperature < 36°C

1

Serum creatinine level >1.5 mg/dL

1

Age >50 years

3

WBC count >40,000/µL

3

Hematocrit >50%

3

Group category

Number of points

Mortality risk (%)

1

0-2

6

2

3-5

24

3

≥6

88
What would you like to print?