Presentation
History
The incubation period of hand-foot-and-mouth disease (HFMD) lasts approximately 1 week; patients then report a sore mouth or throat. Malaise may develop. Rarely, vomiting occurs in HFMD cases caused by EV-71.
Physical
Initially, macular lesions appear on the buccal mucosa, tongue, and/or hard palate. These mucosal lesions rapidly progress to vesicles that erode and become surrounded by an erythematous halo, as shown in the image below. Skin lesions, which present as tender macules or vesicles on an erythematous base, develop in approximately 75% of patients with HFMD. A fever of 38-39°C may be present for 24-48 hours.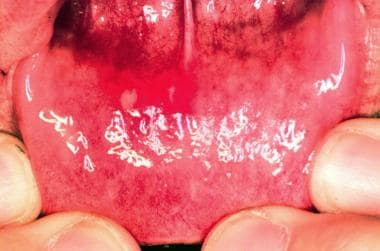 The lower lip has an ulcer with an erythematous halo.
Atypical clinical features may be present. HFMD caused by coxsackievirus strains rarely presents with concomitant aseptic meningitis. [3] HFMD caused by EV-71 has a higher incidence of neurologic involvement, including a poliolike syndrome, aseptic meningitis, encephalitis, encephalomyelitis, acute cerebellar ataxia, acute transverse myelitis, Guillain-Barré syndrome, opsomyoclonus syndrome, and benign intracranial hypertension. [4]
Causes
HFMD is most commonly caused by coxsackievirus A16, but it is also caused by coxsackieviruses A5, A7, A9 A10, B2, and B5 and EV-71. Two major genotypes of EV-71, EV-71 B and C, have been identified as the strains principally involved in the EV-71 HFMD epidemics in Australia, Malaysia, Singapore, Republic of China, and Japan since 1997. These genotypes are considered particularly neurovirulent, accounting for the severe neurologic complications seen in EV-71 HFMD epidemics. [15]
What would you like to print?