DDx
Diagnostic Considerations
Neonates with jaundice caused by pyruvate kinase deficiency may respond to phototherapy and, later, follow a mild clinical course. In such cases, the jaundice may be mistakenly attributed to other, more common causes.
In the newborn with jaundice and anemia, immune hemolysis (eg, ABO or Rh incompatibility) is easily identified. Findings that favor a diagnosis of pyruvate kinase deficiency are a negative Coombs test result, blood group setups, and a peripheral blood film examination that demonstrates no spherocytes but reveals contracted, shrunken, spiculated red cells (echinocytes) of the pyruvate kinase deficiency.
(See the image below.)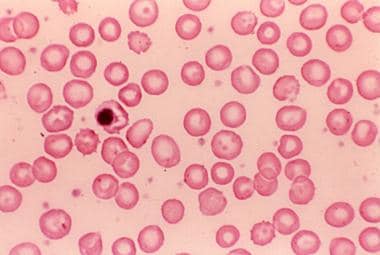 Peripheral blood smear in a child with splenectomy and pyruvate kinase deficiency.
A normal osmotic fragility (which has its limitation in the newborn) may help to differentiate pyruvate kinase deficiency from hereditary spherocytosis.
Other congenital hemolytic anemias of the nonspherocytic type, hemoglobinopathies, other enzyme deficiencies, and some thalassemic syndromes must also be differentiated from pyruvate kinase deficiency. Specific tests and family history may help in this.
In older children, autoimmune hemolytic anemia may also manifest with symptoms that are similar to pyruvate kinase deficiency and, therefore, must be considered in the differential diagnosis. A positive Coombs test result, the presence of spherocytes, and the absence of typical pyruvate kinase ̶ deficient cells on the peripheral blood film examination are the main features that differentiate the conditions.
Differential Diagnoses
What would you like to print?