Workup
Approach Considerations
Definitive diagnosis of meningococcal infection requires culture of meningococci from blood, spinal fluid, joint fluid, or, occasionally, from skin lesions.
The laboratory findings in the early stages of meningococcal disease are nonspecific and often unremarkable. For example, patients with fulminant meningococcemia may present with a normal white blood cell (WBC) count or leukopenia.
A study of adults with fulminant meningococcemia found that the following 4 variables at the time of admission portend a fatal outcome:
Plasma fibrinogen level of 1.5 g/L or less (sole adverse prognostic variable)

Factor V concentration of 0.2 or less

Platelet count lower than 80 X 10 9/L

Cerebrospinal fluid (CSF) leukocyte count of 20 X 10 6/L or greater
Blood culture
Cultures in meningococcal infection produce transparent, nonpigmented colonies that are oxidase positive and nonhemolytic. Overall, the sensitivity of blood culture is 50-60% in untreated patients. [79]
In meningococcemia, organisms have been isolated by blood culture in almost 100% of patients. The results are not available for 12-24 hours.
Obtain blood cultures before administering antibiotics. These can be drawn in rapid succession so as not to delay the institution of appropriate antibiotics.
Throat culture
A throat culture should be obtained; however, the diagnosis of meningococcemia cannot be made solely from a positive result from throat culture, because asymptomatic colonization is not uncommon.
Complement deficiencies should be sought for complicated infections and recurrent or familial disease.
Diagnosis of chronic meningococcemia
The diagnosis of chronic meningococcemia is confirmed with the identification of N meningitidis from blood cultures. Multiple (3-6 sets) blood cultures are necessary to confirm BSI because of the high rate of false-negative test results. This may be due to recent use of oral antibiotics that were given before the seriousness of the patient's clinical state was recognized. Alternatively, a novel N meningitidis–specific polymerase chain reaction assay performed on skin biopsy specimens may prove to be helpful for this diagnostic challenge. [80]
Chronic meningococcemia significantly differs histopathologically from acute meningococcemia. The patient is not in shock /thrombi do not occlude the capillaries orvenules, and endothelial swelling does not occur. The most common finding in a person with chronic meningococcemia is a leukocytoclastic angiitis.
Imaging studies
Chest radiography is useful to evaluate for pneumonia and acute respiratory distress syndrome. Echocardiography can be used to evaluate for myocardial dysfunction and pericarditis. Deep muscle and bone involvement can be evaluated with magnetic resonance imaging (MRI).
Hematologic Studies
Collect blood cultures (2 sets, with at least 10 mL per bottle) in any febrile patient with petechiae. A complete blood count (CBC), platelet count, blood urea nitrogen (BUN) study, and creatinine clearance evaluation, as well as a series of coagulation studies, can be used to evaluate a consumptive coagulopathy.
Gram stain of the peripheral blood buffy coat may reveal gram-negative diplococci in fulminant meningococcemia.
Rapid latex antigen tests may assist with diagnosis. The latex agglutination test has 50-100% sensitivity and high specificity. However, it has a high rate of false-negative results.
Coagulation tests
DIC is a laboratory diagnosis, but no single laboratory test is diagnostic. Instead, DIC is recognized clinically by a pattern of changes in numerous coagulation tests. Typically, these changes include lowered platelet count, prolonged prothrombin time, prolonged partial thromboplastin time, lowered fibrinogen levels, and the presence of fibrin-split products in the circulation. Not all of these changes are found in all patients. Fibrinogen, an acute-phase reactant, may be elevated in patients with DIC.
White blood cell count
In patients with meningococcal infections, the WBC count and C-reactive protein level may be elevated at presentation or may increase during the subsequent 24 hours. However, these values are not reliable markers of infection.
In a study of 128 consecutive children with meningococcal sepsis who were admitted to a pediatric intensive care unit, only 14% had a WBC count of more than 20 X 109/L, and 71% had a WBC count of less than 15 X 109/L.
A low WBC count is a poor prognostic finding and should raise concerns about rapid disease progression.
Metabolic abnormalities
Biochemical disturbance is common in children who have shock with or without impaired renal function. The following abnormalities frequently occur:
Hypokalemia despite acidosis

Hypocalcemia

Hypomagnesemia

Metabolic acidosis
Other
Evaluate for evidence of end-organ damage (eg, kidney or hepatic failure) with appropriate blood tests.
Needle Aspirates and Skin Biopsy
Gram-negative diplococci may be observed in punch biopsy and needle aspiration specimens of skin lesions or buffy coat preparations. Gram-negative diplococci also may be recovered from joint fluid. Findings on Gram stains of skin lesions remain positive for up to 2 days after the start of antibiotics and form a rapid means of diagnosis, including when meningitis is not present and when spinal fluid culture findings are negative, owing to the administration of antibiotics.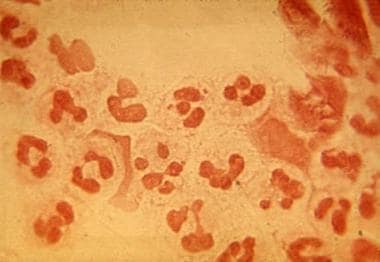 Gram-negative intracellular diplococci. Courtesy Professor Chien Liu.
In one study, needle aspirates or skin biopsy specimens from patients with meningococcal sepsis tested using Gram stain yielded a 72% sensitivity; in another study, sensitivity was reportedly 80% using scraped material from petechiae. [81] However, a later prospective, controlled study combining Gram stain and culture of skin biopsy specimens, reported a sensitivity of 56%. [82]
Histology
Leukocytoclastic vasculitis, thrombosis, and organisms often are demonstrated in biopsy specimens collected from patients with acute meningococcemia.
Cutaneous petechiae and purpura correspond to thrombi in the dermal vessels composed of neutrophils, platelets, and fibrin. Acute vasculitis with neutrophils and nuclear "dust" is present within and around vessels. This process leads to hemorrhage into the surrounding tissue. Meningococci often can be seen in the luminal thrombi and vessel walls. Intraepidermal and subepidermal neutrophilic pustules also may be present.
Perivascular lymphocytic infiltrate with few neutrophils characterize chronic meningococcemia, although leukocytoclastic vasculitis may be seen in biopsies of petechiae.
Serogrouping-Serotyping
Meningococcal polymerase chain reaction assay
Meningococcal PCR is a rapid method for diagnosing CSF infection. [83] PCR of spinal fluid has a sensitivity and specificity of more than 90% in the diagnosis of meningococcal meningitis. It is useful when antibiotics have been administered and can be used to rapidly type strains in developing epidemics. [61, 80, 84, 85, 86, 87, 88, 89]
Diagnosis and serogrouping of N meningitidis infection also can be performed on formalin-fixed tissue samples using immunohistochemical analysis and PCR. [84, 85]
Slide agglutination test
With serogrouping, polysaccharide antigens on the capsule are identified by a slide agglutination test using polyclonal antibodies.
Enzyme-linked immunosorbent assay
With serotyping and serosubtyping, outer membrane proteins (PorB and PorA) can be identified by an enzyme-linked immunosorbent assay (ELISA) using monoclonal antibodies.
Lumbar Puncture
Brain imaging studies before a lumbar puncture (LP) are unnecessary unless the patient is obtunded, has focal neurologic signs, has experienced a seizure within the previous week, or presents with papilledema.
Perform LP for CSF evaluation. Immediately stain and culture the spinal fluid. (CSF culture yields a sensitivity of up to 70% in untreated patients.)
Gram stain of the CSF should be performed immediately and examined microscopically. Organisms can be observed in the CSF in approximately half of patients who present with meningococcal meningitis. (Gram stain can have a higher yield than blood cultures.)
Send the CSF for a WBC count, a WBC differential, total protein content, and glucose studies. Send additional tests as indicated for ruling out other diagnoses.
Bacterial meningitis produces various inflammatory changes in the CSF. The CSF becomes turbid with more than 1000 WBC/µL, and the cells predominantly are predominantly polymorphonuclear. The intracranial pressure (ICP) may be elevated. The total protein content is increased, and the glucose level, which is normally 60% of the simultaneous blood glucose level, becomes lowered (hypoglycorrhachia).
Detection of N meningitidis capsular polysaccharide antigen in CSF and urine with rapid serologic tests based on latex particle agglutination is commercially available.
Contraindications for lumbar puncture
In the presence of purpura or petechiae, LP may be hazardous and may add few data to aid in the diagnosis. In a patient with a depressed level of consciousness, shock, or any of the features listed below, lumbar puncture can be delayed, and treatment can immediately begin.
The following are contraindications to lumber puncture (unless increased intracranial pressure [ICP] is ruled out):
Prolonged or focal seizures

Focal neurologic signs

Widespread purpura or petechiae

Glasgow Coma Scale score of less than 13

Pupillary dilatation or asymmetry

Impaired oculocephalic reflexes - ie, doll's eye reflexes

Abnormal posture or movement, decerebrate or decorticate movement or cycling

Coagulation disorder

Papilledema

Hypertension

Signs of impending brain herniation - Inappropriately low pulse, increased blood pressure, irregular respiration)
What would you like to print?