Workup
Approach Considerations
The diagnosis of Cushing syndrome due to endogenous overproduction of cortisol requires the demonstration of inappropriately high serum cortisol or urine cortisol levels, as shown in the algorithm below. Currently, 4 methods are accepted for the diagnosis of Cushing syndrome: urinary free cortisol level, low-dose dexamethasone suppression test, evening serum and salivary cortisol level, and dexamethasone–corticotropin-releasing hormone test.
Imaging studies for Cushing syndrome should be performed after the biochemical evaluation has been performed. Ideally, the biochemical abnormalities should reconcile with the anatomic abnormalities before definitive therapy is offered.
Laboratory Studies
The diagnosis of Cushing syndrome requires demonstration of inappropriately high level of cortisol in the serum or urine. The levels should be measured when cortisol, according to its physiologic circadian rhythm, is supposed to be suppressed, that is, late evening or when a patient is given exogenous glucocorticoids.
This concept gives rise to the following tests, which have been recommended as screening tests for Cushing syndrome:
Midnight serum or salivary cortisol

24-hour urine free cortisol

Low dose dexamethasone suppression test
Exogenous glucocorticoid use around time of testing must be addressed and excluded to ensure the accuracy of the test result's interpretation.
Urinary free cortisol (UFC) determination has been widely used as an initial screening tool for Cushing syndrome because it provides measurement of cortisol over a 24-hour period. A valid result depends on adequate collection of the specimen. Urinary creatinine excretion can be used to assess the reliability of the collection. 24-Hour urine creatinine excretion should be 20-25 mg/kg (lean body weight) in adult males younger than 50 years of age and 15-20 mg/kg (lean body weight) in adult females younger than 50 years. However, in elderly patients, creatinine excretion gradually declines over time, which makes this estimation less accurate than that for younger individuals. Urine free cortisol values higher than 3 times the upper limit of normal are highly suggestive of Cushing syndrome. Values higher than the normal reference range but less than 3times the upper limit of normal are inconclusive. Values within this range may indicate pseudo–Cushing syndrome or Cushing syndrome and require further testing. Multiple collections are necessary because patients with disease may have values that fall within the normal range.
The rationale for the dexamethasone suppression test is based on the normal physiology of the hypothalamic-pituitary-adrenal axis; glucocorticoids inhibit secretion of hypothalamic CRH and pituitary ACTH. Since cortisol production is controlled by ACTH, decreases in ACTH lead to decreases in plasma and urine cortisol. The overnight 1-mg dexamethasone suppression test requires administration of 1 mg of dexamethasone at 11 PM with subsequent measurement of cortisol level at 8 am. [15] To enhance the sensitivity of the test, a cutoff value of less than 1.8 mcg/dL (50 nmol/L) excludes Cushing syndrome. [16] Its ease of administration makes the 1-mg dexamethasone suppression test a widely used screening tool.
Dexamethasone is metabolized through the liver via the CYP3A4 pathway. Thus, liver disease or drugs that induce CYP3A4 enzymes can interfere with dexamethasone metabolism and affect the final test result. To help recognizing any problems with dexamethasone metabolism, dexamethasone level should be measured in the blood at the same time that the cortisol level is measured in early morning. [17] Please refer to each specific laboratory reference for expected value of dexamethasone in this setting..
Late-night serum and salivary cortisol levels take advantage of the alterations in circadian rhythm of cortisol secretion in patients with Cushing syndrome. Normally, cortisol values are at their lowest level late at night. In patients with Cushing syndrome, an elevated serum cortisol at 11 PM can be an early, but not definitive, finding. Measuring serum cortisol levels requires hospitalization, with blood samples obtained within 5-10 minutes of waking a patient, and is not a practical test.
Measuring salivary cortisol level has gained interest, as it is a simple and convenient way of obtaining a nighttime sample. This measurement allows patients to collect their own samples at home. Most physicians who use this test obtain readings over several evenings to increase accuracy. It is convenient and useful in patients with mild or cyclic Cushing syndrome in whom diagnosing Cushing syndrome can be extremely hard. Patients can have several samples collected at home over a period of time. Salivary cortisol sample is simple to handle because cortisol in saliva stays stable at room temperature for many days.
Results from a metaanalysis of 7 studies related to late-night salivary cortisol testing in the diagnosis of Cushing syndrome (947 patients aged >18 years, including 339 persons with Cushing syndrome) indicated that such testing has a sensitivity of 92% and a specificity of 96%. [18] Positive likelihood ratio range was between 8.8 and 21 and negative likelihood ratio was between 0.07 and 0.08 in 2 metaanalysis studies [18, 19] . These analyses suggest that late night salivary cortisol is an excellent test in diagnosing Cushing syndrome. Factors that can make interpretation of results complicated are a change in the sleep-wake rhythm, shift work, sample contamination or acute stress or illness. Recent studies have suggested that late night salivary cortisol might have better performance than urinary free cortisol. [20]
The dexamethasone-CRH test is intended to distinguish patients with Cushing syndrome from those with pseudo-Cushing states. [21] It combines a 48-hour low-dose dexamethasone suppression test with CRH stimulation. Dexamethasone (0.5 mg q6h) is given 8 times starting at about 8 AM, CRH is administered 2 hours after the last dose of dexamethasone and plasma cortisol and ACTH levels are obtained at 15-minute intervals for 1 hour. A cortisol value at 15 minutes after CRH greater than 38 nmol/L (1.4 mcg/dL) identifies Cushing syndrome. The test has a sensitivity of 90-100% and a specificity of 67-100%. [22, 23] This test is reserved for patients with high clinical suspicion for Cushing syndrome but equivocal results on other diagnostic tests.
Unfortunately, mild Cushing syndrome is often difficult to distinguish from normal cortisol secretion or pseudo-Cushing states. The aforementioned tests can produce both false-positive and false-negative results. False-positive results are associated with obesity, alcoholism, chronic renal failure, affective disorders, strenuous exercise, or eating disorders. Other potential confounders in the interpretation of tests include the following:
Medications that increase corticosteroid-binding globulin, such as estrogen and tamoxifen, may cause appropriate increases in serum cortisol levels.

Medications that facilitate the metabolism of dexamethasone, such as phenobarbital, phenytoin, and rifampin, may cause false-positive results with the dexamethasone suppression test.
A study by Wester et al indicated that analysis of hair cortisol content using a single scalp hair sample provides diagnostic accuracy in Cushing syndrome similar to that of current first-line tests. Using a cutoff of 31.1 pg/mg, hair cortisol content had a diagnostic sensitivity and specificity of 93% and 90%, respectively. [24]
Once the diagnosis is established, the next step requires determining the etiology of Cushing syndrome. See the flow chart below. The logical first step involves identifying if the hypercortisolism is an ACTH-dependent or ACTH-independent disorder.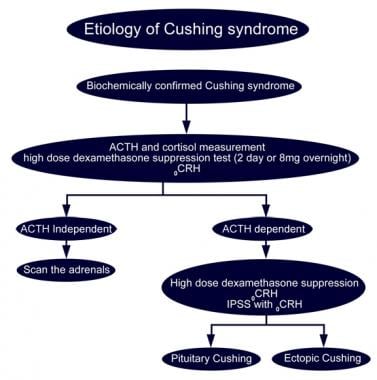 Etiology of Cushing syndrome.
Etiology workup
In a patient in whom the diagnosis of Cushing syndrome has been established, an undetectable plasma ACTH with a simultaneously elevated serum cortisol level is diagnostic of ACTH-independent Cushing syndrome. ACTH-independent Cushing syndrome is most often due to a primary cortisol-producing adrenal adenoma or carcinoma, assuming exogenous glucocorticoid use has been excluded. A plasma ACTH (measured by an immunoradiometric assay) of less than 5 pg/mL is suggestive of a primary adrenal tumor. An ACTH level greater than 20 pg/mL (4.4 pmol/L) is consistent with ACTH-dependent Cushing syndrome. An ACTH level between 5 and 20 pg/mL is equivocal.
The 8-mg overnight dexamethasone suppression test and the 48-hour high-dose dexamethasone test may be useful when baseline ACTH levels are indeterminate. These studies also help in determining whether a patient who has ACTH-dependent disease has pituitary-dependent or ectopic ACTH disease. In the 8-mg overnight dexamethasone suppression test, individuals ingest 8 mg dexamethasone orally at 11 PM, with measurement of an 8 am cortisol level the next day. A baseline 8 am cortisol measurement is also obtained the morning prior to ingesting dexamethasone. Suppression of serum cortisol level to less than 50% of baseline is suggestive of a pituitary source of ACTH rather than ectopic ACTH or primary adrenal disease. However, the diagnostic accuracy is only 70-80%.
With the 48-hour high-dose dexamethasone suppression test, patients ingest 2 mg dexamethasone every 6 hours for 8 doses. A decrease in urinary free cortisol of greater than 50% is suggestive of an anterior pituitary adenoma rather than ectopic ACTH or a primary adrenal tumor. [25] Unfortunately, the sensitivity of this test is only 81%, with a specificity of 66.7% as reported in one study. [26] Although more patients with Cushing disease than those with ectopic ACTH had a positive suppression test, there was significant overlap as the rate of suppression was 0-99% for each diagnosis. The more stringent criterion of a 90% decrease in urinary free cortisol levels excludes the diagnosis of ectopic ACTH and has almost 100% specificity for anterior pituitary disease.
Testing with CRH is used in the differential diagnosis of ACTH-dependent Cushing syndrome. In most patients with pituitary ACTH secretion, the intravenous administration of CRH causes a rise in plasma ACTH and cortisol levels. In patients with ectopic secretion of ACTH, CRH does not affect ACTH or cortisol levels. ACTH and cortisol samples are obtained before administration of ovine CRH (oCRH), and subsequently at 15, 30, 45, 60, 90, and 120 minutes after administration of 1 mcg/kg of CRH. A rise of more than 20% in mean increase plasma cortisol level at 30 and 45 minutes or a rise of more than 35% in mean ACTH level at 15 and 30 minutes after oCRH is consistent with pituitary ACTH-dependent Cushing syndrome. Sensitivity and specificity are 91% and 88%, respectively, for cortisol measurements and 93% and 100% for ACTH measurements. [27]
In one study using the CRH test, a value of ACTH percentage increment of 50% gave the best diagnostic value (sensitivity 86% [72.6-94.8] and specificity 90% [55.5-98.3]). [28] However, the best cutoff point for cortisol percentage increment (30%) yielded inferior results with sensitivity 61% (45.5-75.6) and specificity 70% (34.8-93.0).
Acute illness activates the HPA axis, resulting in increases in ACTH and cortisol. The laboratory workup for Cushing syndrome should not be performed when subjects are acutely ill.
Table. States of Elevated and Low Plasma Cortisol (Open Table in a new window)
States of Elevated Plasma Cortisol

States of Low Plasma Cortisol

Chronic stress

Melancholic depression

Anorexia nervosa

Obsessive-compulsive disorder

Panic disorder

Excessive exercise

Chronic active alcoholism

Alcohol and nicotine withdrawal

Diabetes mellitus

Central obesity

Sexual abuse (stress)

Hyperthyroidism

Premenstrual tension syndrome

Cushing syndrome

Pregnancy

Adrenal insufficiency

Atypical/seasonal depression

Chronic fatigue syndrome

Fibromyalgia

Hypothyroidism

Post-glucocorticoid therapy

Post-Cushing syndrome

Postpartum period

Post-chronic stress

Rheumatoid arthritis
If concern for adrenal carcinoma exists, measurements of adrenal androgen production, such as serum dehydroepiandrosterone sulfate (DHEAS), and 24-hour urinary 17-ketosteroid measurements may be helpful.
Imaging Studies
Imaging studies for Cushing syndrome should be performed after the biochemical evaluation has been performed. The rationale for this is that random imaging of the pituitary or adrenal glands may yield a 10% incidence of incidental nonfunctioning pituitary or adrenal adenomas, which may mislead one from proper therapy and surgery. Ideally, the biochemical abnormalities should reconcile with the anatomic abnormalities before definitive therapy is offered.
An abdominal CT scan is recommended if a primary adrenal pathology is suspected. The presence of an adrenal mass larger than 4-6 cm raises the possibility that the mass is an adrenal carcinoma.
If a pituitary source of excess ACTH is suspected, patients should undergo a contrast-enhanced magnetic resonance imaging (MRI) study of the pituitary. Unfortunately, normal-appearing pituitaries may occur in some patients with Cushing disease due to both diffuse hyperplasia of ACTH-producing cells and small microadenomas that do not appear on imaging studies. In the latter case, ACTH lateralization during an inferior petrosal sinus sampling (IPSS) study may be useful in lateralizing the occult lesion and in guiding surgical therapy.
Chest and abdominal CT scans should be performed in patients with suspected ectopic ACTH production.
Octreotide scintigraphy may be helpful in detecting ectopic ACTH tumors, because some neuroendocrine tumors typically have cell-surface receptors for somatostatin.
Procedures
Inferior petrosal sinus sampling (IPSS) is useful in distinguishing a pituitary source from an ectopic source of ACTH. An experienced interventional radiologist should perform this procedure to decrease the incidence of neurological complications. This study should not be used to establish the diagnosis of Cushing syndrome.
Bilateral IPSS and simultaneous peripheral ACTH measurements are made at baseline and 2-3 minutes, 5 minutes, and 10 minutes after intravenous administration of oCRH at 1 mcg/kg.

An IPS-to-peripheral ACTH ratio of greater than or equal to 2 at baseline and greater than or equal to 3 after CRH administration is consistent with Cushing disease. [29]

In approximately 70% of patients, a ratio of greater than 1.4 between the right and left inferior petrosal sinuses is predictive of the location of the microadenoma.

This study is not interpretable if pituitary venous drainage anatomy is anomalous. False negative results can be seen in catheter misplacement, asymmetric venous drainage, or anomalous venous drainage. False positive results are rare.
A study by Mulligan et al concluded that prolactin measurement during IPSS may reduce false-negative results in patients with Cushing disease who do not have an appropriate central-to-peripheral ACTH gradient. [30]
What would you like to print?