Workup
Laboratory Studies
Routine blood tests
Complete blood cell count findings (ie, hematological parameters) commonly are abnormal.
Anemia with normochromic normocytic red cell indices is present. A low serum iron level is also observed. A low serum iron-binding capacity is observed in 70-90% of patients.
Anemia worsens with increased duration of illness.
In subacute endocarditis, the white blood cell count is usually normal. In contrast, a leukocytosis with increased segmented granulocytes is common in acute endocarditis and myocardial abscess.
Thrombocytopenia occurs only rarely.
Perform a metabolic chemistry panel.
Erythrocyte sedimentation rate
The erythrocyte sedimentation rate (ESR) is elevated (on average approximately 55 mm/h) in almost all patients with endocarditis and myocardial abscess; the exceptions are those with CHF, renal failure, or disseminated intravascular coagulation.
Although the results are nonspecific, the absence of an increased ESR, other than in the selected circumstances already mentioned, is evidence against a diagnosis of endocardial or myocardial infection or abscess.
Blood cultures
Blood cultures are the crucial laboratory tests for confirming the diagnosis of the underlying endocarditis.
Urinalysis
Urinalysis results are often abnormal, even when renal function remains normal.
Proteinuria and microscopic hematuria are noted in 50% of patients.
Urinalysis also plays a standard role in the evaluation of azotemia, which is frequently associated with myocardial abscess.
Other tests
Perform these as needed for the assessment of the primary source of bacteremia.
Imaging Studies
In the past, most cases of myocardial abscess were found during autopsy; however, detection of myocardial abscess can now be achieved antemortem using multiple noninvasive imaging modalities, including transthoracic echocardiography (TTE) and transesophageal echocardiography (TEE), indium In 111 radionuclide scintigraphy, computed tomography (CT) scan, and magnetic resonance imaging (MRI).
Chest radiography
Perform chest radiography to look for associated pulmonary infection.
Chest radiographic findings help assess for CHF.
Transthoracic echocardiography
TTE helps evaluate patients in whom endocarditis or myocardial abscess is suggested clinically. Findings frequently allow the morphologic confirmation of infection and increasingly aid in making decisions regarding management.
One must perform an echocardiographic evaluation in all patients suspected of having an intracardiac or pericardial infection, including those with negative blood culture findings.
TTE has a sensitivity of 23% and specificity of 98.6%.
According to Ellis et al (1985), the following 5 criteria are 86% sensitive and 88% specific for myocardial abscess: [13]
Evidence of prosthetic valve rocking

Aneurysmal dilatation of the sinus of Valsalva

Posterior aortic root thickness greater than 10 mm

Perivalvular density in the septum of greater than 14 mm

The presence of "echo-free space" - Very specific but found relatively infrequently
Walker et al report a rare case of a myocardial abscess in valvular endocarditis that was difficult to assess with 2-dimensional TTE; however, real-time 3-dimensional contrast TTE allowed visualization of the full extent of the defect and its precise anatomical location, prior to successful surgical resection. [14]
Transesophageal echocardiography
Although many patients with NVE involving the aortic or mitral valve can be adequately assessed using TTE, TEE with color flow and continuous pulsed Doppler is the state-of-the-art technique. Doppler and color-flow Doppler or contrast 2-dimensional echocardiography helps optimally define fistulas and abscess pockets and extensions. See the image below.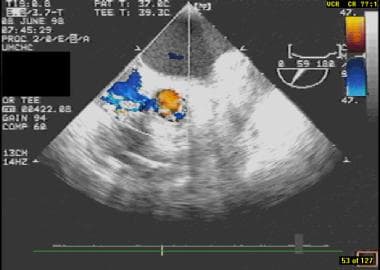 Myocardial abscess. Color Doppler imaging showing flow into the aortic root abscess.
TEE has a sensitivity of 87% and specificity of 94.6%. Patients in whom an abscess is suggested but has not been detected using TEE should undergo MRI, including magnetic resonance angiography. See the images below.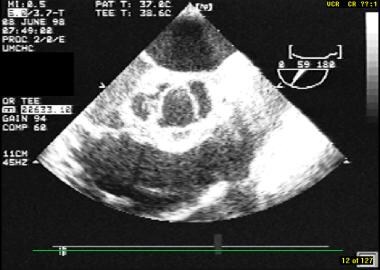 Myocardial abscess. Transesophageal echocardiogram exhibiting aortic valvular endocarditis and aortic root abscess.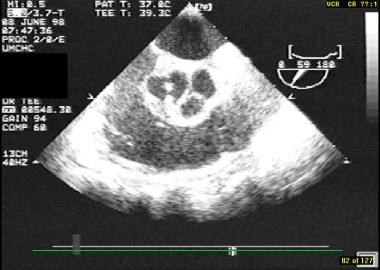 Myocardial abscess. Aortic valvular ring abscess seen by transesophageal echocardiography.
Scintigraphy
Indium In 111 leukocyte scintigraphy is especially useful in prosthetic valve endocarditis, in which echocardiography shows too much scatter.
A few milliliters of venous blood is drawn and mixed with an anticoagulant solution. The white blood cells are separated and labeled with radioactive isotope111 In, centrifuged, resuspended in isotonic sodium chloride solution, and reinjected into the patient. Images are then obtained with a gamma-ray camera within 16-24 hours. The viable radioactive leukocytes potentially accumulate in the areas of inflammation or abscess. Obtain oblique views to avoid overshadowing by sternal accumulation.
The need for111 In scintigraphy is very low if TEE is used.
MRI
This is a good modality for helping delineate myocardial abscess. However, the portability and excellent resolution of echocardiography make it more practical than MRI.
CT scan
Only anecdotal reports of diagnosis are available. It is not very sensitive.
Intraoperative echocardiography
Although invasive, small abscesses can be detected in the operating room by means of intraoperative echocardiography, which may enable the operating surgeon to drain the abscess effectively.
Other Tests
Electrocardiography
New-onset and persistent electrocardiographic conduction abnormalities may be observed. Gradual PR prolongation may be observed, and it may suggest development of valve ring abscess.
Although not a sensitive indicator of perivalvular infection or abscess (28%), these findings are relatively specific (85-90%). See the image below.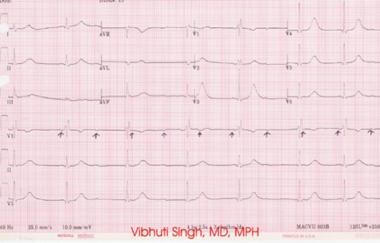 Myocardial abscess. Complete heart block seen on a 12-lead electrocardiogram in a patient with myocardial abscess involving the prosthetic aortic valve ring.
Tests of immune system stimulation
Tests results may show disease activity, but the tests are costly and not very efficient for diagnosis or monitoring response to therapy
These may include testing of circulating immune complexes, rheumatoid factor, quantitative immune globulin, cryoglobulins, and C-reactive protein.
Serologic tests
Serological test findings are used to evaluate cardiac sepsis in which blood culture findings are negative.
Tests to detect antibodies to ribitol teichoic acids from staphylococci may help distinguish uncomplicated S aureus bacteremia from that associated with cardiac involvement.
These tests have not been used in clinical applications because of their lack of adequate specificity or predictive value.
Procedures
Cardiac catheterization may add very little to the imaging studies and is not recommended unless coronary angiography is needed for patients undergoing valve surgery who also may have significant coronary artery disease.
Histologic Findings
Biopsy and histologic assessment is not a part of the diagnostic workup of myocardial abscess. However, surgically removed valves and autopsy findings from fatal cases reveal certain gross and microscopic features. See the images below.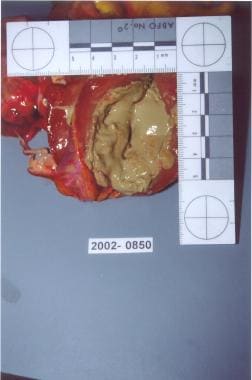 Myocardial abscess (gross).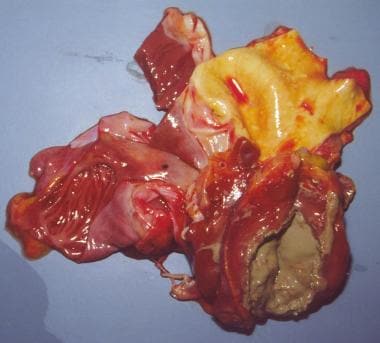 Myocardial abscess (opened).
The infection in native valves and mechanical prostheses that leads to development of myocardial abscess tends to extend beyond the valve ring into the annulus and periannular tissue and into the mitral-aortic intravalvular fibrosa, resulting in ring abscesses, septal abscesses, fistulous tracts, and dehiscence of the prosthesis with hemodynamically significant paravalvular regurgitation.
In autopsy experience with 74 patients, annular invasion was noted in 85%, myocardial abscess formation in 32%, valve obstruction by vegetation overgrowth in 19%, and erosion through the aortic annulus to cause pericarditis in 5%. In another series of 85 patients, the findings were annulus invasion in 42%, myocardial abscess in 14%, valve obstruction in 4%, and pericarditis in 2%. The intracardiac pathology of bioprosthetic valve infective endocarditis is more heterogeneous and includes invasive disease and leaflet destruction.
Myocardial abscess histology findings demonstrate damaged cardiac tissue with degraded collagen and polymorphonuclear predominance.
What would you like to print?