Workup
Laboratory Studies
The diagnosis of nocardiosis is established with culture of the causative organism from the infection site(s). Since nocardiae grow slower than common bacteria, the microbiology laboratory should always be notified when nocardiosis is clinically suspected. This is particularly true when sputum is the submitted specimen. Respiratory secretions, skin biopsy samples, and aspirates from abscesses are the most common specimens from which Nocardia species are identified. Direct smears or histopathologic stains of these specimens can be highly suspicious, as noted above. Nocardia species can usually be isolated in 3-5 days. Isolation of Nocardia sp. from cutlures represents true infection as this organism is not considered to be a colonizing organism.
Blood cultures are positive for Nocardia organisms in a minority of patients, but they always should be obtained when pulmonary or disseminated nocardiosis is suspected.
Immunodominant antigens of Nocardia species have been identified and used in serological assays. However, no serologic technique or molecular technique is yet available for routine clinical use. Similarly, nucleic acid amplification assays have been described but are not available for routine clinical use.
Polymerase chain reaction (PCR) of 16s rRNA has been determined a sensitive and specific technique for detection and species-level identification of Nocardia [36] .
Matrix-assisted laser desorption ionization-time of flight mass spectrometry (MALDI-TOF) has also been studied for Nocardia species identification, and the efficacy of MALDI-TOF technology relies on future expansion of database libraries [37] .
Imaging Studies
Plain chest radiography and, often, CT chest scanning are useful in evaluating pulmonary nocardiosis and in monitoring the course of the infection. However, no characteristic radiographic findings have been described. Radiographic findings may include irregular nodules (which may cavitate), reticulonodular or diffuse alveolar pulmonary infiltrates, lung abscess formation, and pleural effusion.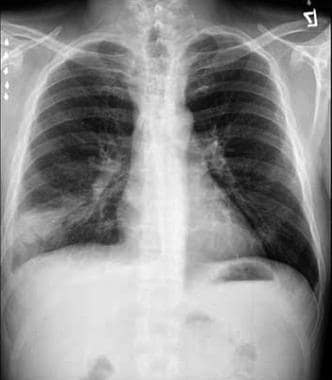 Plain chest radiograph in a patient with nocardiosis. Image courtesy of Applied Radiology, Anderson Publishing, LTD.
Chest CT scan in a patient with pleuropulmonary nocardiosis. Image courtesy of Applied Radiology, Anderson Publishing, LTD.
All patients with nocardiosis, except those with mycetoma, should undergo brain imaging with either CT scanning or MRI (likely preferred). Intracranial abscess is the most common abnormality found. Spread of intracranial abscesses to contiguous structures is particularly suggestive of nocardiosis.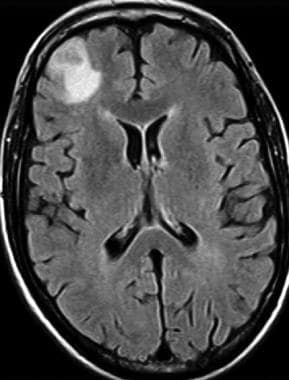 Brain CT scan in a patient with nocardial brain abscess. Image courtesy of Applied Radiology, Anderson Publishing, LTD.
Localized symptoms other than pulmonary or CNS should be evaluated with appropriate site-specific imaging.
Other Tests
If meningitis is suspected, cerebrospinal fluid (CSF) should be obtained for analysis unless this is contraindicated by mass effect on brain imaging. Nocardial meningitis typically results in findings typical of bacterial meningitis (ie, neutrophilic pleocytosis, hypoglycorrhachia, and an elevated CSF protein level).
Procedures
Biopsy of skin lesions or aspiration of deep abscesses may be required for diagnosis of nocardiosis.
Similarly, in patients with pulmonary nocardiosis, bronchoalveolar lavage and/or transbronchial lung biopsy may be required if the microbial etiology is not definitively established based on examination and culture of expectorated sputum.
Histologic Findings
Suppurative infection with organisms of characteristic morphology and staining attributes is the typical histopathologic finding in nocardiosis. Granulomatous infection is occasionally encountered.
What would you like to print?